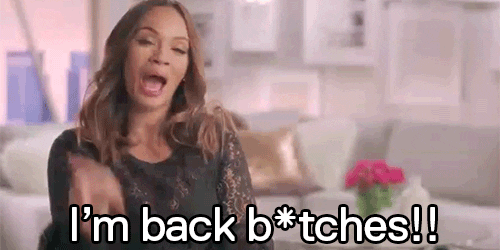 You may have noticed – and you may not have which is totally valid – but I took an unexpected break from this space. What it came down to is just energy and my lack of it. Mostly mental. I won't get into details but between a cancer diagnosis in my family and my basement flooding, March was a HELL of a month and I needed to get my shit together before I could be creative with shit reviews again.
With that, I know this new release list is late like a period after prom night, but I have some fresh wind under my butt wings and I'm ready to pop a Plan B and caught up.
I might not have read very much in the last few weeks, but I was still buying books like my very life depended on hitting "add to cart." And in some ways it did. A therapist might call impulse buying books compensating for the emotions I'm not ready to deal with yet, but I'm calling it self-care.
What other books can I buy in the coming months to avoid the horrors of real life? Let's find out!
As always this is not a comprehensive list, but it's definitely a highlight.
Continue reading

"Fucking Notable Mystery/Thriller New Releases | April to June 2022"