Oh heyyyyyyy! How's 2021 treating you so far? Like a sledgehammer to the head? Good, me too. Glad we're on the same page.
I definitely slacked on my "new releases" posts last year and I'm fully aware of that. And by slacked, I very generously mean that I didn't post a single fucking one.
But, as I've said on repeat, 2020 can eat a bag of dicks. Among its less egregious crimes is that it messed so hard with my motivation to do literally anything I typically like to do. All I had the attention span for was reality tv and changing out of one pair of leggings into an identical, cleaner pair of leggings. Stress levels increase = concentration levels decrease. It's science.
And even though 2021 hasn't been much better so far, and in fact seems to be impacting my mental health much harder the closer we get to the one-year anniversary of this shit, (shout out to crying jags over small inconveniences!) I'm going to muscle through like Christina Aguilera. She's a fighter.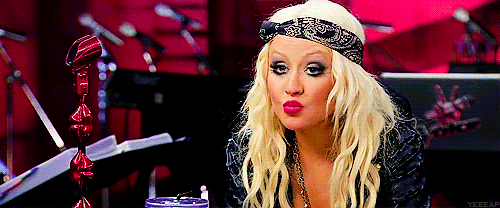 If you've been luckier than me and have managed to actually read in this pandemic, number one – I'm jealous. And number two – I'm here to restock that TBR, because despite my jealously, I want you to be happy. Look no further than this list of new releases to find your next read.
If you're having a hard time reading like yours truly, this list is still for you, booboo! As everyone should know by now – reading books and acquiring books are two totally separate hobbies. And if you're even more like me then compulsive online shopping is one of the only things getting you through this shit lately. So, let's buy some motherfucking books!
This is obviously not a comprehensive list of new releases, because I do not have the fucking time for that, but it's a place to start. And I know I should have posted this a month ago, but hellloooooo did you hear what I just said about my mental health?
Also, before you get confused, my "buzzed score" is really simple – the more emojis, the more into it I am. But moreover, it's just a reason for me to put together different emojis to mean I'm smoking weed and getting high. Okay, let's goooooooo!
---
🔪The Wife Upstairs by Rachel Hawkins
Release Date: January 5 | St. Martin's Press
I'm Buzzed Score: 🌿⚗️💨
Back of the Book: Meet Jane. Newly arrived to Birmingham, Alabama, Jane is a broke dog-walker in Thornfield Estates––a gated community full of McMansions, shiny SUVs, and bored housewives. The kind of place where no one will notice if Jane lifts the discarded tchotchkes and jewelry off the side tables of her well-heeled clients. Where no one will think to ask if Jane is her real name.
But her luck changes when she meets Eddie Rochester. Recently widowed, Eddie is Thornfield Estates' most mysterious resident. His wife, Bea, drowned in a boating accident with her best friend, their bodies lost to the deep. Jane can't help but see an opportunity in Eddie––not only is he rich, brooding, and handsome, he could also offer her the kind of protection she's always yearned for.
Yet as Jane and Eddie fall for each other, Jane is increasingly haunted by the legend of Bea, an ambitious beauty with a rags-to-riches origin story, who launched a wildly successful southern lifestyle brand. How can she, plain Jane, ever measure up? And can she win Eddie's heart before her past––or his––catches up to her?
With delicious suspense, incisive wit, and a fresh, feminist sensibility, The Wife Upstairs flips the script on a timeless tale of forbidden romance, ill-advised attraction, and a wife who just won't stay buried. In this vivid reimagining of one of literature's most twisted love triangles, which Mrs. Rochester will get her happy ending?
My Fucking Thoughts: I'm kind of over suspenseful marriage thrillers, but I'm still super intrigued by the idea of a "fresh, feminist sensibility." Feels like the marketing team is trying to keep me interested when I just want to walk away from these kinds of "wife" thrillers. I'm so easy.
🔪People Like Her by Ellery Lloyd
Release Date: January 12 | Harper
I'm Buzzed Score: 🌿🚬 💨💨
Back of the Book: To her adoring fans, Emmy Jackson, aka @the_mamabare, is the honest "Instamum" who always tells it like it is.
To her skeptical husband, a washed-up novelist who knows just how creative Emmy can be with the truth, she is a breadwinning powerhouse chillingly brilliant at monetizing the intimate details of their family life.
To one of Emmy's dangerously obsessive followers, she's the woman that has everything—but deserves none of it.
As Emmy's marriage begins to crack under the strain of her growing success and her moral compass veers wildly off course, the more vulnerable she becomes to a very real danger circling ever closer to her family.
In this deeply addictive tale of psychological suspense, Ellery Lloyd raises important questions about technology, social media celebrity, and the way we live today. Probing the dark side of influencer culture and the perils of parenting online, People Like Her explores our desperate need to be seen and the lengths we'll go to be liked by strangers. It asks what—and who—we sacrifice when make our private lives public, and ultimately lose control of who we let in. . . .
My Fucking Thoughts: I know I just said I'm not interested in marriage-centric thrillers, but it kind of feels like that relationship status takes a backseat to the real story – social media fame and those annoying AF moms on Instagram who dress up their kids in baby Uggs and have shiplap on their walls. Putting a hold at my library right now.
🔪Before She Disappeared by Lisa Gardner
Release Date: January 19 | Dutton
I'm Buzzed Score: 🌿😶🚬
Back of the Book: Frankie Elkin is an average middle-aged woman, a recovering alcoholic with more regrets than belongings. But she spends her life doing what no one else will–searching for missing people the world has stopped looking for. When the police have given up, when the public no longer remembers, when the media has never paid attention, Frankie starts looking.

A new case brings her to Mattapan, a Boston neighborhood with a rough reputation. She is searching for Angelique Badeau, a Haitian teenager who vanished from her high school months earlier. Resistance from the Boston PD and the victim's wary family tells Frankie she's on her own–and she soon learns she's asking questions someone doesn't want answered. But Frankie will stop at nothing to discover the truth, even if it means the next person to go missing could be her.
My Fucking Thoughts: Honestly this sounds boring as hell, but reviews are good and like, it's Lisa Gardner. I'm not sure she's ever written a bad book. I'm just not sure that this will be breaking any new ground or just retreading the earth of other novels she's written.
🔪Aftershock (Jessie Teska, #2) by Judy Melinek
Release Date: January 19 | Hanover Square Press
I'm Buzzed Score: 😌💨💨💨
Back of the Book: There's a body crushed under a load of pipes on a San Francisco construction site, and medical examiner Dr. Jessie Teska is on call. So it's her job to figure out who it is—and her headache when the autopsy reveals that the death is a homicide staged as an accident.
Jessie is hot on the murderer's trail, then an earthquake sends her and her whole city reeling. When the dust clears, her case has fallen apart and an innocent man is being framed. Jessie knows she's the only one who can prove it, and she races to piece together the truth—before it gets buried and brings her down in the rubble.
With Melinek and Mitchell's trademark blend of propulsive prose, deft plotting and mordant humor, this rollicking new installment in the Jessie Teska Mystery series will shake you up and leave you rattled.
My Fucking Thoughts: Y'all are not paying attention around here if you do not know that I totally worship Dr. Judy Melinek. Badass bitch bosse DOCTOR. I love her. I pre-ordered this so it's already on my shelf.
🔪If I Disappear by Eliza Jane Brazier
Release Date: January 26 | Berkley
I'm Buzzed Score: 😳🍃🍃
Back of the Book: Sera loves true crime podcasts. They make her feel empowered in a world where women just like her disappear daily. She's sure they are preparing her for something. So when Rachel, her favorite podcast host, goes missing, Sera knows it's time to act. Rachel has always taught her to trust her instincts.
Sera follows the clues hidden in the episodes to an isolated ranch outside Rachel's small hometown to begin her search. She's convinced her investigation will make Rachel so proud. But the more Sera digs into this unfamiliar world, the more off things start to feel. Because Rachel is not the first woman to vanish from the ranch, and she won't be the last…
Rachel did try to warn her.
My Fucking Thoughts: I don't want to say that this is something I would do if I was suddenly unemployed and divorced, but it's not not something I would do… You know?
🔪Finlay Donovan Is Killing It by Elle Cosimano
Release Date: February 2 | Minotaur Books
I'm Buzzed Score: 😳🔥 💨
Back of the Book: Finlay Donovan is killing it . . . except, she's really not. She's a stressed-out single-mom of two and struggling novelist, Finlay's life is in chaos: the new book she promised her literary agent isn't written, her ex-husband fired the nanny without telling her, and this morning she had to send her four-year-old to school with hair duct-taped to her head after an incident with scissors.
When Finlay is overheard discussing the plot of her new suspense novel with her agent over lunch, she's mistaken for a contract killer, and inadvertently accepts an offer to dispose of a problem husband in order to make ends meet . . . Soon, Finlay discovers that crime in real life is a lot more difficult than its fictional counterpart, as she becomes tangled in a real-life murder investigation.
Fast-paced, deliciously witty, and wholeheartedly authentic in depicting the frustrations and triumphs of motherhood in all its messiness, hilarity, and heartfelt moment, Finlay Donovan Is Killing It is the first in a brilliant new series from YA Edgar Award nominee Elle Cosimano.
My Fucking Thoughts: This isn't something I would typically read, but a light and fluffy mystery-suspense novel with a pretty cover is hitting all my stressed out "I need to get out of the house!" spots right now.
🔪The Burning Girls by C.J. Tudor
Release Date: February 9 | Ballantine Books
I'm Buzzed Score: 🥦🥦
Back of the Book: Welcome to Chapel Croft. Five hundred years ago, eight protestant martyrs were burned at the stake here. Thirty years ago, two teenage girls disappeared without a trace. And two months ago, the vicar of the local parish killed himself.
Reverend Jack Brooks, a single parent with a fourteen-year-old daughter and a heavy conscience, arrives in the village hoping to make a fresh start and find some peace. Instead, Jack finds a town mired in secrecy and a strange welcome package: an old exorcism kit and a note quoting scripture. "But there is nothing covered up that will not be revealed and hidden that will not be known."
The more Jack and daughter Flo get acquainted with the town and its strange denizens, the deeper they are drawn into their rifts, mysteries, and suspicions. And when Flo is troubled by strange sightings in the old chapel, it becomes apparent that there are ghosts here that refuse to be laid to rest.
But uncovering the truth can be deadly in a village where everyone has something to protect, everyone has links with the village's bloody past, and no one trusts an outsider.
My Fucking Thoughts: I'm not a religious person, but damn do I love me some exorcism vibes. Small, religious town feels are no from me though, so I'm on the fence about reading this one. I have a feeling it's worth a try.
🔪Possession by Katie Lowe
Release Date: February 9 | St. Martin's Press
I'm Buzzed Score: 🌿🚬🚬
Back of the Book: Ten years ago, Hannah's husband was brutally murdered in their home, and she (conveniently) doesn't remember a thing about that night. But the police charged someone else—a stranger—and put him away for life. And Hannah packed up her six-year-old daughter and left London behind.
But now her hard-won countryside peace is threatened. Conviction, a viral true crime podcast known for getting cases reopened and old verdicts overturned, has turned its attention to Hannah's husband's murder for its new season. They say police framed the man who was found guilty, and that Hannah has more suspicious secrets than just her memory loss: a history of volatility; citations at the clinic where she worked as a psychiatrist; dependencies on alcohol and pills; and a familicidal grandmother, locked away in a Gothic insane asylum until her death. As Hannah loses the trust of everyone she loves, the only person she feels she can confide in is a former colleague, Darcy, who's come back into her life—but who may have motives of her own. But Hannah can't tell even Darcy her deepest secret: that she's still tormented by the memory of her husband and the crater he carved through her life.
My Fucking Thoughts: Here we go – another podcast thriller! I think they're taking over from the wife thrillers the way the wife thrillers took over for the girl thrillers. You know what I mean. I'm not sick of this gimmick yet though, so I'll fucking take it.
🔪Do No Harm by Christina McDonald
Release Date: February 16 | Gallery Books
I'm Buzzed Score: 😌🌿💨
Back of the Book: Emma loves her life. She's the mother of a precocious kindergartener, married to her soulmate—a loyal and loving police detective—and has a rewarding career as a doctor at the local hospital.
But everything comes crashing down when her son, Josh, is diagnosed with a rare form of cancer.
Determined to save him, Emma makes the risky decision to sell opioids to fund the life-saving treatment he needs. But when somebody ends up dead, a lethal game of cat and mouse ensues, her own husband leading the chase. With her son's life hanging in the balance, Emma is dragged into the dark world of drugs, lies, and murder. Will the truth catch up to her before she can save Josh?
My Fucking Thoughts: This feels kind of timely, kind of prescient. It seems like it's weaving together some American classics: opioid addiction and not being able to afford health care without breaking laws or going bankrupt. Emma is probably not Walter White, but I've heard really good things about this one.
🔪The Echo Wife by Sarah Gailey
Release Date: February 16 | Tor Books
I'm Buzzed Score: 😳🥦
Back of the Book: "When they said all happy families are alike, I don't think this is what they meant…"
Evelyn Caldwell's husband Nathan has been having an affair — with Evelyn Caldwell. Or, to be exact, with a genetically cloned replica.
After a morning that begins with a confrontation and ends with Nathan's body bleeding out on the kitchen floor, the two Caldwell wives will have to think fast—before sharing everything includes sharing a jail cell.
My Fucking Thoughts: I'm not into sci-fi. I'm not into clones. I'm not into Sister Wives at this particular moment – that could change. But, The Echo Wife has got some really interesting reviews floating around, so who cares what I like? This is about you and your 2021 TBR needs. If you want to clone yourself because you need some goddamn help with your house, your family and your marriage… girl, do ittttttttt.
🔪A Caller's Game by J.D. Barker
Release Date: February 22 | Hampton Creek Press
I'm Buzzed Score: 🌿⚗️💨💨
Back of the Book: Controversial satellite radio talk show host, Jordan Briggs, has clawed her way to the top of the broadcast world. She doesn't hold back, doesn't spare feelings, and has no trouble sharing what's on her mind. Her rigorous pursuit of success has come at a price, though. Her marriage is in ruins, she hasn't spoken to her mother in years, and she's distanced herself from all those close to her. If not for her young daughter, Charlotte, her personal life would be in complete shambles.
When a subdued man calls into the show and asks to play a game, she sees it as nothing more than a way to kick-start the morning, breathe life into the beginnings of drive-time for her listeners. Against her producer's advice, she agrees, and unwittingly opens a door to the past.
Live on the air with an audience of millions, what starts out as a game quickly turns deadly—events long thought buried resurface and Jordan Briggs is forced to reconcile with one simple fact—All decisions have consequences.
My Fucking Thoughts: I love J.D. Barker's 4MK Thriller series and his writing style. His new novel, A Caller's Game, is being billed as Die Hard meets Talk Radio so if this isn't good, I don't know what I'll do with myself.
🔪Too Good To Be True by Carola Lovering
Release Date: March 2 | St. Martin's Press
I'm Buzzed Score: 😶🥦
Back of the Book: Skye Starling is overjoyed when her boyfriend, Burke Michaels, proposes after a whirlwind courtship. Though Skye seems to have the world at her fingertips—she's smart, beautiful, and from a well-off family—she's also battled crippling OCD ever since her mother's death when she was eleven, and her romantic relationships have suffered as a result.
But now Burke—handsome, older, and more emotionally mature than any man she's met before—says he wants her. Forever. Except, Burke isn't who he claims to be. And interspersed letters to his therapist reveal the truth: he's happily married, and using Skye for his own, deceptive ends.
In a third perspective, set thirty years earlier, a scrappy seventeen-year-old named Heather is determined to end things with Burke, a local bad boy, and make a better life for herself in New York City. But can her adolescent love stay firmly in her past—or will he find his way into her future?
On a collision course she doesn't see coming, Skye throws herself into wedding planning, as Burke's scheme grows ever more twisted. But of course, even the best laid plans can go astray. And just when you think you know where this story is going, you'll discover that there's more than one way to spin the truth.
My Fucking Thoughts: Ugh, another domestic thriller. We can't escape them so we might as well read them and then write judgmental reviews, right? This one has a bit of a twist – well, I don't want to call it a "twist" and I hope the novel doesn't use it that way. OCD isn't a gimmick and I'm interested to see if the author does that kind of mental health representation well, or if it's used as a qUiRkY plot tool.
🔪Every Last Fear by Alex Finlay
Release Date: March 2 | Minotaur Books
I'm Buzzed Score: 🥦🌿🚬
Back of the Book: After a late night of partying, NYU student Matt Pine returns to his dorm room to devastating news: nearly his entire family—his mom, his dad, his little brother and sister—have been found dead from an apparent gas leak while vacationing in Mexico. The local police claim it was an accident, but the FBI and State Department seem far less certain—and they won't tell Matt why.
The tragedy makes headlines everywhere because this isn't the first time the Pine family has been thrust into the media spotlight. Matt's older brother, Danny—currently serving a life sentence for the murder of his teenage girlfriend Charlotte—was the subject of a viral true crime documentary suggesting that Danny was wrongfully convicted. Though the country has rallied behind Danny, Matt holds a secret about his brother that he's never told anyone: the night Charlotte was killed Matt saw something that makes him believe his brother is guilty of the crime.
When Matt returns to his small hometown to bury his parents and siblings, he's faced with a hostile community that was villainized by the documentary, a frenzied media, and memories he'd hoped to leave behind forever. Now, as the deaths in Mexico appear increasingly suspicious and connected to Danny's case, Matt must unearth the truth behind the crime that sent his brother to prison—putting his own life in peril—and forcing him to confront his every last fear.
My Fucking Thoughts: I feel like this book is going to be an over-the-top family-drama thrill fest. An entire dead family and a brother convicted of a different murder? Goddamn that's a family history. I'm on the fence about pre-ordering this one or just getting on the library wait list. Choices, choices.
🔪Her Dark Lies by J.T. Ellison
Release Date: March 9 | Mira Books
I'm Buzzed Score: 🌿🌿😌💨💨
Back of the Book: Back of the Book: Jutting from sparkling turquoise waters off the Italian coast, Isle Isola is an idyllic setting for a wedding. In the majestic cliff-top villa owned by the wealthy Compton family, up-and-coming artist Claire Hunter will marry handsome, charming Jack Compton, surrounded by close family, intimate friends…and a host of dark secrets.

From the moment Claire sets foot on the island, something seems amiss. Skeletal remains have just been found. There are other, newer disturbances, too. Menacing texts. A ruined wedding dress. And one troubling shadow hanging over Claire's otherwise blissful relationship—the strange mystery surrounding Jack's first wife.

Then a raging storm descends, the power goes out—and the real terror begins…
My Fucking Thoughts: Bitches, you know I'm a J.T. Ellison fangirl, so I'm 100% ready for a new standalone. I seriously miss Ellison's police procedural writing, but her standalone thrillers have rarely disappointed me and only keep getting better. Her last one, Good Girls Lie was one of my favourite reads in 2020, so I think she might be in her stride.
🔪The Girls Are All So Nice Here by Laurie Elizabeth Flynn
Release Date: March 9 | Simon & Schuster
I'm Buzzed Score: 😶🌿🌿💨
Back of the Book: A lot has changed in the years since Ambrosia Wellington graduated from college, and she's worked hard to create a new life for herself. But then an invitation to her ten-year reunion arrives in the mail, along with an anonymous note that reads "We need to talk about what we did that night."
It seems that the secrets of Ambrosia's past—and the people she thought she'd left there—aren't as buried as she'd believed. Amb can't stop fixating on what she did or who she did it with: larger-than-life Sloane "Sully" Sullivan, Amb's former best friend, who could make anyone do anything.
At the reunion, Amb and Sully receive increasingly menacing messages, and it becomes clear that they're being pursued by someone who wants more than just the truth of what happened that first semester. This person wants revenge for what they did and the damage they caused—the extent of which Amb is only now fully understanding. And it was all because of the game they played to get a boy who belonged to someone else, and the girl who paid the price.
My Fucking Thoughts: There's is nothing I love more than a reunion setting where everyone is a fucked up adult. Throw in some sinister mystery and I'm sold. Easy. I actually have this novel as a NetGalley arc and I'm so sad I can't get to it right away because of all the back-review arcs I still have to read. Seriously, fucking pandemic.
🔪Saving Grace by Debbie Babitt
Release Date: March 16 | Scarlet
I'm Buzzed Score: 🌿⚗️
Back of the Book: For twenty-four years, Mary Grace Dobbs has been searching for salvation. Orphaned at eleven, she was forced to go live with her Bible salesman uncle, wheelchair-bound aunt, and a cousin who tortured and killed small animals. At school, a bully made her life a nightmare. Everything changed when a newcomer to town became her only best friend, and changed a second time when that friend and another classmate vanished two months later, never to be seen again.
Today, Mary Grace is the first female sheriff of her rural town, a position that doesn't sit well with some of the locals. Keeping order and her demons at bay becomes an impossible task when the Black drifter suspected in the earlier disappearances returns to Repentance . . . and another sixth grader vanishes.
With old prejudices and new secrets spilling out into the open, the modern world soon illuminates the village's darkest corners. The case becomes even more fraught as a cult of white supremacists brings its gospel of hate to Repentance and violence explodes, claiming more lives. Racing to find the missing girl while fearing for the safety of her own sixth-grade daughter, Mary Grace must confront an unspeakable truth—and face a decision no parent should ever have to make.
My Fucking Thoughts: This is dealing with a lot of things that get my blood pressure climbing – evangelical bullshit, racism, white supremacy and misogyny. I have my fingers crossed that Mary Grace is a progressive, feminist badass Sheriff who is going to punch some throats and find some justice. But these are heavy subjects and you never know how it's going to be handled by an author.
🔪Every Vow You Break by Peter Swanson
Release Date: March 23 | William Morrow
I'm Buzzed Score: 😶🌿
Back of the Book: Abigail Baskin never thought she'd fall in love with a millionaire. Then she met Bruce Lamb. He's a good guy, stable, level-headed, kind—a refreshing twist from her previous relationships.
But right before the wedding, Abigail has a drunken one-night stand on her bachelorette weekend. She puts the incident—and the sexy guy who wouldn't give her his real name—out of her mind, and now believes she wants to be with Bruce for the rest of her life.
Then the mysterious stranger suddenly appears—and Abigail's future life and happiness are turned upside down. He insists that their passionate night was the beginning of something much, much more. Something special. Something real—and he's tracked her down to prove it.
Does she tell Bruce and ruin their idyllic honeymoon—and possibly their marriage? Or should she handle this psychopathic stalker on her own? To make the situation worse, strange things begin to happen. She sees a terrified woman in the night shadows, and no one at the resort seems to believe anything is amiss… including her perfect new husband.
My Fucking Thoughts: I'm not sure about this one just because I haven't had a good reading experience with Peter Swanson since the first novel of his I read. It's just been one letdown after another. But, I'm sure I'll read this for the blog… but will I enjoy it or are all the characters going to be stereotypes and cardboard cutouts? That's the real question.
🔪The Lost Village by Camilla Sten
Release Date: March 23 | Minotaur Books
I'm Buzzed Score: 😳🥦⚗️💨💨
Back of the Book: Documentary filmmaker Alice Lindstedt has been obsessed with the vanishing residents of the old mining town, dubbed "The Lost Village," since she was a little girl. In 1959, her grandmother's entire family disappeared in this mysterious tragedy, and ever since, the unanswered questions surrounding the only two people who were left—a woman stoned to death in the town center and an abandoned newborn—have plagued her. She's gathered a small crew of friends in the remote village to make a film about what really happened.
But there will be no turning back.
Not long after they've set up camp, mysterious things begin to happen. Equipment is destroyed. People go missing. As doubt breeds fear and their very minds begin to crack, one thing becomes startlingly clear to Alice:
They are not alone.
They're looking for the truth…
But what if it finds them first?
My Fucking Thoughts: Everything about this novel – from the cover to the synopsis – has got major vibes that I'm definitely digging and it's already on my library holds list.
🔪The Last One Home by Victoria Helen Stone
Release Date: March 30 | Lake Union Publishing
I'm Buzzed Score: 😶🥦
Back of the Book: Lauren Abrams wants nothing to do with her damaged mother, whose spurious testimony sent Lauren's father to prison for murder years ago. After a serial killer's confession to the crime restored justice, Lauren chose to live with her father and grandmother. Now an adult, Lauren has come home to the Sacramento family estate for good, her mother's lies be damned…
It's been decades since Donna made her cheating boyfriend pay, but she hasn't forgotten the past. She knows her estranged daughter has made a terrible mistake by returning to the estate. There's more to the story of the welcoming old homestead—and her childhood—than Lauren knows.
As Lauren settles in, she is haunted by the questions of what really happened with her father, what her mother might be hiding, and what secrets the family ranch holds. It's getting so dark, Lauren may not be able to see the truth to save her life.
My Fucking Thoughts: I loved Stone's novel, Jane Doe, so I think that's why I'm drawn to this, but the synopsis isn't totally selling me. Crazy mom and angry daughter are kind of blah themes for me at this point in my life.
---
And we're done with new releases until April! I'll try to be more on the ball next time.
Did a few of these novels make your TBR list? I know I definitely have too many things on hold at the library right now. My greatest fear is that they will all be ready for pickup at the same time. I don't do well under that kind of pressure.
Recently, my public library moved to a "no late fees" policy, which I think is really great and more inclusive to the community as a whole, but I would still hate to have a book longer than I was supposed to and fuck up someone else's library holds. Ugh, I'm such a good person.
Stay safe. Be Kind. But, take no shit.
Later, booknerds ✌️🔪