Alright, listen. to write this post I'm pulling myself away from a very riveting conversation about a co-worker pretending to be engaged to a Bald Eagle.
I can't get into details really, but she had a ring. Just know my entire body is buzzing with joy because the bird lady is just so pure and simple and strange. We need more of that in a world that is filled with 24/7 news about terrible shit.
Speaking of terrible shit, the last time I did a new release post it was the beginning of 2021 and we were quickly approaching the one-year anniversary of this pandemic. We were talking about mental health issues and reaching a breaking point, or that maybe you were feeling hopeful it was almost over as the vaccine rollout got underway.
Now here we are, half-way into April and I don't know about you, but things have only gotten worse in Canada. Currently we're in our third lockdown and second stay-at-home-order in Ontario. There are riots in Quebec over curfews that are now in discussion to hit Ontario . And getting a vaccine?! Fucking forget about it. The vaccine rollout in Canada is absolute trash. NO ONE KNOWS WHAT THEY'RE FUCKING DOING.
*deep breath*
It's really starting to feel like Spring 2020: The Redux and I just…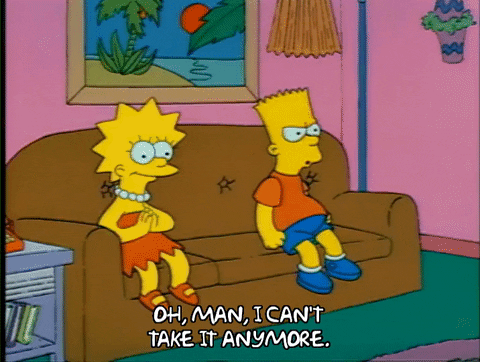 Anyway, since we're most definitely heading into another pandemic summer of doing nothing at home once again, now seems like the best time to add even more books to our ever-growing TBRs.
All last spring and summer I spent almost every weekend renovating my backyard and creating huge garden beds that I only regret a little bit. So this year, my intention is to sit in my hammock and read every chance I get. Like, I should probably enjoy the backyard I poured so much money and sweat into.
Note to self: Buy a hammock.
Anyway, this is obviously not a comprehensive list of new releases, because I do not have the fucking time for that, but it'll start us off and get us through until July. And there are some books on here I am hella excited about.
Get in losers, we're doing curbside pickup!
---
🔪You Love Me (You, #3) by Caroline Kepnes
Release Date: April 6 | Random House
I'm Buzzed Score: 🌿⚗️💨💨
Back of the Book: Joe Goldberg is back. And he's going to start a family – even if it kills him.

Joe Goldberg is done with cities, done with the muck and the posers, done with Love. Now, he's saying hello to nature, to simple pleasures on a cozy island in the Pacific Northwest. For the first time in a long time, he can just breathe.

He gets a job at the local library – he does know a thing or two about books – and that's where he meets her: Mary Kaye DiMarco. Librarian. Joe won't meddle, he will not obsess. He'll win her the old fashioned way… by providing a shoulder to cry on, a helping hand. Over time, they'll both heal their wounds and begin their happily ever after in this sleepy town.

The trouble is… Mary Kaye already has a life. She's a mother. She's a friend. She's… busy.

True love can only triumph if both people are willing to make room for the real thing. Joe cleared his decks. He's ready. And hopefully, with his encouragement and undying support, Mary Kaye will do the right thing and make room for him.
My Fucking Thoughts: I love Joe. And this novel is obviously taking a different direction than the show has chosen to go, and that's totally fine with me. It's two different fucked up versions of Joe in the multiverse. I especially love the idea of what Joe will do when the object of his obsession is actually a full human with a child and a career who, hopefully, isn't really interested in falling all over herself for a crazy dude. Let's see what happens.
🔪When the Stars Go Dark by Paula McLain
Release Date: April 13 | Ballatine Books
I'm Buzzed Score: 😳🔥🔥💨💨
Back of the Book: Anna Hart is a seasoned missing persons detective in San Francisco with far too much knowledge of the darkest side of human nature. When overwhelming tragedy strikes her personal life, Anna, desperate and numb, flees to the Northern California village of Mendocino to grieve. She lived there as a child with her beloved foster parents, and now she believes it might be the only place left for her. Yet the day she arrives, she learns a local teenage girl has gone missing. The crime feels frighteningly reminiscent of the most crucial time in Anna's childhood, when the unsolved murder of a young girl touched Mendocino and changed the community forever. As past and present collide, Anna realizes that she has been led to this moment. The most difficult lessons of her life have given her insight into how victims come into contact with violent predators. As Anna becomes obsessed with the missing girl, she must accept that true courage means getting out of her own way and learning to let others in.
Weaving together actual cases of missing persons, trauma theory, and a hint of the metaphysical, this propulsive and deeply affecting novel tells a story of fate, necessary redemption, and what it takes, when the worst happens, to reclaim our lives–and our faith in one another.
My Fucking Thoughts: This novel has totally gotten hold of my attention because it sounds heavy. It sounds dark. It sounds like it's not going to tiptoe around the realities of traumatic police work. I'm not sure it's what I should be reading when I currently cry all the time for almost no reason, but I'm going to read it anyway.
🔪What You Never Knew by Jessica Hamilton
Release Date: April 13 | Crooken Lane Books
I'm Buzzed Score: 😳🥦
Back of the Book: Idyllic Avril lsland, owned by the Bennett family, where their hundred-year-old cottage sat nestled in acres of forest. Forty-year-old June Bennett believed that the island had been sold after the summer of her father's disappearance when she was only twelve years old. It's months after the shocking death of her older sister May in a fatal car accident, that June finds out that the cottage was never sold. Avril Island is still owned by the Bennett family and now it's hers.
Still reeling from the grief of losing her sister, June travels back to Avril lsland in search of answers. As she digs, she learns that the townspeople believe her father may have, in fact, been murdered rather than abandoning his family in the dead of night, as she was led to believe by her mother. And that's when she begins to notice strange things happening on the island–missing family possessions showing up on her bed, doors open when she had locked them closed. It takes June no time at all to realize that her childhood summers at Avril Island were not at all what they had seemed to be.
My Fucking Thoughts: I love some deep dark family secrets that also involve cold cases. I'm totally not sure I'm sold on the whole "you get an island!" Oprah-moment narrative element, but maybe it won't be fucking ridiculous when surrounded by the entirety of the plot.
🔪One Got Away (Nikki Griffin, #2) by S.A. Lelchuk
Release Date: April 13 | Flatiron Books
I'm Buzzed Score: 🌿🚬💨
Back of the Book: Nikki Griffin, a private-investigator when she isn't running her small bookstore, is on a case. The matriarch of one of the wealthiest San Francisco families has been defrauded by a con-man, and her furious son enlists Nikki to find the money. And find the con-man.
Nikki isn't a fan of men who hurt women. Her secret mission, born of revenge and trauma, is to do everything she can to remove women from dangerous situations—and to punish the men responsible.
As Nikki follows the trail toward the con-man, she realizes that no one involved is telling her the whole truth. When the case overlaps with her attempt to protect a woman in trouble, and Nikki's own life is put in danger, Nikki has to make terrible choices about who to save—and how to keep herself alive.
My Fucking Thoughts: I liked the debut novel in this series, but found parts of the plot (specifically the end) to be a little ridiculous. Based on the synopsis of this follow-up, I guess the ridiculous vibes are just going to be the norm for this series. I'll adjust and read this because how could I give up on a series featuring a badass man-punishing book nerd?
🔪Mirrorland by Carole Johnstone
Release Date: April 20 | Scribner
I'm Buzzed Score: 🌿🚬😌
Back of the Book: Cat lives in Los Angeles, far away from 36 Westeryk Road, the imposing gothic house in Edinburgh where she and her estranged twin sister, El, grew up. As girls, they invented Mirrorland, a dark, imaginary place under the pantry stairs full of pirates, witches, and clowns. These days Cat rarely thinks about their childhood home, or the fact that El now lives there with her husband Ross.

But when El mysteriously disappears after going out on her sailboat, Cat is forced to return to 36 Westeryk Road, which has scarcely changed in twenty years. The grand old house is still full of shadowy corners, and at every turn Cat finds herself stumbling on long-held secrets and terrifying ghosts from the past. Because someone—El?—has left Cat clues in almost every room: a treasure hunt that leads right back to Mirrorland, where she knows the truth lies crouched and waiting…

A twisty, dark, and brilliantly crafted thriller about love and betrayal, redemption and revenge, Mirrorland is a propulsive, page-turning debut about the power of imagination and the price of freedom.
My Fucking Thoughts: Something about twins and a creepy house with secrets rooms seems like I shouldn't want to read it because I'm not really into the whole "creepy childhood home" theme, but there's obviously something more sinister to this that has me intrigued AF.
🔪21st Birthday (Women's Murder Club, #21) by James Patterson & Maxine Paetro
Release Date: May 3 | Little, Brown & Company
I'm Buzzed Score: 😶🥦
Back of the Book: When young wife and mother Tara Burke goes missing with her baby girl, all eyes are on her husband, Lucas. He paints her not as a missing person but a wayward wife—until a gruesome piece of evidence turns the investigation criminal.

While Chronicle reporter Cindy Thomas pursues the story and M.E. Claire Washburn harbors theories that run counter to the SFPD's, ADA Yuki Castellano sizes Lucas up as a textbook domestic offender . . . who suddenly puts forward an unexpected suspect. If what Lucas tells law enforcement has even a grain of truth, there isn't a woman in the state of California who's safe from the reach of an unspeakable threat.
My Fucking Thoughts: I don't read this shit series because I want to, I read it because I have to. It just keeps going and going, and it never gets any better, but I have to know what else is going to happen to these insufferable characters. It's a terrible relationship I have with this series, and Patterson in general, but I can't seem to break the cycle.
🔪Arsenic and Adobo (Tita Rosie's Kitchen Mystery, #1) by Mia P. Manansala
Release Date: May 4 | Berkley
I'm Buzzed Score: 🍳💨
Back of the Book: When Lila Macapagal moves back home to recover from a horrible breakup, her life seems to be following all the typical rom-com tropes. She's tasked with saving her Tita Rosie's failing restaurant, and she has to deal with a group of matchmaking aunties who shower her with love and judgment. But when a notoriously nasty food critic (who happens to be her ex-boyfriend) drops dead moments after a confrontation with Lila, her life quickly swerves from a Nora Ephron romp to an Agatha Christie case.
With the cops treating her like she's the one and only suspect, and the shady landlord looking to finally kick the Macapagal family out and resell the storefront, Lila's left with no choice but to conduct her own investigation. Armed with the nosy auntie network, her barista best bud, and her trusted Dachshund, Longanisa, Lila takes on this tasty, twisted case and soon finds her own neck on the chopping block…
My Fucking Thoughts: I'm honestly not a cozy mystery fan, but every once in a while I pick one up for a change of pace and scenery. You get some mystery but it's fun and cute and sometimes sexy, instead of depressing and scary like everything else I read (and real life, let's be honest.) Like, I will watch an Aurora Teagarden movie marathon in a heartbeat. I can already feel myself craving that lighthearted vibe, which is exactly why this is going on top of my TBR pile.
🔪The Plot by Jean Hanff Korelitz
Release Date: May 11 | Caledon Books
I'm Buzzed Score: 🌿⚗️🔥
Back of the Book: Jacob Finch Bonner was once a promising young novelist with a respectably published first book. Today, he's teaching in a third-rate MFA program and struggling to maintain what's left of his self-respect; he hasn't written–let alone published–anything decent in years. When Evan Parker, his most arrogant student, announces he doesn't need Jake's help because the plot of his book in progress is a sure thing, Jake is prepared to dismiss the boast as typical amateur narcissism. But then . . . he hears the plot.
Jake returns to the downward trajectory of his own career and braces himself for the supernova publication of Evan Parker's first novel: but it never comes. When he discovers that his former student has died, presumably without ever completing his book, Jake does what any self-respecting writer would do with a story like that–a story that absolutely needs to be told.
In a few short years, all of Evan Parker's predictions have come true, but Jake is the author enjoying the wave. He is wealthy, famous, praised and read all over the world. But at the height of his glorious new life, an e-mail arrives, the first salvo in a terrifying, anonymous campaign: You are a thief, it says.
As Jake struggles to understand his antagonist and hide the truth from his readers and his publishers, he begins to learn more about his late student, and what he discovers both amazes and terrifies him. Who was Evan Parker, and how did he get the idea for his "sure thing" of a novel? What is the real story behind the plot, and who stole it from whom?
My Fucking Thoughts: Um, kick me in the crotch and spit on me neck, but I cannot wait to read this. I hope it's not a boring disappointment because depending on plot execution, it easily could be *quietly sobs.* I'm trying to keep my expectations mellow, but goddamn this sounds ahh-mazing.
🔪The Cuts that Cure by Arthur Herbert
Release Date: May 11 | White Bird Publishing
I'm Buzzed Score: 🍀🚬
Back of the Book: Alex Brantley is a burned-out surgeon whose desperation to start a new life outside of medicine leads him to settle in a sleepy Texas town close to the Mexican border, a town that has a dark side. Its secrets and his own past catch up with him as traits he thought he'd buried in the deserts on the frontiers of the border rise up again to haunt him.
To the citizens of Three Rivers, Henry Wallis appears to be a normal Texas teenager: a lean, quiet kid from a good family whose life seems to center around running cross-country, his first girlfriend, and Friday night football. That Henry is a cultivated illusion, however, a disguise he wears to conceal his demons. Both meticulous and brutally cruel, he manages to hide his sadistic indulgences from the world, but with that success, his impulses grow stronger until one day when a vagrant is found murdered.
When Alex and Henry's paths cross, it starts a domino effect which leads to mangled lives and chilling choices made in the shadows along la frontera, where everything is negotiable.
My Fucking Thoughts: I find the synopsis vague, but this might be about two white guys doing some murdering. It's written by an old white guy, and coupled with the whole "Mexican border" thing, I'm hesitant that it could be walking that line… you know the line. Is that harsh and judgemental? I don't care. This is literally how I decide to read a book or not – I judge the hell out of the synopsis. And this doesn't totally sound like my thing, but I'm always willing to be surprised. Except for parties or impulsive outings. Please don't surprise me with those.
🔪The Hunting Wives by May Cobb
Release Date: May 18 | Berkley
I'm Buzzed Score: 🥦🚬💨
Back of the Book: Sophie O'Neill left behind an envy-inspiring career and the stressful, competitive life of big-city Chicago to settle down with her husband and young son in a small Texas town. It seems like the perfect life with a beautiful home in an idyllic rural community. But Sophie soon realizes that life is now too quiet, and she's feeling bored and restless.
Then she meets Margot Banks, an alluring socialite who is part of an elite clique secretly known as the Hunting Wives. Sophie finds herself completely drawn to Margot and swept into her mysterious world of late-night target practice and dangerous partying. As Sophie's curiosity gives way to full-blown obsession, she slips farther away from the safety of her family and deeper into this nest of vipers.
When the body of a teenage girl is discovered in the woods where the Hunting Wives meet, Sophie finds herself in the middle of a murder investigation and her life spiraling out of control.
My Fucking Thoughts: This sounds provocative AF. Alluring socialites. Target practice. Dangerous Partying. Like, I need to know what's the target? Or is it a who? What kind of partying is dangerous? Are drugs involved? What kind? Can I have some? Are we straight up killing people? I need to know these things!
🔪Local Woman Missing by Mary Kubica
Release Date: May 18 | Park Row
I'm Buzzed Score: 😶🌿🚬
Back of the Book: Shelby Tebow is the first to go missing. Not long after, Meredith Dickey and her six-year-old daughter, Delilah, vanish just blocks away from where Shelby was last seen, striking fear into their once-peaceful community. Are these incidents connected? After an elusive search that yields more questions than answers, the case eventually goes cold.
Now, eleven years later, Delilah shockingly returns. Everyone wants to know what happened to her, but no one is prepared for what they'll find…
In this smart and chilling thriller, master of suspense and New York Times bestselling author Mary Kubica takes domestic secrets to a whole new level, showing that some people will stop at nothing to keep the truth buried.
My Fucking Thoughts: My one and only experience with Kubica was just meh. And I haven't really been fired up to pick up another of her books because of that. But this one sounds intriguing and I'm going to have to read it. I love it when a missing person shows back up years later and shit gets mysterious. As long as nobody has amnesia, that is. Fuck an amnesia plot device.
🔪While Justice Sleeps by Stacey Abrams
Release Date: May 25 | Doubleday
I'm Buzzed Score: 😳🔥🚬💨
Back of the Book: Avery Keene, a brilliant young law clerk for the legendary Justice Howard Wynn, is doing her best to hold her life together–excelling in an arduous job with the court while also dealing with a troubled family. When the shocking news breaks that Justice Wynn–the cantankerous swing vote on many current high-profile cases–has slipped into a coma, Avery's life turns upside down. She is immediately notified that Justice Wynn has left instructions for her to serve as his legal guardian and power of attorney. Plunged into an explosive role she never anticipated, Avery finds that Justice Wynn had been secretly researching one of the most controversial cases before the court–a proposed merger between an American biotech company and an Indian genetics firm, which promises to unleash breathtaking results in the medical field. She also discovers that Wynn suspected a dangerously related conspiracy that infiltrates the highest power corridors of Washington.
As political wrangling ensues in Washington to potentially replace the ailing judge whose life and survival Avery controls, she begins to unravel a carefully constructed, chesslike sequence of clues left behind by Wynn. She comes to see that Wynn had a much more personal stake in the controversial case and realizes his complex puzzle will lead her directly into harm's way in order to find the truth. While Justice Sleeps is a cunningly crafted, sophisticated novel, layered with myriad twists and a vibrant cast of characters. Drawing on her astute inside knowledge of the court and political landscape, Stacey Abrams shows herself to be not only a force for good in politics and voter fairness but also a major new talent in suspense fiction.
My Fucking Thoughts: I love a good legal thriller, but not so much a political one. This sounds like it's definitely a combo deal. I find political thrillers to be a bit extra for my tastes. But this is Stacey Abrams, people! I really feel like she's a brilliant, beautiful, passionate soul, and an example of what being a good human really is, so I'm going to support everything she does and be excited about it.
🔪The Pact by Sharon Bolton
Release Date: May 27 | Trapeze
I'm Buzzed Score: 😳🔥🌿💨
Back of the Book: A golden summer, and six talented friends are looking forward to the brightest of futures – until a daredevil game goes horribly wrong, and a woman and two children are killed.
18-year-old Megan takes the blame, leaving the others free to get on with their lives. In return, they each agree to a 'favour', payable on her release from prison.
Twenty years later Megan is free.
Let the games begin . . .
My Fucking Thoughts: Omg why does this synopsis have to be so fucking short? How you going to do that to me, Bolton? Listen, Sharon Bolton writes masterful thrillers and horror, and I have a feeling The Pact is going to be no exception. Fucking favours for taking the wrap on a murder? There's going to be some fucked up revenge going on, I can feel it in my bones and I'm so ready for it.
🔪Beneath Devil's Bridge by Loreth Anne White
Release Date: June 1 | Montlake
I'm Buzzed Score: 🌿⚗️😌
Back of the Book: True crime podcaster Trinity Scott is chasing breakout success, and her new serial looks like it will get her there. Her subject is Clayton Jay Pelley. More than two decades ago, the respected family man and guidance counselor confessed to the brutal murder of teenage student Leena Rai. Why he killed her has always been a mystery.
In a series of exclusive interviews from prison he promises to tell Trinity the truth about what happened that night beneath Devil's Bridge. What Clayton says shocks the Pacific Northwest town of Twin Falls to the core. But is Clayton lying now? Or was he lying then?
As ratings skyrocket, Trinity is missing a key player in the story: Rachel Walczak, the retired detective who revealed Pelley's twisted urges and put him behind bars. She's not playing Clayton's game–until Trinity digs deeper and the podcast reverb widens. Then Rachel begins to question everything she thinks she knows about the past.
With each of Clayton's teasing reveals, one thing is clear: he's not the only one in Twin Falls with a secret.
My Fucking Thoughts: Loreth Anne White writes bomb female characters. Trust me on that. I'm definitely hyped for her next release. It might be another podcast thriller (which have taken over as the new hot, overdone thing. I'm calling it now,) but I'm not sick of them yet.
🔪Hairpin Bridge by Taylor Adams
Release Date: June 15 | William Morrow
I'm Buzzed Score: 😳🥦🔥💨💨
Back of the Book: Three months ago, Lena Nguyen's estranged twin sister, Cambry, drove to a remote bridge sixty miles outside of Missoula, Montana, and jumped two hundred feet to her death. At least, that is the official police version.
But Lena isn't buying it.
Now she's come to that very bridge, driving her dead twin's car and armed with a cassette recorder, determined to find out what really happened by interviewing the highway patrolman who allegedly discovered her sister's body.
Corporal Raymond Raycevic has agreed to meet Lena at the scene. He is sympathetic, forthright, and professional. But his story doesn't seem to add up. For one thing, he stopped Cambry for speeding a full hour before she supposedly leapt to her death. Then there are the sixteen attempted 911 calls from her cell phone, made in what was unfortunately a dead zone.
But perhaps most troubling of all, the state trooper is referred to by name in Cambry's final enigmatic text to her sister: Please Forgive Me. I couldn't live with it. Hopefully you can, Officer Raycevic.
Lena will do anything to uncover the truth. But as her twin's final hours come into focus, Lena's search turns into a harrowing, tooth-and-nail fight for her own survival—one that will test everything she thought she knew about her sister and herself…
My Fucking Thoughts: Taylor Adams could take a shit on some paper and I would buy it. That's it.
🔪The Maidens by Alex Michaelides
Release Date: June 15 | Caledon Books
I'm Buzzed Score: 😌🥦⚗️
Back of the Book: Edward Fosca is a murderer. Of this Mariana is certain. But Fosca is untouchable. A handsome and charismatic Greek Tragedy professor at Cambridge University, Fosca is adored by staff and students alike—particularly by the members of a secret society of female students known as The Maidens.

Mariana Andros is a brilliant but troubled group therapist who becomes fixated on The Maidens when one member, a friend of Mariana's niece Zoe, is found murdered in Cambridge.

Mariana, who was once herself a student at the university, quickly suspects that behind the idyllic beauty of the spires and turrets, and beneath the ancient traditions, lies something sinister. And she becomes convinced that, despite his alibi, Edward Fosca is guilty of the murder. But why would the professor target one of his students? And why does he keep returning to the rites of Persephone, the maiden, and her journey to the underworld?

When another body is found, Mariana's obsession with proving Fosca's guilt spirals out of control, threatening to destroy her credibility as well as her closest relationships. But Mariana is determined to stop this killer, even if it costs her everything—including her own life.
My Fucking Thoughts: The Silent Patient was a hell of a debut novel and I'm pretty convinced – and have been since I read it – that Michaelides can only get better from there, so I am down for some Greek tragedy and murder.
🔪False Witness by Karen Slaughter
Release Date: June 24 | HarperCollins
I'm Buzzed Score: 😌😶🌿🔥💨
Back of the Book: He saw what you did … He knows who you are. The stunning new standalone from the no.1 international bestselling author
AN ORDINARY LIFE …
Leigh Coulton has worked hard to build what looks like a normal life. She has a good job as a defence attorney, a daughter doing well in school, and even her divorce is relatively civilised – her life is just as unremarkable as she'd always hoped it would be.
HIDES A DEVASTATING PAST …
But Leigh's ordinary life masks a childhood which was far from average … a childhood tarnished by secrets, broken by betrayal, and finally torn apart by a devastating act of violence.
BUT NOW THE PAST IS CATCHING UP …
Then a case lands on her desk – defending a wealthy man accused of rape. It's the highest profile case she's ever been given – a case which could transform her career, if she wins. But when she meets the accused, she realises that it's no coincidence that he's chosen her as his attorney. She knows him. And he knows her. More to the point, he knows what happened twenty years ago, and why Leigh has spent two decades running.
AND TIME IS RUNNING OUT.
If she can't get him acquitted, she'll lose much more than the case. The only person who can help her is her younger, estranged sister Calli, the last person Leigh would ever want to ask for help. But suddenly she has no choice …
My Fucking Thoughts: Karin Slaughter is releasing a new standalone. That's all any of us need to know! I don't care what it's about, I'm going to read it. Honestly, file Slaughter under "authors who could sell me literal shit" just like Adams.
🔪Survive the Night by Riley Sager
Release Date: June 29 | Dutton Books
I'm Buzzed Score: 😳🍀🔥⚗️💨💨
Back of the Book: Josh Baxter, the man behind the wheel, is a virtual stranger to Charlie. They met at the campus ride board, each looking to share the long drive home to Ohio. Both have good reasons for wanting to get away. For Charlie, it's guilt and grief over the murder of her best friend, who became the third victim of the man known as the Campus Killer. For Josh, it's to help care for his sick father. Or so he says. Like the Hitchcock heroine she's named after, Charlie has her doubts. There's something suspicious about Josh, from the holes in his story about his father to how he doesn't seem to want Charlie to see inside the car's trunk. As they travel an empty highway in the dead of night, an increasingly worried Charlie begins to think she's sharing a car with the Campus Killer. Is Josh truly dangerous? Or is Charlie's suspicion merely a figment of her movie-fueled imagination?
What follows is a game of cat-and-mouse played out on night-shrouded roads and in neon-lit parking lots, during an age when the only call for help can be made on a pay phone and in a place where there's nowhere to run. In order to win, Charlie must do one thing–survive the night.
My Fucking Thoughts: Another "could sell me shit" author. I LIVE for new Sager releases. LIVE 👏 FOR 👏 THEM. He is one of the greatest thriller writers publishing today. Hands down. I don't care what this book is about, it's already pre-ordered.
---
OH SHIT, JUNE IS GOING TO BE A WILD MONTH!! I have to get my budget ready. And my future hammock.
What releases are you most excited for? What upcoming new releases are on your TBR that I missed?
Stay safe. Be kind. But, take no shit.
Later, Booknerds 🔪✌️