"The difference between a hero and a victim? Timing."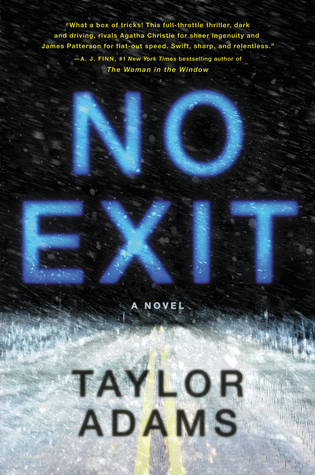 ★★★★★
William Morrow | January 2019
Opening Hook: Did we learn nothing about isolated rest stops from Halloween?!
Main Character: Lady McGuyver
Plot Twisty-ness: Hold-onto-your-bits thrills with a side of snow.
---
This is my first 5-star read of the year. And thank Thor, because I was starting to get a little cranky since nothing has really been knocking my tits off. Whose fault is that really? Mine? Because of my choices? Get out of here! I don't want to hear it!
Lalalala…
Reading No Exit was an exercise in cinematic writing. It would be easy to say it was written with a movie option in mind (and maybe it was,) but my gut tells me that what actually happened here is that the plotting and timing of the story are so good, that it comes across in vibrant cinematic scenes in the reader's mind. And therefore, seems like it should be a movie. And it definitely should.
I would honestly give this five stars just based on the writing skill alone, it was that seamless and riveting. And my friends here know I don't give out my stars easily. You have to earn this shit from me. You want easy stars? Go to the reviewers who aren't dead inside with a stick up their ass.
It's all ass sticks here, baby!
I do it because I love you and I want you to have an honest opinion that isn't worried about feelings and blah blah blah.
Continue reading

"Review: No Exit by Taylor Adams"