Andddddddddd….I'm back! New decade, new blog post, new goals!
Tell me booknerds, how were your holidays?? Mine was busy and went by way too fast. I don't feel like I relaxed at all, or was gifted anything to make me feel better about the amount of money I spent. I did, however, get drunk on Christmas Day for the first time in a decade. I stopped drinking-to-excess in college because I just do not like the feeling of being drunk and out of control, but somehow Christmas went off the rails for me. I think it was all of 2019 collapsing in on me.
You know how it goes: you're making dinner so you pour a glass of wine. Cooking and wine go so well together that you're not paying attention to how much alcohol you're actually consuming. You're getting wine-drunk so slowly that by the time you realize you officially passed the line of what's acceptable in front of family two glasses ago, it's too late. So you eat a bunch of crackers and cheese in a vain attempt to break down your blood-alcohol level, but you've had a bottle-and-a-half just to yourself! It's over! You're drunk! And now your mother-in-law starts saying things like, "I'm still on my first glass!" in this passively judgmental way, and your youngest stepkid is saying: "You're fun when you're drunk," to the entire dinner table and you're trying not slur when you respond, "I'm not drunk, I'm just a little buzzed. Issssaa not a big deal,"
You're definitely drunk, and later, you try to vomit very quietly so no one hears how bad it actually was.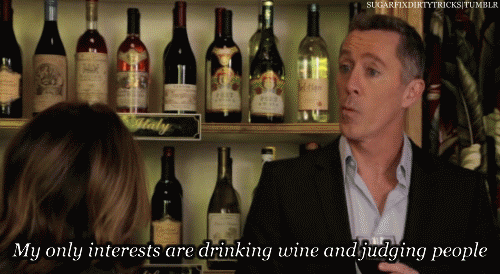 Continue reading

"#HappyNewFears: My 2020 Bookish New Years Resolutions"