Happy New Year, Nerdos!!
Are you still nursing a little bit of a hangover? I hate drinking in my 30s because those headaches and stomach rumbles, and just overall feeling of having been hit by a truck, seem to last days instead of hours. Aw, the joys of ageing.
But here we are again – another year gone, a new one just beginning. More birthdays on the horizon. It's just one more trip around the sun. And I'm so happy to be here with all of you for the journey talking about books and murder and maybe weed sometimes. Now there's a way to avoid a hangover, get high instead!
So, while we float around on a rock in an unknowable universe, held down by an invisible force as we circle a giant ball of fire for another year, let's read some books to pass some of that time!
2019 is shaping up to be a good year for crime fiction so get your budgets ready, your library card dusted off and your stretchy pants on! Here's my list of the top buzz-worthy reads for the first quarter of 2019!
---
🔪An Anonymous Girl by Greer Hendricks and Sarah Pekkanen
HTFT Tagline: Human lab rats wanted for sketchy AF experiments.
Release Date: January 8th
I'm Buzzed Score: 🍸🍸🍸🍸
Back of the Book: Seeking women ages 18–32 to participate in a study on ethics and morality. Generous compensation. Anonymity guaranteed.
When Jessica Farris signs up for a psychology study conducted by the mysterious Dr. Shields, she thinks all she'll have to do is answer a few questions, collect her money, and leave. But as the questions grow more and more intense and invasive and the sessions become outings where Jess is told what to wear and how to act, she begins to feel as though Dr. Shields may know what she's thinking…and what she's hiding. As Jess's paranoia grows, it becomes clear that she can no longer trust what in her life is real, and what is one of Dr. Shields' manipulative experiments. Caught in a web of deceit and jealousy, Jess quickly learns that some obsessions can be deadly.
My Fucking Thoughts: I'm hearing good things from the ARC reviews of this one. I love the idea that a real ass doctor would set up a shady study group just to fuck with someone. And how many of us can honestly say we've never been in a state of mind where we thought, "I might let someone do a medical study on me just for the cash" ??
🔪No Exit by Taylor Adams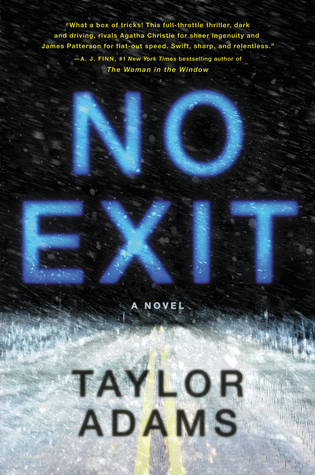 HTFT Tagline: Taking trapped room mystery to the next level.
Release Date: January 15th
I'm Buzzed Score: 🍷🍷🍷🍷🍷
Back of the Book: A kidnapped little girl locked in a stranger's van. No help for miles. What would you do?
On her way to Utah to see her dying mother, college student Darby Thorne gets caught in a fierce blizzard in the mountains of Colorado. With the roads impassable, she's forced to wait out the storm at a remote highway rest stop. Inside, are some vending machines, a coffee maker, and four complete strangers.
Desperate to find a signal to call home, Darby goes back out into the storm . . . and makes a horrifying discovery. In the back of the van parked next to her car, a little girl is locked in an animal crate.
Who is the child? Why has she been taken? And how can Darby save her?
There is no cell phone reception, no telephone, and no way out. One of her fellow travellers is a kidnapper. But which one?
Trapped in an increasingly dangerous situation, with a child's life and her own on the line, Darby must find a way to break the girl out of the van and escape.
But who can she trust?
With exquisitely controlled pacing, Taylor Adams diabolically ratchets up the tension with every page. Full of terrifying twists and hairpin turns, No Exit will have you on the edge of your seat and leave you breathless.
My Fucking Thoughts: My very reliable sources tell me that this book is THE SHIT. A true can't-put-it-down kind of thriller. Which, when you're a picky bitch like me, is super exciting to hear because maybe there's a chance I'll actually like a book I'm reading?!
🔪Blood for Blood (Ziba MacKenzie, #1) by Victoria Selman
HTFT Tagline: The body count is rising…again…
Release Date: January 24th
I'm Buzzed Score: 🍹🍹🍹🍹
Back of the Book: Ziba Mackenzie profiles killers. Now one is profiling her.
Rush hour, London. A packed commuter train is torn apart in a collision. Picking through the carnage, ex-special forces profiler Ziba MacKenzie helps a dying woman who passes on a cryptic message: He did it. You have to tell someone.
When a corpse is found bearing the gruesome signature of a serial killer dormant for twenty-five years, Ziba is pulled into the hunt for the perpetrator. As the body count rises it becomes clear he's on a new spree. But what's brought the London Lacerator back after such a long hiatus? And does his sudden return have anything to do with the woman on the train?
Ziba scrambles to profile the killer in the hope of predicting his next move. But time is running out. And the closer she gets to uncovering his identity, the closer he gets to destroying hers.
My Fucking Thoughts: Despite the fact that the synopsis used the phrase "as the body count rises," which is like so cliche and unoriginal and one of my bookish pet peeves, the overall snippet of the book has me totally interested. For one, the female lead is ex-special forces, which is refreshing for some reason. And also, a dormant serial killer called the London Lacerator!? SIGN ME UP.
🔪The Last by Hanna Jameson
HTFT Tagline: Let's play a round of Clue at the end of the world.
Release Date: January 31st
I'm Buzzed Score: 🍺🍺🍺🍺🍺
Back of the Book: Breaking: Nuclear weapon detonates over Washington

Breaking: London hit, thousands feared dead

Breaking: Munich and Scotland hit. World leaders call for calm
Historian Jon Keller is on a trip to Switzerland when the world ends. As the lights go out on civilization, he wishes he had a way of knowing whether his wife, Nadia and their two daughters are still alive. More than anything, Jon wishes he hadn't ignored Nadia's last message.
Twenty people remain in Jon's hotel. Far from the nearest city and walled in by towering trees, they wait, they survive.
Then one day, the body of a young girl is found. It's clear she has been murdered. Which means that someone in the hotel is a killer.
As paranoia descends, Jon decides to investigate. But how far is he willing to go in pursuit of justice? And what kind of justice can he hope for, when society as he knows it no longer exists?
My Fucking Thoughts: This is a little bit outside of my normal reads only because it has that apocalyptic vibe to it which I don't typically enjoy – I'm almost certain I'm going to live through some kind of end-of-the-world situation so why spend more time with it than I need to? But at its core, this novel is essentially a locked-room mystery and I'm totally here for its twisted take on the sub-genre.
🔪The Silent Patient by Alex Michaelides
HTFT Tagline: Happy life, homicidal wife.
Release Date: February 7th
I'm Buzzed Score: 🍸🍸🍸🍸
Back of the Book: Alicia Berenson's life is seemingly perfect. A famous painter married to an in-demand fashion photographer, she lives in a grand house with big windows overlooking a park in one of London's most desirable areas. One evening her husband Gabriel returns home late from a fashion shoot, and Alicia shoots him five times in the face, and then never speaks another word.
Alicia's refusal to talk, or give any kind of explanation, turns a domestic tragedy into something far grander, a mystery that captures the public imagination and casts Alicia into notoriety. The price of her art skyrockets, and she, the silent patient, is hidden away from the tabloids and spotlight at the Grove, a secure forensic unit in North London.
Theo Faber is a criminal psychotherapist who has waited a long time for the opportunity to work with Alicia. His determination to get her to talk and unravel the mystery of why she shot her husband takes him down a twisting path into his own motivations—a search for the truth that threatens to consume him…
My Fucking Thoughts: Who hasn't wanted to shoot their husband in the face every now and then? Also, I'm 100% the type of person to think they could be the one to solve a mystery when everyone else who has tried, has failed. So this novel really speaks to me on two different levels of my personality – the homicidal side and the narcissistic side.
🔪The Homecoming by Andrew Pyper
HTFT Tagline: Rich people do the weirdest shit for entertainment, even in death
Release Date: February 26th
I'm Buzzed Score: 🍷🍷🍷
Back of the Book: What if everything you knew about the people you loved was a lie?
After the death of their absentee father, Aaron and Bridge Quinlan travel to a vast rainforest property in the Pacific Northwest to hear the reading of his will. There, they meet up with their mother and troubled sister, Franny, and are shocked to discover the will's terms: in order to claim their inheritance, they must remain at the estate for thirty days without any contact with the outside world. Despite their concerns, they agree.
The Quinlans soon come to learn their family has more secrets than they ever imagined—revelations that at first inspire curiosity, then fear. Why does Bridge have faint memories of the estate? Why did their father want them to be sequestered there together? And what is out there they feel pulling them into the dark heart of the woods?
The Homecoming is at once a gripping mystery, a chilling exploration of how our memories can both define and betray us, and a riveting page-turner that will have you questioning your very existence.
My Fucking Thoughts: I mean seriously, this concept is insane! Who the fuck would make this a stipulation of their will? Satan!? I can't even imagine the trouble it would take for me to take a month off to be sequestered in a cabin. But, rich people do fucking crazy shit and thriller novels only have to be logical within their own plot, so fingers crossed that this is as weird as I think it's going to be.
🔪Save Me From Dangerous Men (Nikki Griffin, #1) by S.A. Lelchuk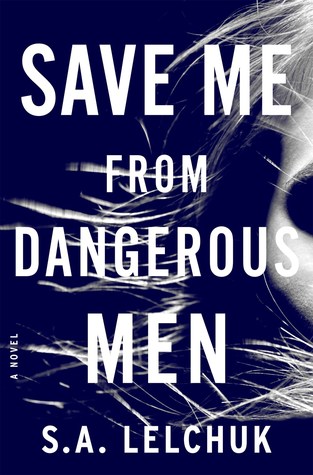 HTFT Tagline: The P.I. badass bitch of your dreams.
Release Date: March 19th
I'm Buzzed Score: 🍹🍹🍹🍹🍹
Back of the Book: Nikki Griffin isn't your typical private investigator. In her office above her bookstore's shelves and stacks, where she luxuriates in books and the comfort they provide, she also tracks certain men. Dangerous men. Men who have hurt the women they claim to love. And Nikki likes to teach those men a lesson, to teach them what it feels like to be hurt and helpless, so she can be sure that their victims are safe from them forever.
When a regular PI job tailing Karen, a tech company's disgruntled employee who might be selling secrets, turns ugly and Karen's life is threatened, Nikki has to break cover and intervene. Karen tells Nikki that there are people after her. Dangerous men. She says she'll tell Nikki what's really going on. But then something goes wrong, and suddenly Nikki is no longer just solving a case–she's trying hard to stay alive.
Part Lisbeth Salander, part Jack Reacher, part Jessica Jones, Nikki Griffin is a kickass character who readers will root for as she seeks to right the world's wrongs. S.A. Lelchuk's Save Me From Dangerous Men marks the beginning of a gripping new series and the launch of a fabulous new character.
My Fucking Thoughts: You had me at "…Nikki likes to teach those men a lesson." But what really hooked me is "Part Lisbeth Salander… Part Jessica Jones…" Like not so secretly, I 100% should have been Jessica Jones in another life. But I'm just boring old me, so I have to read kickass books like this to get my fix. Shut up and take my money!
🔪Sleep by C.L. Taylor
HTFT Tagline: Sassenach is gonna get it (death, not a dick)
Release Date: March 21st
I'm Buzzed Score: 🍺🍺🍺🍺
Back of the Book: All Anna wants is to be able to sleep. But crushing insomnia, terrifying night terrors and memories of that terrible night are making it impossible. If only she didn't feel so guilty…
To escape her past, Anna takes a job at a hotel on the remote Scottish island of Rum, but when seven guests join her, what started as a retreat from the world turns into a deadly nightmare.
Each of the guests has a secret but one of them is lying – about who they are and why they're on the island. There's a murderer staying in the Bay View hotel. And they've set their sights on Anna.
Seven strangers. Seven secrets. One deadly lie.
Someone's going to sleep and never wake up…
My Fucking Thoughts: So, we're a little top heavy in the locked-room mystery side of the list, but what can you do when all of these books sound so good? There's something a little bit romanticized to me about putting this sub-genre on a Scottish island. Romantic in a purely homicidal way, of course. Like I Still Know What You Did Last Summer meets Brigadoon.
🔪Alice's Island by Daniel Sánchez Arévalo
HTFT Tagline: A lying husband? NO WAY. /end sarcasm/
Release Date: April 16th
I'm Buzzed Score: 🍸🍸🍸
Back of the Book: Alice Dupont's perfect marriage was a perfect lie. When her husband, Chris, dies in a car accident, suspiciously far from where he should be, Alice's life falls apart. After the police close the case, she is left with more questions than answers. While learning to cope with her loss and her new identity as a single mother of two, Alice becomes obsessed with unravelling the mystery surrounding her husband's death and decides to start her own investigation. Retracing her husband's last known whereabouts, she soon discovers clues that lead her to a small island near Nantucket.

As she insinuates herself into the lives of the island's inhabitants in an effort to discover what they knew about her husband, Alice finds herself increasingly involved in their private lives and comes to a disturbing realization: she has been transformed into a person she no longer recognizes.

In seeking an answer to what her husband was doing before he died, Alice discovers not only a side of him she never knew, but sides of her own character she has never explored. Part mystery, part moving family drama, part psychological page-turner, Alice's Island is a novel whose vivid characters hold the reader rapt right up until the final page.
My Fucking Thoughts: I know, I know, I know… how many fucking wives have to spend their fictional lives finding out that their husbands had shady secrets? I'm sick of it too, buttttttt.... based on early reviews this one is going to be the "I didn't know my husband at all" thriller to end all other domestic thrillers.
🔪Hide and Seek (Criminal Profiler, #1) by Mary Burton
HTFT Tagline: Bones, both remains and sexual.
Release Date: April 23rd
I'm Buzzed Score: 🍷🍷🍷
Back of the Book: She's hunting. He's watching.
Special Agent Macy Crow is a survivor. After a vicious hit-and-run nearly kills her, she gets right back to work, and now she's gunning for a spot on the FBI's elite profiling team. As an audition, she offers to investigate the recently discovered bones of Tobi Turner, a high school girl who disappeared fifteen years ago.
While investigating with local sheriff Mike Nevada, a former colleague and onetime lover, Macy discovers a link between Tobi's case and several others that occurred around the same time as her disappearance. As Macy interviews victims and examines old cases, she uncovers a sinister picture of a stalker who graduated to sexual assault—and then murder.
Macy and Nevada race to put this monster behind bars before he can come out of hiding. But the murderer's had years to hone his skills, and soon Macy herself becomes a target. She's no stranger to pain and terror, but will Macy's first profiling case be her last?
My Fucking Thoughts: I make no apologies – I'm a sucker for any books featuring a female lead who's gunning for a "man's world" job and solving murders along the way. Get it, gurl!
---
This is in no way a comprehensive list of what's coming out in early 2019 for crime fiction, but then you probably didn't expect it to be either. What am I? Some kind of industry newsletter?
These ten books have my attention the most, is all I'm trying to say.
I've requested all of them on Netgalley, and with my new year's resolution to DNF all the shitty books (read: not for me, but maybe you'd like it *jerk off motion*) I've requested in the past, I have high hopes that I'll be able to read anything new I'm approved for.
Most likely. Probably.
Hopefully.
What's got your eye for new releases? Let me know in the comments – we can grow our TBR piles together.
Until next time, Booknerds!