"And to think you were worried about a damn shower curtain. Nothing says 'serial killer' like a chest freezer in a garage."
★★★★★
Minotaur Books | 2021
Filed Under: Contract killer is yoga pants
---
This must be the year where I just can't take anymore terrible shitty shitty shit, that all of my favourite things have become fun, light, optimistic good times. I'm as shocked as you are, I'll creep it real.
I did not see this shift in my life coming, I just know it's here so I'm leaning into it. If we want to get all therapy-lite about it, I definitely know it's a response to these COVID times.
I've had it up to my double chin with this planet, so all the things that have lit my feelings on fire in 2021 have been good good stuff, you know?
For the last couple months, there hasn't been a true-crime doc or horror movie insight. I've rewatched Notting Hill and You've Got Mail like half a dozen times.
Ted Lasso? I am fucking IN LOVE with him. I wait for Friday nights like a child waiting for Saturday morning cartoons. Not because I'm excited for the weekend, but because I need me some Lasso sweetness and Roy Kent grunts. Simple as that.
And when it comes to books? Finlay Donovan is Killing It might just be my favourite read of 2021 (so far – it's only September, so who knows what the end of the year will bring.) Trust me when I tell you, I was not fucking expecting that when I borrow this from the library, but here we are.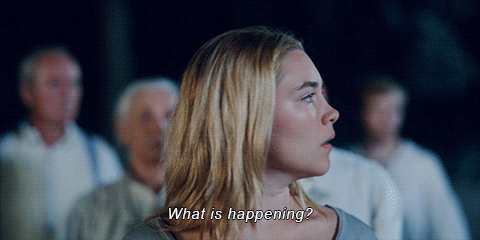 I would say this book is best categorized as a "cozy mystery," but I generally don't like cozy mysteries because the quality is too Hallmark Channel for my tastes. I'm not into the cutesy mystery vibe. But Finlay Donovan is different. It's fun, but it's not cute. It's lighthearted, but it's got a dark side that gives it an edge.
Finlay Donovan is navigating divorce, single motherhood and a floundering romance writing career that is not paying the bills – making ends meet is getting harder and harder. When she's mistaken for a contract killer due to a whole thing with Panera Bread, Finlay ends up with $50k in her purse and the expectation that she's going to murder someone.
And the rest you just have to read. Seriously, READ IT.
The plot of this novel was just my favourite thing ever. Any time I was on the edge of my ass, worried that Finlay was backed into a corner, forced to do a morally compromising thing, the author like BOOM! BITCH and turned that shit around in the most clever way. And I would be left like…
I mean, for sure this is an over-the-top story from start to finish, but it fucking works. The structure and writing are tight, doing its best to not rely on any of the usual tropes that are used to facilitate a "miscommunication" plot. I definitely appreciated that because the "I'm just not going to stay anything when that would clear all of this up real quick" schtick is one of my top literary pet peeves. The pacing is perfect. The plot twists are perfect. The characters are vibrant and lovable, even when making decisions you would never make, and I think that comes from how authentic they feel on the page.
The friendship between Vero and Finlay is everything. Do you have someone who would help you bury a body? These ladies are that kind of ride-or-die but without any of the sappy emotional bits. I want to be friends with these characters. Please take me to a sod farm to bury a body with y'all. I'll do it! And I hate manual labour.
The more relatable struggles that Finlay deals with – namely her trash ex-husband – are what ground the plot and provided a lot of dimension to Finlay's life. Honestly, I can't think of another novel I've read this year that had such amazing characterization. The author makes the most of every scene and all the dialogue to bring the characters, and their ridiculous antics, to life in the most concise way, never sacrificing pacing. Seriously, whoever edited this novel deserves an award or a raise.
This is smart and fun – everything you could possibly want out of a novel like this. I had an absolute blasty-blast reading it. I can't recommend it enough.
🔪🔪🔪
---
Finlay Donovan is killing it . . . except, she's really not. She's a stressed-out single-mom of two and struggling novelist, Finlay's life is in chaos: the new book she promised her literary agent isn't written, her ex-husband fired the nanny without telling her, and this morning she had to send her four-year-old to school with hair duct-taped to her head after an incident with scissors.
When Finlay is overheard discussing the plot of her new suspense novel with her agent over lunch, she's mistaken for a contract killer, and inadvertently accepts an offer to dispose of a problem husband in order to make ends meet . . . Soon, Finlay discovers that crime in real life is a lot more difficult than its fictional counterpart, as she becomes tangled in a real-life murder investigation.
Fast-paced, deliciously witty, and wholeheartedly authentic in depicting the frustrations and triumphs of motherhood in all its messiness, hilarity, and heartfelt moment, Finlay Donovan Is Killing It is the first in a brilliant new series from YA Edgar Award nominee Elle Cosimano.