"The difference between a hero and a victim? Timing."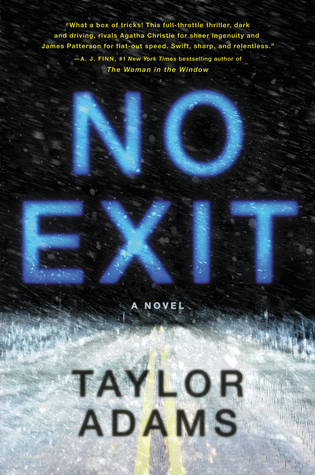 ★★★★★
William Morrow | January 2019
Filed Under: Did we learn nothing about isolated rest stops from Michael Meyers?!
---
This is my first five-star read of the year. And thank the god of thunder, because I was starting to get a little cranky as nothing has really been knocking my bits off. Whose fault is that really? Mine? Because of my choices? Get out of here! I don't want to hear it!
Reading No Exit was an exercise in cinematic writing. It would be easy to say it was written with a movie option in mind (and maybe it was,) but maybe the plotting and timing of the story are just so fucking just good that the writing takes on a vibrant cinematic quality, and therefore, it seems like it should be a movie.
And it definitely should.
I would honestly give this five stars just based on the writing skill alone. It was that seamless and riveting. And my friends and regular readers know I don't give out my stars easily. You have to earn this shit from me. You want easy stars? Go to the reviewers who aren't dead inside with a stick up their ass.
It's all ass sticks here, baby!
I do it because I love you and I want you to have an honest opinion from someone who isn't worried about feelings and blah blah blah.
Continue reading

"Review: No Exit by Taylor Adams"