"It turns out the real you is a quilt, made up of the light and the dark. The life you've lived in sunshine and your shadow life, stretching underneath the surface of your mind like a deep underwater world, exerting invisible power. You are a living, breathing story made up of the moments in time you cherish, all strung together, and those you hide. The moments that seem lost. Until the day they're not."
★★★★★
Sourcebooks Landmark | 2021
Filed Under: What fucking knife?!
---
Were you kind of a loser in school who now sometimes daydreams about going to a class reunion and showing all your stupid fucking peers that you're a cool adult now with heavy "I don't give a shit what you think anymore" vibes, even though you obviously do care or why would you even fantasize about triumphantly walking into the reunion to Venus by Bananarama like Romy and Michelle after they change into their blue and pink dresses?
No, me either.
Okay, but do you love twisted thrillers with vibrant, unlikeable characters who drive a plot with drama and secrets and murder and a little bit of oral sex? Hey, me too!
There was so much hype around this book that I was fully expecting to not like it because that's usually how it works for me, but I was pleasantly proven wrong because I loved this.
It was so much fun and everybody was so awful in the most delicious ways that it's a good time to hate them and watch bad shit happen.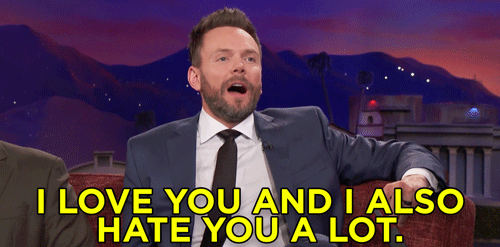 If you want to binge-read a totally entertaining thriller over a weekend, then read this. Because honestly, the only thing I didn't like about it is that there are scissors on the cover next to the word knife. Thanks, I hate it.
Continue reading

"Review: In My Dreams I Hold A Knife by Ashely Winstead"