"Every house has a story. Ours is a ghost story. It's also a lie. And now that yet another person has died within these walls, it's finally time to tell the truth."
★★★★
Dutton Books | 2020
Filed Under: I'm not in the habit of blaming Satan for every phenomenon.
---
I wish this had fully been a horror story because, from the bottom of my bottom, I know Riley Sager could totally kill a haunted house horror novel.
But, this is like haunted house horror adjacent. It's intentionally walking that line of fact or fiction, skepticism or belief. You never really know what you're going to get with each new chapter.
Home Before Dark is a little bit spooky with a touch of Amityville vibes and lots of that signature Sager misdirection and twisty-twists. But it does read like more of a mystery-thriller.
When Maggie Holt's father dies, she inherits the haunted house she lived in for 15 days when she was 5-years-old, totally unaware that her father still owned it. She and her parents fled in the middle of the night from Baneberry Hall and never returned, claiming the house was going to murder them, basically. Her father even wrote a bestseller about it that gained the family national fame and scorn. Just like the real Amityville – who many believe was a long-con by the family – not everyone believes the Holt family's claims. Not even Maggie.
Now a house-flipper and designer, Maggie was too young to really remember what happened, but she's sure her father's book is whole ass bullshit. Any time she's tried to get the truth from her parents they are dodgy and shady AF. Now her dad's gone and her mom is all "I'm leaving for Paris!" so if Maggie wants the truth, she'll need to search for it herself.
What is one to do with an abandoned haunted manor that probably holds the key to all Maggie's questions? Flip it and sell it, obviously. But to do that, Maggie needs to move back in. And she's like I ain't afraid of no ghost! and she moves the fuck in even though her father used his final words to be like don't fucking do that. She did it.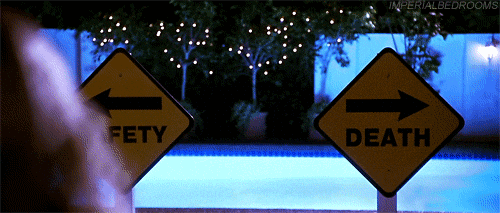 Maggie's whole HGTV Flip This Haunted House meets 30-Something Nancy Drew vibe really worked for me. And honestly, I don't know why more people are not flipping haunted houses. I would fully do that but I know nothing about the business except for what Joanna Gaines has taught me. So if you're interested in going into business together, let me know because I'm certain there's a demonic house out there just waiting for some fucking shiplap.
In typical Sager style, this novel is full of homages and throwbacks to all the stories and movies in this vein that we love. I've said it before and I'll say it again, Sager and I are clearly fans of all the same things and we should be best friends. But I digress… Sager also really leaned into some of the jokes surrounding the genre. Like when the happy family is at a showing with their realtor and are told about all the death and horror that is associated with the house and cheerfully they say, "We'll take it!"
With that, let's get into the Twisted Totals. You get:
Three ghosts
One murder-suicide
One sinister Sound of Music soundtrack
One backyard cemetery
Three cups of terrible tea
One missing girl
One shadowy figure starring at the house from a distance
One teddy bear that moves on its own
One box of creepy Polaroids
24 bells that spell shit
One bag of bones
Two creepy portraits
Four love letters
One shower-cry scene
One sleepover fistfight
Two bottles of urine
Chandelier shit, Gate shit, Creaking pipes shit and Snake shit
Fucking Highlights are:
Maggie's mom, Jess, for "I will not force my daughter to sleep in a dead girl's bed. And I definitely won't sleep in the bed of the man who killed her."
And contractor Dane for, "Find somebody else to mess up with your daddy issues."
Sager is 100% an auto-buy author for me. He could sell me literal shit between hardcovers and I would be like yes sir, thank you, I'd like some more. But I also know this wasn't really the best Sager novel I've ever read. It's got a slow start and didn't quite hit me in the feels the way Final Girls or The Last Time I Lied did. But it's still good, fully showcasing why Sager is the king of plotting, even if this is not as propulsive as his previous offerings.
Home Before Dark is full of mystery and blurs the line between thriller and horror, playing up the battle of science vs. supernatural in subtle yet considerate ways. And the atmosphere and execution of Baneberry Hall was vibrant and tangible AF.
Plus, who knew you could make The Sound of Music creepy? Gotta give points for that. Julie Andrews would NEVER.
---
What was it like? Living in that house.
Maggie Holt is used to such questions. Twenty-five years ago, she and her parents, Ewan and Jess, moved into Baneberry Hall, a rambling Victorian estate in the Vermont woods. They spent three weeks there before fleeing in the dead of night, an ordeal Ewan later recounted in a nonfiction book called House of Horrors. His tale of ghostly happenings and encounters with malevolent spirits became a worldwide phenomenon, rivaling The Amityville Horror in popularity—and skepticism.
Today, Maggie is a restorer of old homes and too young to remember any of the events mentioned in her father's book. But she also doesn't believe a word of it. Ghosts, after all, don't exist. When Maggie inherits Baneberry Hall after her father's death, she returns to renovate the place to prepare it for sale. But her homecoming is anything but warm. People from the past, chronicled in House of Horrors, lurk in the shadows. And locals aren't thrilled that their small town has been made infamous thanks to Maggie's father. Even more unnerving is Baneberry Hall itself—a place filled with relics from another era that hint at a history of dark deeds. As Maggie experiences strange occurrences straight out of her father's book, she starts to believe that what he wrote was more fact than fiction.