"Bitter, cold, barren. These are words thrown at women without children. Like we're a Montana winter. Either we're to be pitied or we're to be blamed, depending on how much choice we had in the matter."
★★★½
Crooked Lane Books | 2020
Filed Under: The horror of a baby shower invitation
---
If you're looking for an easy read that will also satisfy your need for murder and mayhem, then I'm going to recommend this book. Honestly, it's nothing special. It isn't deep or complex, the plot elements are basic and it's on the lower side for word count, but I actually mean none of that in a bad way for once in my life. Sometimes you just want to read a book in your preferred genre that isn't going to require a lot of brainpower or emotional investment. And that's this book.
It's fun, it's light, it's a little bit sinister and it'll keep your attention firmly on its fictional world instead of on our real sucky one.
In the middle of a stressful pandemic, that's exactly what I was looking for. And it's what I got. I mean, I'm not going to give it 5-stars just for that, but on a fantasy five-star scale that exists only for soapy-mystery novels? Sure.
The cherry-on-top is that Gehrman infused this female-centric, locked-room mystery with all the feminist sparkle and questions about expectations of women that I love and relate to.
The main character, June Moody, is basically me except for the shitty partner. She's a 30-something English professor (that's me in my dreamssssss) who is in the middle of dealing with all those pesky thoughts and insecurities that start to plague us around this time – should I be doing things other women are doing? Am I too late? Am I old? Do I even want to do those things or is it just societal pressure? Am I happy? Am I sure? Is the grass really greener?
You know how it goes, and if you don't, you soon will. That's not a threat, it's just a fact.
When June's friend/nemesis, the very successful Sadie MacTavish, invites June and their two other old friends to the MacTavish McMansion for the weekend to reconnect and celebrate the upcoming birth of Sadie's niece or nephew, June is hesitant to go because Sadie always makes her feel like shit. She has everything June has always wanted – the successful writing career and her one true love from college. But the negative feels become secondary when Sadie goes missing, blood all over her house and the guests left with no memory after maybe being drugged.
It's a tale as old as time. I mean, you've been to a baby shower where someone dies, right?
This is a classic locked-room mystery with only a few suspects and lots of twisty moments to keep you entertained, even if you guess the conclusion before you get there. Despite June and Guests doing a bunch of stupid shit after Sadie goes missing that you know they know they shouldn't do – "let's clean up and lie about everything!" – it was still engaging.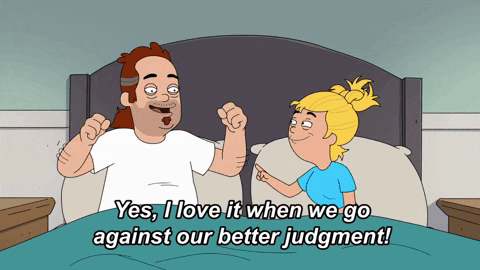 I would have liked a little more depth to the atmosphere and setting since everything else was pretty shallow, but the dialogue rang true to me and I think the characters stood out on their own, despite not being fleshed out as much as I usually want. There were no major twists or super shocking moments, but it did maintain a steady pace and things were constantly happening that kept me fixated like soapy reality TV can do on a lazy Saturday afternoon.
The Girls Weekend is not going to be winning any literary awards, but who needs them when you're cute? This is fun and twisty with some Real Housewives vibes.
It's good. It won't work for everyone, but it's good.
🔪🔪🔪
---
Their reunion just became a crime scene . . .
June Moody, a thirty-something English professor, just wants to get away from her recent breakup and reunite with girlfriends over summer break. Her old friend and longtime nemesis, Sadie MacTavish, a mega-successful author, invites June and her college friends to a baby shower at her sprawling estate in the San Juan Islands. June is less than thrilled to spend time with Sadie–and her husband, June's former crush–but agrees to go.
The party gets off to a shaky start when old grudges resurface, but when they wake the next morning, they find something worse: Sadie is missing, the house is in shambles, and bloodstains mar the staircase. None of them has any memory of the night before; they wonder if they were drugged. Everyone's a suspect. Since June had a secret rendezvous with Sadie's husband, she has plenty of reason to suspect herself. Apparently, so do the cops.
A Celtic knot of suspense and surprise, this brooding, atmospheric novel will keep you guessing as each twist reveals a new possibility. It will remind you of friendships hidden in the depths of your own past, and make you wonder how well you really know the people you've loved the longest.