If you're in the US right now everything is red, white and blue for Independence Day. The month of July gets y'all fired up and feeling aggressively patriotic. Fireworks and eagles, and 1 in 3 people predicting a civil war, and immigrant children in cages. It's amazing.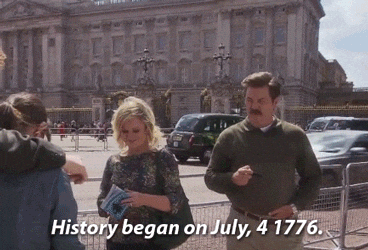 Here in Canada, July has a similar effect. The 1st is Canada Day, our birthday. Everything is red and white, beavers and fireworks and our Prime Minister probably out somewhere taking selfies. True North, Strong and Free, eh!
Most people don't even realize we're celebrating a thing at all. And that's fine, really, because we know and we go all out, covering ourselves in maple syrup and doing sexual things with hockey sticks. Maybe. Probably. Whatever. Don't judge.
But it got me thinking, we Canadians have a lot to be proud of that doesn't necessarily get recognized across borders until someone like Justin Bieber becomes an international sensation and people start screaming "take him back, Canada!" and we're like, "but we don't want him either! You made him weird! He's too religious now!"
As Canadians, we've developed this terrible habit of pointing out everyone and everything that's Canadian. It's like saying, "Hey! We're here too! We do some cool stuff!"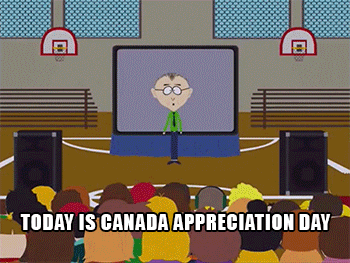 My husband is from New York state. He moved to Canada in 2015 after we got married. And one of his favourite things has become laughing at me every time I say "they're Canadian" without even realizing the words are coming out of my mouth. All Canadians do this. It comes from a deep, dark place of feeling less than.
When it comes to our entertainment, for the most part, it is heavily saturated in American content. And Canadian content can suck in comparison. Trailer Park Boys? Corner Gas? It's embarrassing, but it's getting a little bit better lately. In terms of crime shows, Cardinal was fucking fantastic. The Detail is promising. But I can't think of much else. Maybe we're more known for our comedy.
Either way, as Canadian as I am, I much prefer American TV. Except for maybe Hockey Night in Canada. (Yes, that's a literal thing. Every Saturday during hockey season on CBC.)
I've always been into crime fiction. I grew up watching things like Profiler, CSI, Law & Order, and Criminal Minds. I can recite the Miranda warning, as I think most Canadians could. I understand the US court system and the law enforcement bodies and how they function and what grade of detective is what. When I was around 14, I wrote my first short story – about an FBI agent. I had no clue if there was even a Canadian equivalent, and I didn't care. I was enamoured.
Here's a fun bit of trivia about me: I was in my late twenties before I realized Canada doesn't have Miranda warnings. Did you know in Canada, the supreme court ruled you do not have a right to an attorney? In every show I've ever watched, from dramatized to reality, when a suspect asks for an attorney the whole interview shuts down and the questioning is over. In Canada, that's not the case. The client can ask for an attorney, and has a right to silence, but the cops can sit there and keep talking. The interview doesn't end. And I just learned this 6 months ago!
I'm ashamed of my own ignorance.
This is a side effect of being inundated by American content that most Canadians suffer from. We don't completely understand our own justice system and its branches, or even our rights and what they mean. We just assume they are similar to the American things we see, and often times they're not. Have you ever seen what the Canadian Supreme Court judges wear?
Not even kidding.
I read The Drowned Girls a couple weeks ago and I loved it. It's set in Victoria, B.C. I wasn't expecting it to be a Canadian novel but it was so refreshing to think I was getting to read something set in my own country, using my own laws and systems.
With that in mind, I thought about what other Canadian crime fiction novels might be out there, actually written by Canadians? There are the big ones who have broken into the American mainstream – Louise Penny, Linwood Barclay. But what about the rest?
Canada actually has a pretty robust community of fiction writers, and a disproportionate number of them are proving themselves competitors in the over-saturated genre of mystery/crime fiction. Do you know who they are? Do Canadians even know who they are?
Today's list of Five is Canadian authors delivering Canadian content.
5. Ausma Zehanat Khan🍁🔪
Calling Toronto home, Khan is an author of crime and fantasy novels. She holds a Ph.D. in International Human Rights Law. She received her LL.B. and LL.M. from the University of Ottawa, and her B.A. in English Literature from the University of Toronto.
Her first novel, The Unquiet Dead, was published in 2015 by Minotaur Books. A police procedural series that features Inspector Esa Khattak and Sergeant Rachel Getty. It is rapidly turning into one of crime fiction's most intriguing series. Her main character is a Muslim Toronto cop, who heads up the city's community policing section, which handles "minority-sensitive" cases. With the series, which is now up to four instalments, Khan aims to weave absorbing puzzles, intricate character development and an eye-opening portrait of Muslim life in North America.
4. Inger Ashe Wolfe🍁🔪
A pseudonym for Canadian fiction writer Michael Redhill, Inger was born out of Redhill's fascination with the possibilities of a "hidden life."
He writes in The Globe and Mail: "I decided I'd write The Calling as someone else. Another writer entirely, a fictional one who would be played by me… I saw the main police character in the novel quite clearly from the beginning. Hazel Micallef was a 62-year-old interim police chief on a small-town force… To figure out who could write such a woman, I started with Hazel. I came to imagine her writing as someone who was a little like her… I gave her the name Inger Ash Wolfe after my maternal grandmother, whose maiden name was Wolfinger."
Redhill is a poet, playwright and novelist who has written two novels under his given name, as well as a collection of short fiction, three plays and five collections of poetry. His first novel written as Wolfe was The Calling. Four novels have been published in the Hazel Micallef series so far, with the author saying he's planned for five. In 2014, The Calling was turned into a movie starring Susan Sarandon.
3. Giles Blunt🍁🔪
Blunt was born in Windsor, Ontario in 1952 but grew up on North Bay, Ontario.
His first novel, Cold Eye, was published in 1989, but he wouldn't publish another novel until 2000, when Forty Words for Sorrow was picked up by Random House. It is the first novel in the John Cardinal series. The second novel in the series, The Delicate Storm, was the Crime Writer's of Canada Arthur Ellis Award winner for Best Novel, as was the sixth, Until The Night.
The Cardinal series is set in the fictional town of Algonquin Bay in Northern, Ontario – a thinly disguised North Bay. Blunt chooses to keep the names of major streets, the two lakes that the town sits between, and the physical layout, the same as the real place he grew up.
Blunt has also written for Law & Order, Street Legal and Night Heat. In 2014 he received an honorary degree of Doctor of Education from Nipissing University.
In 2017, Canadian network CTV created a series from the Cardinal books, called Cardinal. Starring Billy Campbell as the titular character. The second season premiered in 2018, and the third and fourth season have already been renewed.
(Seriously, this show is the fucking shit. Highly recommend.)
2. Kelley Armstrong🍁🔪
From Sudbury, Ontario, Armstrong is primarily an author of fantasy novels, but she has created two series of crime fiction as well. The Rockton series, featuring a homicide detective who is hiding out in a mysterious town. And the Nadia Stafford series, her only works without any paranormal elements. Nadia is a contract killer and a former cop.
The oldest of four siblings, she graduated with a degree in psychology from the University of Western Ontario. She then switched to studying computer programming at Fanshawe College so she would have time to write.
Her first novel, Bitten, was released in 2001. It came with so much success that Armstrong became a full-time writer in 2002. Her novel No Humans Involved was a New York Times bestseller. As was her YA novel, The Awakening, which hit No. 1 in the Children's Chapter books category.
In 2014, Bitten was turned into a tv series by Canadian network Space, starring Canadian actress, Laura Vandervoort in the lead role. It ran for three seasons and 33 episodes before coming to an end in 2016.
To date, Armstrong has published over 40 works.
1. Chevy Stevens🍁🔪
Born in 1973 as Rene Unischewski, Stevens grew up on a ranch on Vancouver Island and still calls the island home. She is a Canadian author of thriller novels who Stephen King has called one of his favourite female writers working today.
Stevens was working as a realtor when she got the idea for her first novel Still Missing, in which a real estate agent is abducted while holding an open house. Stevens eventually sold her house and left real estate in order to focus on finishing her novel.
Published in 2010, Still Missing ended up becoming a New York Times bestseller and won the International Thriller Writers Award for Best First Novel.
I've read it, and I'm telling you it's an emotional rollercoaster that still haunts me.
Stevens has written seven novels so far, her latest being Never Let You Go, published in 2017. Her books have been optioned for movies, and are published in more than thirty countries.
---
Stay safe. Be kind. But, take no shit.
Later, Booknerds ✌️🔪