Happy Hump Day, ghouls and ghosts!
Halloween is getting closer with each passing day and I'm so excited about it that I've literally been living off of pumpkin pie and bite-sized candy for the last week.
…I don't feel good. I think maybe some basic organ functions are stressed out?
Anyway, while I try to maintain a normal blood-sugar level, today we're going to explore haunted libraries! And honestly, my afterlife plan is to be a library ghost so I can read all the books I couldn't get to while I was alive.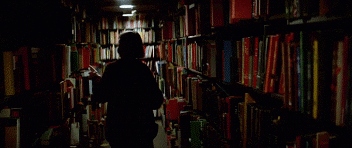 Whether you believe in ghosts or not is completely irrelevant. We're not here to discuss the probabilities of life after death. Although I will say, once people start reporting ghosts whispering "it's Britney, bitch," and "what's the wifi password?" I might give a little bit more credence to the idea.
Right now, it seems like every ghost is wearing a civil war uniform and women are in bonnets, bemoaning a lost husband. Where are all the modern ghosts in trucker hats and flared jeans haunting a Starbucks Where are my feminist ghosts at?
So, yes, I might be a skeptic. But that doesn't mean I don't enjoy the stories or the "…but maybes" that can come with the fact that no one can ever truly know for certain what else might exist beyond our earthly bodies.
Here's my list of the most haunted libraries around the world!
Continue reading

"#Halloween: Haunted Libraries"