★★½
Holt McDougal | 2009
Filed Under: A Narcoleptic Fever Dream
---
I've tried a couple of times, with different authors, to read this kind of hard-boiled, noir private detective story and… it's just not for me.
That's putting it nicely, which is unusual for me.
So, to put it not so nicely, I think this particular genre is supposed to come across as classic, intense and pulpy serious. The private dick is a man of the streets and a man of law. He's balancing his day-to-day life against the seedy underbelly he's wrapped up in as he seeks justice and upholds the law by sometimes playing outside of its lines. Ugh, so gritty and dark.
But to me, it's fucking goofy as hell.
All I can think about it "Fast Talking High Trousers."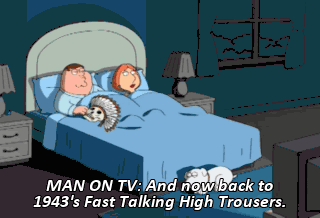 You can't tell me I'm wrong! You can't!
But supposing I was…
Continue reading

"Review: The Little Sleep (Mark Genevich, #1) by Paul Tremblay"