If you're anything like me, the release of the new season of Mindhunter might have sent you into an orgasmic tailspin and you've binged the entire season already, maybe even twice.
Let's be honest, Bill Tench could fucking get it.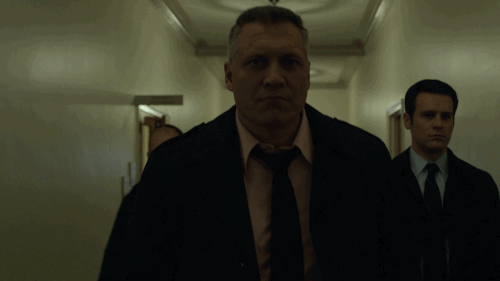 David Fincher is a genius. This show is diabolical perfection. I've never been more in love with anything in my entire life, except for maybe Silence of the Lambs.
Now that it's over, I'm hurting. I'm hurting bad.
All I have left is re-watching the 19 episodes over and over again while I wait another 2 years (probably) for season three, if we even get one. I know you feel the same. You might be wondering what exists out there that will tide you over just a little bit. That will take the sting out of having zero new episodes on deck.
You came to the right girl to find out. I mean, probably. If you've read all of these books than this is not going to be any help to you whatsoever. Contact an addictions counsellor because I have a limited number of ideas.
For the rest of us, I can't promise these novels of death and madness will make everything better, but it'll sooth the craving if only for a little while.
---
🔪The Killer Across the Table | John E. Douglas and Mark Olshaker
Maybe this one is a little obvious, because Mindhunter is based on this author's life and work.
The show takes it's inspiration and direction from former Special Agent John Douglas' book Mindhunter, which details his pioneering work with the FBI, creating the Behavioural Science Unit and developing the tool of profiling.
You've watched Mindhunter, maybe you've even read the book in preparation. Now you want more Holden Ford. New Holden Ford. Then for fuck's sake, pick up The Killer Across the Table.
In this brand new release, Douglas opens up his case files and does a deep dive into four of the most horrendous crimes he has ever worked.
Looking at each killer's life and crimes with an intense gaze, he tries to sort out all the factors that led them to do what they did and shares the graphic, and often surreal, interviews that took place. And he shows how he used his next-level interrogation skills to expose them, revealing for the first time, his true profiling process in detail.
You want this.
🔪Whoever Fights Monsters | Robert K. Ressler and Tom Shachtman
If you're going to have some Holden Ford, then by god, you need some Bill Tench, too!
The character of Bill Tench is based on Douglas' partner in crime, Robert K. Ressler.
Written in 1992, this book details Ressler's experiences interviewing history's most demented humans and his hand in developing criminal profiling.
This man is literally responsible for coining the term "serial killer." Can you even fucking imagine what it would be like to have that bullet point on your goddamn CV? If you're going to be a Mindhunter fan you've got to be a Ressler fan too.
Where Douglas might be more of a dynamic poster boy, Ressler's undeniable knowledge and fact-based approach to his pioneering work is a different side to the same coin that demands to be read. He gives you research, he gives you science, he gives you Bill Tench: Academic Zaddy.
Get it.
🔪 Red Dragon (Hannibal Lecter, #1) | Thomas Harris
I'm thinking of doing a re-read of this classic, perfect series to wash the taste of Cari Mora out of my eyes. That metaphor makes no sense, but we're just going to roll with it.
Did you know that this first instalment of the Hannibal Lecter series was inspired by Douglas and Ressler's work? And the character of Jack Crawford, the BSU's Unit Chief in the series, is based on John Douglas, according to Douglas himself – though Harris has never stated that.
This book, and the characters within, are fucking iconic. If you're looking for that "diabolical villains with smart AF good guys hunting them" vibe that you've been missing since watching the last episode of Mindhunter, than I have to suggest Red Dragon.
Start the series from the beginning. Take it all it.
Bonus answer: binge the Hannibal TV show starring Mads Mikkelson and Hugh Dancy. It is a beautiful, disturbing, elegant horror show that was completely underrated and underwatched. It is based on Red Dragon.
It's a controversial opinion, but as a Hannibal Lecter fangirl, I wholeheartedly believe that Mads Mikkelson as Lecter might the greatest rendition of that character, if not at least completely on par with Anthony Hopkins' legendary portrayal.
🔪The Bone Collector (Lincoln Rhyme, #1) | Jeffrey Deaver
Here's my Deaver confession: I watched the movies before I ever picked up one of his books.
Angelina Jolie and Denzel Washington in The Bone Collector is still, to this day, one of my very favourite movies ever. I think I was in high school the first time I saw it. I spent a very large chunk of my adolescent years wanting to be Officer Amelia Sachs.
I just recently started collecting this book series so I can have a complete collection. Lincoln Rhyme is up there when we're ranking greatest detectives in crime fiction.
I think the movie was my first real exposure to forensic work and how it's used. And reading the book, apparently it's very heavy into CSI speak. Personally, that's some of my favourite shit to read.
When you combine that with a gruesome killer, I'm sold.
Bonus answer: Go watch the movie too! Seriously, it's a 90's classic.
🔪The Killer Inside Me | Jim Thompson
Stephen King said of this novel and the author: "He was crazy. He went running into the American subconscious with a blowtorch in one hand and a pistol in the other, screaming his goddamn head off. No one else came close."
Published in 1952, this book is widely considered one of the greatest crime novels of all time. Told from the first-person POV of a Sheriff's Deputy/serial killer, it is probably as close as you'll ever get to experiencing the inner thoughts and urges of a true psychopath who truly hates women.
You'll want to take a bleach shower after reading this.
Bonus answer: There's a movie adaptation made in 2010 and starring Casey Affleck, Jessica Alba and Kate Hudson. It's worth a watch, unless of course you're boycotting Mr. Affleck because of those pesky sexual assault allegations.
Honestly, I say boycott all Afflecks. Especially after what Ben did to Batman. LIKE HOW DARE HE?
🔪Chase Darkness With Me | Billy Jensen
I haven't read this yet, but I have a soft spot in my heart for Billy Jensen.
And I think this book is only going to make that spot even bigger and softer. If we could just see that turn of phrase as a good thing, I'd be grateful.
OKAY.
This new novel from Jensen is a true-crime dream where we follow the investigative journalist as he rides shotgun to try and solve some of the stories he's written about and has grown sick and tired of not having answers to.
He identifies the Halloween Mask Murderer, finds a missing girl in the California Redwoods and investigates the only other murder in New York City on 9/11. Plus, you'll get some insight into two of the most terrifying serial killers in US history, The Golden State Killer (he worked with Michelle McNamara on her novel) and the Allenstown Four, which I just wrote about for a True Crime Tuesday post.
I mean, come on! This novel sounds amazing and will satisfy your Mindhunter withdrawal while putting you as close to being an amateur detective as you can get… you know, without actually going out and trying to do that. If that's your thing, follow your dreams, bb.
🔪American Predator | Maureen Callahan
Another true crime book with a shit load of hype around it, this is a book you are going to want to read if you're missing the energy of an FBI investigation and the twisted killer in their sights.
Journalist Maureen Callahan spent years uncovering and revealing the full case of Israel Keyes, a methodical and demented serial killer in Alaska that most of us have never heard of. She put in hundreds of hours of interviewing the investigators and even more hours researching any material she could get her hands on.
I mean, even if the book is shit, that kind of dedication and hard work by an author should be rewarded.
And not to toot my own boob, but I know a lot about serial killers and I had no idea who this guy was. Talk about keeping something under the radar.
"The subject of this book was unlike anything the FBI had ever encountered. He was a new kind of monster, likely responsible for the greatest string of unsolved disappearances and murders in modern history. And you have probably never heard of him."

Author's Note
You're missing some Holden Ford level dedication to catching a killer and revealing their darkness? You might want this book. Just saying.
---
So, if you seem anxious and should take a fucking valium, like Tench would advice, then maybe it's about time you picked up one of these books and found your chill.
These recommendations aren't Mindhunter, but they're almost the same.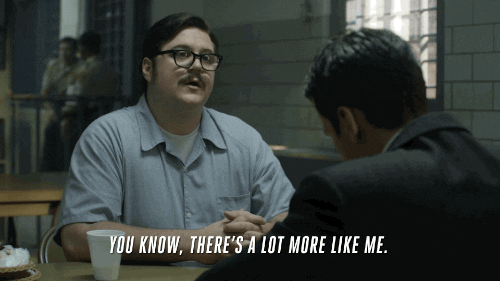 Stay safe. Be Kind. But, take no shit.
Later, booknerds ✌️🔪