We are officially-unofficially into the beginning of my favourite season!
Hoodies and pumpkins and leaves changing colour and no more sweat under my boobs or mosquito bites riddling my flesh. It's the most wonderful time of the year!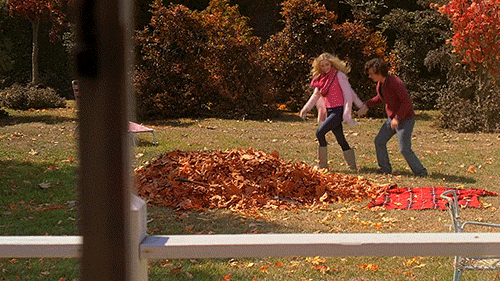 You know what else there is to love about autumn? New book releases!
Here is my list of the top crime fiction/mystery/thriller/blah blah blah releases coming our way this season. Get your TBR shelves ready for the added weight!
---
🔪Leave No Trace by Mindy Mejia
Keywords: Feral child, Stay out of the forest
Expected Publication: September 14
Back of the Book: There is a place in Minnesota with hundreds of miles of glacial lakes and untouched forests called the Boundary Waters. Ten years ago a man and his son trekked into this wilderness and never returned.
Search teams found their campsite ravaged by what looked like a bear. They were presumed dead until a decade later…the son appeared. Discovered while ransacking an outfitter store, he was violent and uncommunicative and sent to a psychiatric facility. Maya Stark, the assistant language therapist, is charged with making a connection with their high-profile patient. No matter how she tries, however, he refuses to answer questions about his father or the last ten years of his life
But Maya, who was abandoned by her own mother, has secrets, too. And as she's drawn closer to this enigmatic boy who is no longer a boy, she'll risk everything to reunite him with his father who has disappeared from the known world.
My Fucking Thoughts: One of my favourite things is psychiatric hospital settings in thrillers. In and of itself, without anything sinister happening in a storyline, the nuthouse is already going to be creepy. Just in general. You start adding in a suspenseful mystery and the setting kicks that shit up to 11. It never fails. Fact. But I don't get to read enough of them.
🔪Guess Who by Chris McGeorge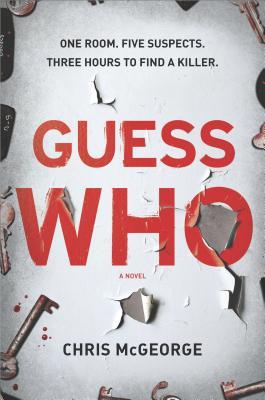 Keywords: Saw meets Clue
Expected Publication: September 18th
Back of the Book: At eleven years old, Morgan Sheppard solved the murder of a teacher when everyone else believed it to be a suicide. The publicity surrounding the case laid the foundation for his reputation as a modern-day Sherlock Holmes. He parlayed that fame into a gig as TV's "resident detective," solving the more typical tawdry daytime talk show mysteries like "Who is the father?" and "Is he cheating?"
Until, that is, Sheppard wakes up handcuffed to a bed in an unfamiliar hotel room. Around him, five strangers are slowly waking up, as well. Soon they discover a corpse in the bathtub and Sheppard is challenged to put his deductive skills to the test. One of the people in the room is the killer. He has three hours to solve the murder. If he doesn't find the killer, they all will die.
An ingenious, page-turning debut, Chris McGeorge's Guess Who matches the high-wire plotting of classic "locked room" mysteries into the unstoppable pacing of the modern-day thriller.
My Fucking Thoughts: I honestly could not be any more excited to read this book, unless you included nude John Mayer photos between chapters. Good Lort this sounds amazing. Number one, I loveeeee locked room mysteries. Love them. Secondly, this sounds like the most sinister game of Clue ever to be played. Where's Jigsaw when you need him?!
🔪The Lies We Told by Camilla Way
Keywords: Stalkers stalking, Mysterious disappearances
Expected Publication: October 2nd
Back of the Book: When Clara's boyfriend, Luke, disappears, everyone believes that he's left her, but Clara thinks she knows the truth. Recent evidence suggests that Luke had a stalker, and Clara worries that he's been kidnapped. Then Luke's older sister, Emma, who vanished twenty years ago, suddenly reappears.
Emma wants to help Clara with her search for Luke, but she refuses to talk about what happened–even though it nearly destroyed her family when she vanished. And the deeper Clara digs into Luke's mysterious disappearance, the more convinced she is that the two incidents are connected.
My Fucking Thoughts: Right off the bat I love the idea of this guy having a stalker that no one knows about but Clara (that's weird) and that his whole circle of people would be uninterested in finding him because "he's just left you, Clara." Uh, so? You break up with someone doesn't mean you disappear unless th ex is insane? So is she insane? What does Emma know? The questions are staggering and the plot from the blurb makes little logical sense, so obviously I need to read this to figure out what the fuck is going on.
🔪Consumed (Firefighters, #1) by J.R. Ward
Keywords: Firefighters, Series starter
Expected Publication: October 2nd
Back of the Book: By her bitter family legacy, by her scorched career as a firefighter, by her obsession with department bad-boy Danny McGuire, and by a new case that pits her against a fiery killer.
Strong-willed Anne was fearless and loved the thrill of fighting fires, pushing herself to be the best. But when one risky decision at a warehouse fire changes her life forever, Anne must reinvent not only her job, but her whole self.
Shattered and demoralized, Anne finds her new career as an arson investigator a pale substitute for the adrenaline-fueled life she left behind. She doesn't believe she will ever feel that same all-consuming passion for her job again–until she encounters a string of suspicious fires setting her beloved city ablaze.
Danny McGuire is a premiere fireman, best in the county, but in the midst of a personal meltdown. Danny is taking risks like never before and seems to have a death wish until he teams up with Anne to find the fire starter. But Danny may be more than a distraction, and as Anne narrows in on her target, the arsonist begins to target her.
My Fucking Thoughts: While I've read novels with an arsonist as the big bad before, I can't say I've ever read a novel where the protagonist is a firefighter. So right off the hop, I'm intrigued by this new direction to take a thriller, but more so it sounds really good. Fires and death and probably some sex, plus that cover lights up all my dopamine receptors.
🔪The Witch Elm by Tana French
Keywords: Dead bodies in trees, family secrets
Expected Publication: October 9th
Back of the Book: Toby is a happy-go-lucky charmer who's dodged a scrape at work and is celebrating with friends when the night takes a turn that will change his life – he surprises two burglars who beat him and leave him for dead. Struggling to recover from his injuries, beginning to understand that he might never be the same man again, he takes refuge at his family's ancestral home to care for his dying uncle Hugo. Then a skull is found in the trunk of an elm tree in the garden – and as detectives close in, Toby is forced to face the possibility that his past may not be what he has always believed.
A spellbinding standalone from one of the best suspense writers working today, The Witch Elm asks what we become, and what we're capable of, when we no longer know who we are.
My Fucking Thoughts: I mean when Tana French has a new book out aren't we all just like drooling on ourselves, camping in tents outside of bookstores or rapidly preordering it? This is a standalone from one of the best authors in the whole world, so while it may disappoint some fans that's it not a Murder Squad installment, it's still Tana French and there's a skull in a fucking tree. So stop your whining, let's do this!
🔪Our Little Lies by Sue Watson
Keywords: Sweeeeeet Carolineeee! Dun dun dunnnnnnn
Expected Publication: October 11th
Back of the Book: Marianne has a life others dream of. A beautiful townhouse on the best street in the neighbourhood. Three bright children who are her pride and joy.
Sometimes her past still hurts: losing her mother early, growing up in foster care. But her husband, Simon, is always there. A successful surgeon, he's the envy of every woman they've ever met. Flowers, gifts, trips to France: nothing is too good for his family.
Then Simon says another woman's name. The way he lingers on it, Caroline, gives Marianne a shudder of suspicion, but she knows it's nothing – she can't entertain this flash of paranoia.
In the old days, she'd have distracted herself by excelling at work, but Marianne left her glamorous career when she married. She'd speak to a friend, but she's too busy with her children and besides, Simon doesn't approve of the few she has left.
It's almost by accident that Marianne starts to learn more about Caroline. But once started, she can't stop, because what she finds makes her wonder: is the question she should be asking not 'should she be jealous', but… 'should she be scared?'
My Fucking Thoughts: Okay, I'll admit everything about this blurb is fucking boring as shit until you get to the "should she be scared" bit. That completely got me! Brilliant. Have to read this.
🔪The Winters by Lisa Gabriele
Keywords: Evil stepkid, Second wives, Big Secrets
Expected Publication: October 16th
Back of the Book: After a whirlwind romance, a young woman returns to the opulent, secluded Long Island mansion of her new fiancé Max Winter–a wealthy senator and recent widower–and a life of luxury she's never known. But all is not as it appears at the Asherley estate. The house is steeped in the memory of Max's beautiful first wife, Rebecca, who haunts the young woman's imagination and feeds her uncertainties, while his very alive teenage daughter Dani makes her life a living hell. She soon realizes there is no clear place for her in this twisted little family: Max and Dani circle each other like cats, a dynamic that both repels and fascinates her, and he harbors political ambitions with which he will allow no woman–alive or dead–to interfere.
As the soon-to-be second Mrs. Winter grows more in love with Max, and more afraid of Dani, she is drawn deeper into the family's dark secrets–the kind of secrets that could kill her, too. The Winters is a riveting story about what happens when a family's ghosts resurface and threaten to upend everything.
My Fucking Thoughts: I myself am a second wife and a stepmother, but I got really lucky in terms of my relationships with everyone and how kind my step-kids are. But I for sure had high anxiety before meeting them, because what if they hated me? All step-parents have been there. And some step-parents now live there, in a state of constant dislike with the kids they are forced to have in their family. But what if the kids were legit evil assholes? It's my nightmare and I can't wait to read about it happening to someone who isn't me!
🔪Dead Ringer by Kate Kessler
Keywords: Serial Killer, Twinsies!
Expected Publication: October 23rd
Back of the Book: Eighteen years ago, FBI Agent Rachel Ward's mirror twin, Hannah, was taken by the Gemini killer, a serial killer who delights in sending photos of his victims to their twins. Rachel assumes her sister has been dead for years, but she's never stopped hunting the monster who took her.
Now, another twin has been taken, and when the case reopens, Rachel is assigned as an agent. But her relentless hunt for the killer may drive her to her breaking point.
My Fucking Thoughts: I really like Kate Kessler's Audrey Harte series, so I was super excited to see she was venturing out with a new badass female facing a new twisted mystery. No one can resist a serial killer thriller in the month of October. Fact.
🔪The Colour of Lies by CJ Lyons
Keywords: Dead parents, Seeing colours
Expected Publication: November 6th
Back of the Book: From New York Times and USA Today bestselling author CJ Lyons comes The Color of Lies, a world drenched in colour and mystery.
High school senior Ella Cleary has always been good at reading people. Her family has a rare medical condition called synesthesia that scrambles the senses—her Gram Helen sees every sound, and her uncle Joe can literally taste words. Ella's own synesthesia manifests itself as the ability to see colours that reveal people's true emotions…until she meets a guy she just can't read.
Alec is a mystery to Ella, a handsome, enigmatic young journalist who makes her feel normal for the first time in her life. That is until he reveals the real reason why he sought her out—he wants to learn the truth behind her parents' deaths, the parents that Ella had always been told died in a fire. Alec turns Ella's world upside down when he tells her their deaths were definitely not an accident.
After learning her entire life has been a lie, Ella doesn't know who she can trust or even who she really is. With her adoptive family keeping secrets and the evidence mixing fact and fiction, the only way for Ella to learn the truth about her past is to find a killer.
Perfect for fans of Caroline B. Cooney, Ally Carter, and Jennifer Brown, The Color of Lies blurs the lines between black-and-white facts and the kaleidoscope of reality.
My Fucking Thoughts: I'm not sure how I feel about this one, but I'm going to give it a shot. If it turns out to be more of a romance than a mystery I'll be writing a strongly worded review on here full of f-bombs.
🔪Who I Am by Sarah Simpson
Keywords: Secrets and lies, Twisted friendships
Expected Publication: November 6th
Back of the Book: I know everything about you
And you know everything about me… except
WHO I AM.
Andi met Camilla at University. Instantly best friends, they shared everything together. Until their long-planned graduation celebration ends in tragedy…
Years later, Andi is living a seemingly perfect life on the rugged Cornish Coast with her loving husband, happy children and dream home. Yet Andi is haunted by a secret she thought only she knew.
Someone out there is bringing Andi's deepest fears to life. And she knows there's no escaping the past that has come back to haunt her…
You trusted me with your secrets, you told me everything, you thought I was your best friend… but you have no idea WHO I AM.
Gripping, unputdownable and packed with twists and turns from the first page to the very last, this stunning psychological thriller will make you question whether we can ever really trust the ones we love.
My Fucking Thoughts: YASSSS give this to me! *sobs uncontrollably* Though I obviously don't know the situation here, I am drawn to any story where it feels like karma is going to be a bitch.
🔪Someone Like Me by M.R. Carey
Keywords: Crazy alter-ego, Sci-fi-ish
Expected Publication: November 8th
Back of the Book: SHE LOOKS LIKE ME. SHE SOUNDS LIKE ME. NOW SHE'S TRYING TO TAKE MY PLACE.
Liz Kendall wouldn't hurt a fly. She's a gentle woman devoted to bringing up her kids in the right way, no matter how hard times get.
But there's another side to Liz—one which is dark and malicious. A version of her who will do anything to get her way, no matter how extreme or violent.
And when this other side of her takes control, the consequences are devastating.
The only way Liz can save herself and her family is if she can find out where this new alter-ego has come from, and how she can stop it.
My Fucking Thoughts: My last date with M.R. Carey was a huge fucking bummer (Fellside), but I cannot resist this blurb! It's like the female Split. If I ever had an alter-ego, I hope she'd like to clean my bathroom and workout because I sure as fuck don't.
🔪Her Last Move by John Marrs
Keywords: The body is rising, as per usual
Expected Publication: November 8th
Back of the Book: He hides in the shadows, waiting for the perfect moment. Each kill is calculated, planned and executed like clockwork.
Struggling to balance her personal and professional life, young DS Becca Vincent has landed the biggest case of her career—and she knows that it will make or break her. But she can't catch the culprit alone. Together with facial recognition expert Joe Russell, she strives to get a lead on the elusive murderer, who is always one step ahead of them.
Time is not on their side. The body count is rising, and the attacks are striking closer and closer to home. Can Becca and Joe uncover the connection between the murders before the killer strikes the last name from his list?
My Fucking Thoughts: I have an ARC of this book and I can't wait to read it because it sounds like all of my favourite things. A calculated killer and a badass female cop who is going to save the day!
🔪The One That Got Away by Joe Clifford
Keywords: Small town feels, Killing to protect a secret (classic)
Expected Publication: December 3rd
Back of the Book: In the early 2000s, a string of abductions rocked the small upstate town of Reine, New York. Only one girl survived: Alex Salerno. The killer, Ken Parsons, was sent away. Life returned to normal. No more girls would have to die. Until another one did.
It's been twelve years since Kira Shanks was reported missing and presumed dead. Alex Salerno has been living in New York City, piecemealing paychecks to earn a livable wage, trying to forget those three days locked underground and her affair with Sean Riley, the married detective who rescued her. When Noah Lee, hometown reporter with a journalistic pedigree, requests an interview, Alex returns to Reine and Riley, reopening old wounds. What begins as a Q&A for a newspaper article soon turns into an opportunity for money, closure and—justice. The disappearance of Kira Shanks has long been hung on Benny Brudzienski, a hulking man-child who is currently a brain-addled guest at the Galloway State Mental Hospital. But after Alex reconnects with ex-classmates and frenemies, doubts are cast on that guilt. Alex is drawn into a dangerous game of show and tell in an insular town where everyone has a secret to hide. And as more details emerge about the night Kira Shanks went missing, Alex discovers there are some willing to kill to protect the horrific truth.
In the modern vein of Girl on the Train and The Bone Collector, The One That Got Away is a dark, psychological thriller, featuring a compelling, conflicted heroine and a page-turning narrative that races toward its final, shocking conclusion.
My Fucking Thoughts: This sounds right up my dark, creepy alley. A sole survivor of a terrible crime, a possible wrongful conviction, and a small town that has secrets to hide? Gimme!
🔪The Mansion by Ezekiel Boone
Keywords: Danger, Will Robinson
Expected Publication: December 4th
Back of the Book: After two years of living on cheap beer and little else in a bitterly cold tiny cabin outside an abandoned, crumbling mansion, young programmers Shawn Eagle and Billy Stafford have created something that could make them rich: a revolutionary computer they name Eagle Logic.
But the hard work and escalating tension have not been kind to their once solid friendship—Shawn's girlfriend Emily has left him for Billy, and a third partner has disappeared under mysterious circumstances. While Billy walks away with Emily, Shawn takes Eagle Logic, which he uses to build a multi-billion-dollar company that eventually outshines Apple, Google, and Microsoft combined.
Years later, Billy is a failure, beset by poverty and addiction, and Shawn is the most famous man in the world. Unable to let the past be forgotten, Shawn decides to resurrect his and Billy's biggest failure: a next-generation computer program named Nellie that can control a house's every function. He decides to set it up in the abandoned mansion they worked near all those years ago. But something about Nellie isn't right—and the reconstruction of the mansion is plagued by accidental deaths. Shawn is forced to bring Billy back, despite their longstanding mutual hatred, to discover and destroy the evil that lurks in the source code.
My Fucking Thoughts: This is totally outside of what I would typically pick up and be interested in, but there is something about this that screams The Haunting of Hill House meets Smart House or TAU and I'm nothing if not intrigued.
---
And there it is!
I won't be making another one of these lists until 2019! If we can make it there alive that is! You know, the Orange Cheeto Mob Boss in Chief in the US hopefully doesn't blow us all up or send us into a great recession where I can no longer afford internet services. HAHAHA awww, it's so funny how terrible everything is in real life isn't it?
Anyhooters – will you be reading any of these? Is there a release coming out that I forgot to add that you think I should read? Let me know!
Stay safe. Be kind. But, take no shit.
Later, Booknerds ✌️🔪