I'll be honest, I enjoy YA fiction, even though, I am no longer included in the targeted demographic and haven't been for almost two decades a while. You know what, let's not get into specifics about ages and dates. Those are all technicalities.
Sometimes I can feel a little bit weird when I have some interest in a YA books. A feeling of "I know I'm 30-something, but please don't judge me for reading this" can wash over me from time to time.
I try to let myself like what I like, but there is a sense that YA is my "guilty pleasure" because it's really not intended for me. And sometimes it's painfully obvious that I am not intended for it.
I can also feel a little bit weird in reviewing YA books, because usually if the book didn't work for me it's because the 16-year-old main character says/thinks something along the lines of, "I'm not child!" And I immediately think, "oh, yes you are young lady!"
Or the 18-year-old who works at a grocery store part time is decorating her warehouse style loft apartment and it's total bullshit because I didn't buy my first piece of new furniture until I was 30 years old. That sense of utter and complete bullshit about how teenagers on their own would truly live annoys me because no one ever plays within the boundaries of real life, at least not of what I've read so far.
Nevertheless, I remain dedicated to my search for an amazing YA mystery-thriller that I actually like; one that feels honest and genuine and manages to pull some punches on someone who is hard to please. (Me. That's me who's hard to please.)
In honour of #YAWeek, I'm going to be taking a look at what's floating around my YA TBR pile; what books I've come across and thought, "yes, you could be THE ONE."
---
🔪Truly Devious (Truly Devious, #1) by Maureen Johnson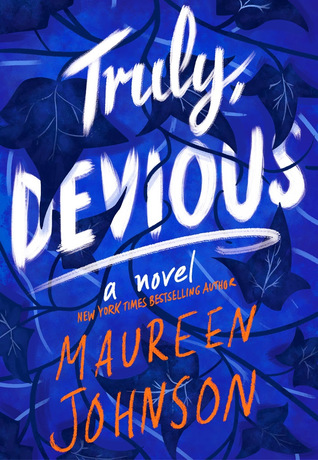 Keywords: Mystery, Unsolved Crimes, Murder, Private School
Back of the Book: Ellingham Academy is a famous private school in Vermont for the brightest thinkers, inventors, and artists. It was founded by Albert Ellingham, an early twentieth century tycoon, who wanted to make a wonderful place full of riddles, twisting pathways, and gardens. "A place" he said, "where learning is a game."
Shortly after the school opened, his wife and daughter were kidnapped. The only real clue was a mocking riddle listing methods of murder, signed with the frightening pseudonym, Truly Devious. It became one of the great unsolved crimes of American history.
True-crime aficionado Stevie Bell is set to begin her first year at Ellingham Academy, and she has an ambitious plan: She will solve this cold case. That is, she will solve the case when she gets a grip on her demanding new school life and her housemates: the inventor, the novelist, the actor, the artist, and the jokester. But something strange is happening. Truly Devious makes a surprise return, and death revisits Ellingham Academy. The past has crawled out of its grave. Someone has gotten away with murder.
My Fucking Thoughts: Are you kidding me? This sounds amazing. Stevie Bell appears to be me if I had in fact gone to a private school and solved a cold case mystery as a teenager. Of course, I did none of those things. Instead, I had a binder full of "true crime" information that a friend found and promptly thought I was fucking insane. But whatever.
🔪There's Someone Inside Your House by Stephanie Perkins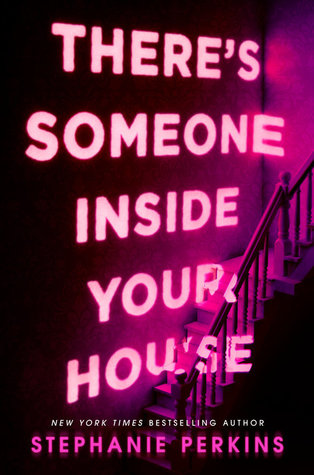 Keywords: High School Serial Killer, Mystery, Romance-ish
Back of the Book: Love hurts…
Makani Young thought she'd left her dark past behind her in Hawaii, settling in with her grandmother in landlocked Nebraska. She's found new friends and has even started to fall for mysterious outsider Ollie Larsson. But her past isn't far behind.
Then, one by one, the students of Osborne Hugh begin to die in a series of gruesome murders, each with increasingly grotesque flair. As the terror grows closer and her feelings for Ollie intensify, Makani is forced to confront her own dark secrets.
My Fucking Thoughts: This sounds exactly like something I would love. Scream, I Know What You Did Last Summer – I love anything where a bunch of high school students are being murdered… Wait, that didn't come out right… Or did it? Maybe I have some deep psychological issues triggered by how much I fucking hated high school and it comes out in my desire to read YA mysteries were students die. *shrugs* Either way, let's get a serial killer up in this bitch!
🔪Follow Me Back (Follow Me Back, #1) by A.V. Geiger
Keywords: Obsession, Romantic Thriller, Murder
Back of the Book: Tessa Hart's world feels very small. Confined to her bedroom with agoraphobia, her one escape is the online fandom for pop sensation Eric Thorn. When he tweets to his fans, it's like his speaking directly to her…
Eric Thorn is frightened by his obsessive fans. They take their devotion way too far. It doesn't help that his PR team keeps posting to encourage their fantasies.
When a fellow pop star is murdered at the hands of a fan, Eric knows he has to do something to shatter his online image fast—like take down one of his top Twitter followers. But Eric's plan to troll @TessaHeartsEric unexpectedly evolves into an online relationship deeper than either could have imagined. And when the two arrange to meet IRL, what should have made for the world's best episode of Catfish takes a deadly turn…
Told through tweets, direct messages, and police transcripts.
My Fucking Thoughts: Okay, so if Stevie Bell is the true crime teenager version of myself, then Tessa Hart is "the obsessed with a celebrity, stuck inside her room" version of myself. Oh my lort, you guys, I was such a weirdo in high school! Besides the stuff I couldn't help (namely depression), I have a totally obsessive personality that I couldn't get a grip on as a teenager. It's hard growing up a Scorpio. It's a good thing John Mayer didn't turn out to be my soulmate, because I'm telling you there are people out there who have a lot of compromising information on me, re: how I behaved because of him. It's not good. Not good at all.
🔪One Of Us Is Lying by Karen M. McManus
Keywords: Locked-room Mystery, Murder, Secrets
Back of the Book: The Breakfast Club meets Pretty Little Liars, One of Us Is Lying is the story of what happens when five strangers walk into detention and only four walk out alive. Everyone is a suspect, and everyone has something to hide.
Pay close attention and you might solve this.
On Monday afternoon, five students at Bayview High walk into detention.
Bronwyn, the brain, is Yale-bound and never breaks a rule.
Addy, the beauty, is the picture-perfect homecoming princess.
Nate, the criminal, is already on probation for dealing.
Cooper, the athlete, is the all-star baseball pitcher.
And Simon, the outcast, is the creator of Bayview High's notorious gossip app.
Only, Simon never makes it out of that classroom. Before the end of detention, Simon's dead. And according to investigators, his death wasn't an accident. On Monday, he died. But on Tuesday, he'd planned to post juicy reveals about all four of his high-profile classmates, which makes all four of them suspects in his murder. Or are they the perfect patsies for a killer who's still on the loose?
Everyone has secrets, right? What really matters is how far you would go to protect them.
My Fucking Thoughts: Honestly, you had me at The Breakfast Club meets Pretty Little Liars. I didn't even read the rest of the synopsis before adding this to my TBR. I love the idea behind this book, and it's probably the one I'm most excited about on this arbitrary list I'm randomly putting together right now. Could it be THE ONE?
🔪You Don't Know My Name (The Black Angel Chronicles, #1) by Kristen Orlando
Keywords: Spy Thriller, Romance
Back of the Book: Fighter. Faker. Student. Spy.
Seventeen-year-old Reagan Elizabeth Hillis is used to changing identities overnight, lying to every friend she's ever had, and pushing away anyone who gets too close. Trained in mortal combat and weaponry her entire life, Reagan is expected to follow in her parents' footsteps and join the ranks of the most powerful top-secret agency in the world, the Black Angels. Falling in love with the boy next door was never part of the plan. Now Reagan must decide: Will she use her incredible talents and lead the dangerous life she was born into, or throw it all away to follow her heart and embrace the normal life she's always wanted? And does she even have a choice?
My Fucking Thoughts: I have always had this desire – thanks in no small part to Buffy, Charlies Angels and Alias – to be amazing at kicking people's asses. I'm way too lazy to actually learn how, but somewhere out it in the multiverse, there is a version of me who is a trained spy and could decapitate you with a toothpick. This book speaks to that alternate reality version of myself who was probably attacked at prom by the Yakuza and I had to reveal my true abilities.
🔪The Row by J.R. Johansson
Keywords: Murder, Mystery, Family Drama
Back of the Book: A death sentence. A family torn apart. One girl's hunt for the truth.
Seventeen-year-old Riley Beckett is no stranger to prison. Her father is a convicted serial killer on death row who has always maintained that he was falsely accused. Riley has never missed a single visit with her father. She wholeheartedly believes that he is innocent.
Then, a month before the execution date, Riley's world is rocked when, in an attempt to help her move on, her father secretly confesses to her that he actually did carry out the murders. He takes it back almost immediately, but she cannot forget what he's told her. Determined to uncover the truth for her own sake, she discovers something that will forever change everything she's believed about the family she loves.
My Fucking Thoughts: One of my favourite tropes in mystery is "my father is a serial killer." I have yet to read a YA book that does the trope justice – it's usually just way too dramatic, and focuses on the wrong aspects of the rare situation. But I'm consistently drawn to these stories over and over again, even though they keep letting me down. Is this going to be another case of my feelings being hurt by a bad YA book? I won't know until I read it. I'll try anything once a hundred times, apparently!
🔪Please Don't Tell by Laura Tims
Keywords: Mystery, Murder, Secrets
Back of the Book: Joy killed Adam Gordon—at least, that's what she thinks. The night of the party is hazy at best. But she knows what Adam did to her twin sister, Grace, and she knows he had to pay for it.
What Joy doesn't expect is that someone else saw what happened. And one night a note is shoved through her open window, threatening Joy that all will be revealed. Now the anonymous blackmailer starts using Joy to expose the secrets of their placid hometown. And as the demands escalate, Joy must somehow uncover the blackmailer's identity before Joy is forced to make a terrible choice.
In this darkly compelling narrative, debut author Laura Tims explores the complicated relationship between two sisters, and what one will do for the other. It's a story that will keep readers turning pages and questioning their own sense of right and wrong.
My Fucking Thoughts: Hands up if you've ever left mysterious notes for people? Or if you've ever received one that caused you to re-evaluate your entire life? Me neither. So, either we are just not living our lives in such a way that people feel like leaving us mysterious notes is necessary, or it's just not something that happens as much as movies and books would have us to believe. Either way, I kind of wish someone would leave me a mysterious note. And also, I want to read this book.
🔪Dangerous Girls by Abigail Haas
Keywords: Isolation, Accused, Murder
Back of the Book: It's Spring Break of senior year. Anna, her boyfriend Tate, her best friend Elise, and a few other close friends are off on a debaucherous trip to Aruba that promises to be the time of their lives. But when Elise is found brutally murdered, Anna finds herself trapped in a country not her own, fighting against vile and contemptuous accusations.
As Anna sets out to find her friend's killer, she discovers hard truths about her friendships, the slippery nature of truth, and the ache of young love.
As she awaits the judge's decree, it becomes clear that everyone around her thinks she is not just guilty, but dangerous. When the truth comes out, it is more shocking than one could ever imagine…
My Fucking Thoughts: I'm honestly not even sure what to think about this book, I just know that I keep hearing crazy good things about it blowing people's mother-effing minds and that is exactly what I am searching for! Plus, exotic location and Spring Break? Perfect cocktail.
🔪Ten by Gretchen McNeil
Keywords: Isolation, Locked-room Mystery, Murder
Back of the Book: It was supposed to be the weekend of their lives—an exclusive house party on Henry Island. Best friends Meg and Minnie are looking forward to two days of boys, booze, and fun-filled luxury. But what starts out as fun turns twisted after the discovery of a DVD with a sinister message: Vengeance is mine. And things only get worse from there.
With a storm raging outside, the teens are cut off from the outside world . . . so when a mysterious killer begins picking them off one by one, there's no escape. As the deaths become more violent and the teens turn on one another, can Meg find the killer before more people die? Or is the killer closer to her than she could ever imagine?
My Fucking Thoughts: I HAVE TO READ THIS. One of my favourite games to play is Until Dawn – a "slasher" flick video game where your choices affect the outcome. Basically, friends are trapped in a snowy resort and someone is killing them off one by one. It's so much fun. And I get the same vibe from this book. I love isolation themes and the suspense of "who's next?"
🔪The Mystery of Hollow Place by Rebecca Podos
Keywords: Family Drama, Mystery, Missing-Persons
Back of the Book: All Imogene Scott knows of her mother is the bedtime story her father told her as a child. It's the story of how her parents met: he, a forensic pathologist, she, a mysterious woman who came to identify a body. A woman who left Imogene and her father when Imogene was a baby, a woman who was always possessed by a powerful loneliness, a woman who many referred to as "troubled waters."

Now Imogene is seventeen, and her father, a famous author of medical mysteries, has struck out in the middle of the night and hasn't come back. Neither Imogene's stepmother nor the police know where he could've gone, but Imogene is convinced he's looking for her mother. And she decides it's up to her to put to use the skills she's gleaned from a lifetime of reading her father's books to track down a woman she's only known in stories in order to find him and, perhaps, the answer to the question she's carried with her for her entire life.
My Fucking Thoughts: Reviews seem split right down the middle for this one. Either you like it or you think WTF am I reading? The synopsis comes off as a little ho-hum to me, so it's not a book that sticks out when I think back to what's on my YA TBR, but the cover is beautiful and the reviews intrigue me just enough. Where will I fall on the spectrum of love and hate? It could turn out to be the perfect fit for me because of its divisiveness.
---
What have you read from this list? Let me know where I should start! What's worth my precious time?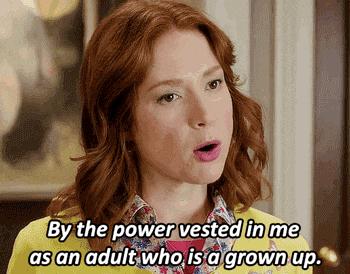 Stay safe. Be kind. But, take no shit.
Later, Booknerds ✌️🔪