★★★★
Minotaur Books | 2018
Filed Under: Jigsaw meets the Unabomber
---
Okay, here's my issue, I really over-hyped myself for this one.
I heard "police procedural" and "FBI agent" and "serial killer" and just lost my ever-loving crime fiction book nerd mind, expecting to fall rapidly in love with this; for it to be everything I need a book with those descriptors to be. I consciously recognized that I was doing it in the moment, but I made a decision to allow myself to be hyped for this.
…and almost immediately once I started reading, I needed to readjust my expectations because I knew I would be massively disappointed otherwise.
So no, this was not the mind-blowing read I wanted it to be. But, it was still good and I'm definitely on board for this as a series.
It has a very dark atmosphere with a Criminal Minds vibe. Profilers and some bureaucracy, but mostly disturbing puzzles that need solving. This completely connected with me, bringing together a lot of my favourite things, especially the psychology behind the murders.
It's heavy on the procedural, medium on the twists (focused on the science side of the evidence, and less on physical events) and low on thrills. But that's pretty typical for procedurals and there's room for all kinds of mystery/thrillers on my TBR.
There are some explosions, traps and tricks and disturbing content – namely puppies and kittens in danger that will definitely stir your feels if you are anything like me.
Speaking of… let's talk about that for a second. Because what is WRONG WITH ME?
Fictional people in cages, dying of starvation and dehydrationca, sred and traumatized.
Me:
But then, animals in cages, dying of starvation and dehydration, scared and traumatized.
Me:
Like, I'm already in therapy so obviously, this is not an issue that's getting fixed *shrugs.*
The serial killer is as looney-tunes as they come, doing some "experiments" that were definitely an elevated, original take on serial killer motivation that I found super interesting and occasionally disturbing.
With a main character who is a neuroscientist and serial killings that rely heavily on science and evidence that requires a Ph.D. to figure out, this book does a really good job at breaking that smart people shit down into bite-size nuggets that us laymen readers can better digest.
If it wasn't for my husband's obsession with going into the Peru jungle to do ayahuasca, I wouldn't have known about DMT and its effects. Seriously, I know way more about psychedelics than I ever really wanted to. I guess that's what happens when you marry someone who lists Terence McKenna among his heroes.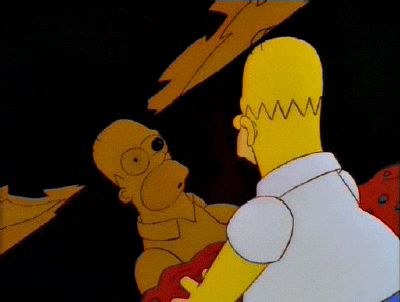 This book started off with a huge bang, no pun intended. It was dark and twisty – just how I like it – totally out of the blue. I really wish the book had kept more of those kinds of surprises coming without relying on the same concept over and over again. There was an element of danger at first, but that became predictable the further into the story you got, so the suspense of the danger dissipated.
Also, I'm not sure if I'm a huge fan of Sayer just yet. I like that she's a smart, fierce doctor who has a mean streak and comes with some heavy baggage. And I like that she's a POC running the team, being in charge and looking to make advancements in science. But, she immediately rubbed me the wrong way with how she treats a puppy from a crime scene. What can I say? That's just an automatic judgement for me.
I don't trust people who do not like animals. Although she eventually warmed to the dog, her first reaction to a helpless animal was "ugh, don't make me deal with this creature. What an unwanted burden," and that stuck with me the whole time.
The Curse of the Bad First Impression. Is that a Nancy Drew novel?
I also found Sayer lacked humour and was mostly one-note in her personality. Nothing about her really popped off the page, even when she was at her most manic during the investigation. The flow to how she got to that place didn't exist, so instead of feeling like we travelled to a new level of her genuine personality, it comes across more like, "this is how other authors would write this moment, so it's how I'm going to write it."
All it took to undo this cliche writing was a little more finesse in terms of keeping her personality obvious and canon. It felt like a missed opportunity to really make Sayer a character who could rev up a reader's adrenaline and admiration.
On the whole, that really is the only downside to this novel. It could have used a tad more description and a little bit more personality from all the players. Done and done.
For me, a police procedural can quickly become a five-star read when the characters stand out with unique, tangible traits that can define them in the reader's imagination. Otherwise, the interactions take on a mundane, cardboard quality. A "going through the motions" feel, like the author has watched and read a million other stories in the genre and is just copying what they think they're supposed to do.
The humour feels stale and the interactions manufactured. I had less of a chance to emotionally connect to the outcome of the novel because I couldn't get myself to care about who was involved all the way.
Sayer didn't feel completely knowable. There was a large chunk of her inner monologue that should have been expressed but wasn't. Even characters who are emotionally shut down because of trauma, like Sayer, can be knowable given the right information and reactions. Yes, I get that she can be obsessive about a case and angry at the drop of the hat, but that felt like surface information, pretty typical of these kinds of novels.
I wanted more depth. I need more depth from what I read. And often that affects my rating.
With just a little bit more time taken to flesh out the characters and make them their own people, to express thoughts and feelings in a more genuine way, and work on the dialogue so it didn't feel so robotic and rehashed, I think this book would have been a near-perfect read.
As it is, the crimes are twisted, the motivation is stunning and the writing is crisp and clean. It felt original in terms of plot, even if it lacked the originality with the characters on the board.
Decidedly, a read worthy of your time.
🔪🔪🔪
---
FBI neuroscientist Sayer Altair hunts for evil in the deepest recesses of the human mind. Still reeling from the death of her fiance, she wants nothing more than to focus on her research into the brains of serial killers. But when the Washington D.C. police stumble upon a gruesome murder scene involving a girl who'd been slowly starved to death while held captive in a cage, Sayer is called in to lead the investigation. When the victim is identified as the daughter of a high-profile senator, Sayer is thrust into the spotlight.
As public pressure mounts, she discovers that another girl has been taken and is teetering on the brink of death. With evidence unravelling around her, Sayer races to save the second victim but soon realizes that they are hunting a killer with a dangerous obsession…a killer who is closer than she thought.
Book source: The publisher via NetGalley in exchange for a review.