"It was growing dark, and somehow the shadows made it feel as if all the trees had taken a collective step towards the house, edging in to shut out the sky."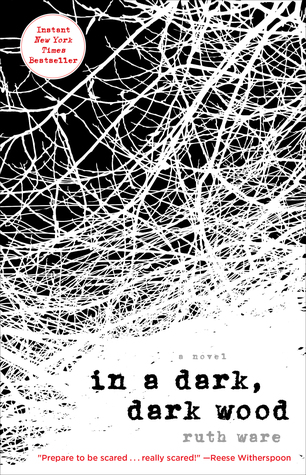 ★★★
Gallery/Scout Press | 2016
Filed Under: The first time Reese Witherspoon lied to me
---
This is an atmospherical oddball psychological mystery suspense novel that I liked, and at the same time, I fucking hated? Like I'm so torn. Save me.
Here's the problem. The main protagonist, Nora, is a fucking loser. I'm just going to put it out there. She's a loser.
She's 26 years old and still pining away for the boyfriend she had when she was 16. Come on! Ok, sure, it was a messy breakup, he broke her heart into a million tiny teenage girl-shaped pieces and she never got closure. But how does someone never move on, like at all? Has she ever had sex with someone else? Gone on a date? It's just so… weird to me.
How many grown-ass women are out there decidedly becoming Bridget Jones-esque spinsters because their high school sweetheart peaced-out during a difficult time in their life? SHOW OF HANDS PLEASE. I won't judge, despite what this review might suggest. I just need a headcount and to tell you to get over it! Find a man (not a boy) that knows how to work a G-spot and make you dinner, and you'll be over that high school flake in no time. Gotdamnit, NORA!
"I have not spoken to him for ten years, but I thought of him every single day."
BARF.
To top it off, Nora, in all her pining away sadness, agrees to a strange invitation to attend her former best friend, Clare's, "hen weekend". A person she hasn't talked to in a million years. A person whose wedding she's not even invited to. But she's invited to the bachelorette with a couple other randos? Like Clare has no other friends? That email would have been deleted from my inbox so fast.
Instead of attending a hen weekend, perhaps Nora should have been attending some well-deserved therapy to get over a stupid teenage relationship. That would have been a much better use of her time.
These two annoying things about Nora intertwine, using that shitty narrative device that gives me an eye twitch – where years of anger/hatred/sadness/heartbreak/loneliness etc., could have been avoided by just one of the characters being like, "Hey, why did you do that?"
UGH
The ridiculous parts of the novel aside…
It's an engrossing story, what can I say? The setting is A+, the characterization is golden and the mystery building is lovely.
It's a very fast read, just a hair over 300 pages for the paperback. The mounting suspense kept me coming back for more whenever I had a moment to sit with this. So if you're looking for something fun and mysterious, give it a shot.
Despite what Reese Witherspoon proclaims on the front blurb, I did not have to be "prepared to be scared…really scared" because it's not a scary book, or even remotely creepy. But it is a mystery with elements of psychological uncertainty and I like that in my stories, so this is getting split down the middle. 3 stars.
I honestly don't know what Reese was smoking, but don't listen to her.
🔪🔪🔪
---
INSTANT NEW YORK TIMES BESTSELLER AND SOON TO BE A MAJOR MOTION PICTURE
What should be a cozy and fun-filled weekend deep in the English countryside takes a sinister turn in Ruth Ware's suspenseful, compulsive, and darkly twisted psychological thriller.
Sometimes the only thing to fear…is yourself.
When reclusive writer Leonora is invited to a hen party in an eerie glass house deep in the English countryside, she reluctantly agrees to make the trip. But as the first night falls, revelations unfold among friends old and new and a haunting realization creeps in—they are not alone in the woods.
Forty-eight hours later, Nora wakes up in a hospital bed injured but alive, with the knowledge that someone is dead. Wondering not "what happened?" but "what have I done?" she tries to piece together the events of the past weekend. Working to uncover secrets, reveal motives, and find answers, Nora must revisit parts of herself that she would much rather leave buried where they belong: in the past.