Summer officially started last week! Do you feel it – the unbearable heat? Do you hear it – the sound of mosquitos eating me alive. Awww, summer.
The stepkid – hereby referred to as "15" for the purposes of my blog – had his last exam and is leaving on Saturday for an extended visitation with Crazy Pants, the bio-mom.
…and to me that means FREEDOM!
*slowly starts to paint face blue*
I'm kidding.
I whine sometimes, but being a stepmom is really not that bad compared to some of the horror stories I've heard in my support group. (It's still a hard thing to do, hence the support group.) But, the kid is pretty clean and polite and doesn't think I'm an evil twat, so I think I'm doing okay.
I will say, I'm glad the older one moved out because cis-teenage 👏 boys 👏 are 👏 fucking 👏 gross👏. My clean/organized neurosis couldn't take it anymore.
It's all progress and winning in my life right now…you know, except for the stuff that isn't. But, I have a good feeling about this summer *knocks on wood.*
Some people can't wait for summer because it means the beach and amusement parks and camping and whatever the hell else extroverted, outdoorsy people do. I can't wait for summer because it means quiet and a warm breeze coming through my bedroom window while I sit around in no pants (apparently you have to wear pants around stepchildren) reading the summer's hottest books.
And what might those books be you ask? Well, I'm happy to tell you.
Here is my list of the new mystery & thriller books coming your way this summer. Get your TBR ready!
---
🔪The Last Time I Lied by Riley Sager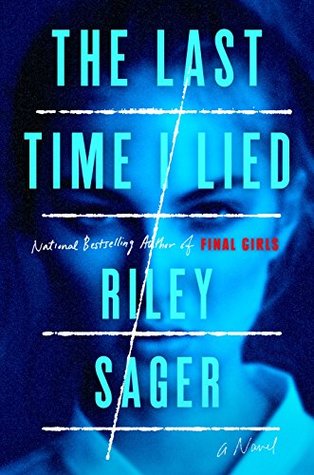 Keywords: Thriller, Standalone, 80s Horror Nostalgia
Publication Date: July 3
Back of the Book: Two Truths and a Lie. The girls played it all the time in their tiny cabin at Camp Nightingale. Vivian, Natalie, Allison, and first-time camper Emma Davis, the youngest of the group. The games ended when Emma sleepily watched the others sneak out of the cabin in the dead of night. The last she–or anyone–saw of them was Vivian closing the cabin door behind her, hushing Emma with a finger pressed to her lips.
Now a rising star in the New York art scene, Emma turns her past into paintings–massive canvases filled with dark leaves and gnarled branches that cover ghostly shapes in white dresses. The paintings catch the attention of Francesca Harris-White, the socialite and wealthy owner of Camp Nightingale. When Francesca implores her to return to the newly reopened camp as a painting instructor, Emma sees an opportunity to try to find out what really happened to her friends.
Yet it's immediately clear that all is not right at Camp Nightingale. Already haunted by memories from fifteen years ago, Emma discovers a security camera pointed directly at her cabin, mounting mistrust from Francesca and, most disturbing of all, cryptic clues Vivian left behind about the camp's twisted origins. As she digs deeper, Emma finds herself sorting through lies from the past while facing threats from both man and nature in the present.
And the closer she gets to the truth about Camp Nightingale, the more she realizes it may come at a deadly price.
My Fucking Thoughts: I loved Sager's first novel, Final Girls, so my hopes are increasing every day for this new novel. And I mean EVERY. DAY. Just constantly building my hopes up, as you do with hopes. Does that mean I'm in store for a letdown? My hopes are high I'm not…wait…
🔪 Caged (Agent Sayer Altair, #1) by Ellison Cooper
Keywords: Thriller, FBI, Serial Killer, Female Lead
Publication Date: July 10
Back of the Book: FBI profiler Sayer Altair hunts a brilliant serial killer with a dangerous obsession in Caged, a gripping thriller from debut author Ellison Cooper.
In a residential Washington, D.C. neighbourhood, a young woman's body is found in the basement of an abandoned house–starved to death in a cage, along with the video footage of a dark and deadly ritual. The victim is identified as the daughter of a prominent D.C. politician, and it falls to the FBI to track down the unconscionable psychopath who murdered her.
FBI special agent Sayer Altair would rather conduct research on criminality than catch actual criminals. But when she's offered a promotion hinging on her next assignment, she reluctantly accepts the "Cage Killer" case. Taunted by a photo of another victim at the mercy of this vicious killer, Sayer and her team are driven to put an end to these grisly homicides.
During the investigation, clues emerge connecting the murders to Sayer's past. Now, the stakes are personal, and the deeper Sayer is drawn into the deadly web, the more she believes she is the only one who can uncover the killer's identity.
Told with devastating detail, shocking twists and unrelenting suspense, Cooper proves her exceptional ability to entertain and enthrall.
My Fucking Thoughts: Anyone remember that late 90s show Profiler? I think I watched it at an impressionable age because the pleasure centres of my brain light up like a fucking Christmas tree whenever I come across the story of a female FBI profiler and a serial killer. Can. Not. Wait.
🔪 Watching You by Lisa Jewell
Keywords: Family Secrets, Illicit Passion, Murder, Suspense
Publication Date: July 12
Back of the Book: Gripping psychological suspense from the number one bestselling author of Then She Was Gone, as what begins as an innocent crush develops into a dangerous infatuation.
You're back home after four years working abroad with a brand new husband in tow. You're keen to find a place of your own. But for now, you're living with your big brother, camped out in his spare bedroom. And then – quite unexpectedly – you meet the man next door.
He's the head teacher of the local high school. He's twice your age. And he's devastatingly attractive. Soon you find you're watching him. All the time. But what you don't know is that someone is watching you. Or that what has started as an innocent crush is quickly turning into an obsession as dark as it is deadly.
My Fucking Thoughts: I've never read Lisa Jewell before but I consistently hear good things about her. I'm particularly hyped for this release because it speaks to my crazy obsessive side that I keep buried very, very deep. Come on, ask me anything about John Mayer. I promise you'll be creeped out.
🔪 Give Me Your Hand by Meg Abbott
Keywords: Psychological Thriller, Friendship, Secrets and Lies
Publication Date: July 17
Back of the Book: A mesmerizing psychological thriller about how a secret can bind two friends together forever…or tear them apart.
Kit Owens harboured only modest ambitions for herself when the mysterious Diane Fleming appeared in her high school chemistry class. But Diane's academic brilliance lit a fire in Kit, and the two developed an unlikely friendship. Until Diane shared a secret that changed everything between them.
More than a decade later, Kit thinks she's put Diane behind her forever and she's begun to fulfill the scientific dreams Diane awakened in her. But the past comes roaring back when she discovers that Diane is her competition for a position both women covet, taking part in groundbreaking new research led by their idol. Soon enough, the two former friends find themselves locked in a dangerous game of cat-and-mouse that threatens to destroy them both.
My Fucking Thoughts: That cover though!! It totally catches my increasingly diminishing attention span. Also, what is Diane's secret!? I have to know. I have to read this. Damn this blurb was like crack to me. Side note: I do not do crack.
🔪 Pretty Ugly Lies by Pamela Crane
Keywords: Thought-provoking, Domestic Noir, Thriller
Release Date: July 18 (re-release/new publisher)
Back of the Book: What causes a woman to murder her whole family?
Jo's idyllic life would make most people jealous. Until one day her daughter is abducted and the only way to find her is to unravel her dark past.
Ellie is a devoted wife… until she discovers the pain of betrayal. Now vengeance is all she can think about.
Party-girl Shayla knows how to hide her demons. But when she's confronted with a life-shattering choice, it will cost her everything.
June knows suffering intimately, though the smile she wears keeps it hidden.
Soon the lives of these four women intersect and one of them is about to snap…
My Fucking Thoughts: I am always intrigued by an independent release that gets re-released by a bigger publishing house. It means the buzz is strong. Also, what does cause a woman to murder her whole family? Socks on the kitchen counter? Forgetting to pick the dog up from the sitter's on the way home from school? Having to look at a giant inflatable penis every time I walked out of my bedroom because 15 has decided to display his inappropriate birthday present right by her door? TELL ME.
🔪 Girls' Night Out by Liz Fenton & Lisa Steinke
Keywords: Missing, Secrets and Lies, Mystery, Vacation Disaster
Publication Date: July 24
Back of the Book: For estranged friends Ashley, Natalie, and Lauren, it's time to heal the old wounds between them. Where better to repair those severed ties than on a girls' getaway to the beautiful paradise of Tulum, Mexico? But even after they're reunited, no one is being completely honest about the past or the secrets they're hiding. When Ashley disappears on their girls' night out, Natalie and Lauren have to try to piece together their hazy memories to figure out what could have happened to her, while also reconciling their feelings of guilt over their last moments together.
Was Ashley with the man she'd met only days before? Did she pack up and leave? Was she kidnapped? Or worse—could Natalie or Lauren have snapped under the weight of her own lies?
As the clock ticks, hour by hour, Natalie and Lauren's search rushes headlong into growing suspicion and dread. Maybe their secrets run deeper and more dangerous than one of them is willing—or too afraid—to admit.
My Fucking Thoughts: Best friends on a tropical vacation? Um, yes please. The combination of a hot, paradise atmosphere mixed with the drama and suspense of a traumatic event gets me hyped up like you would not believe. There's something wrong with me. Anyway, this sounds like The Hangover but darker, and with badass ladies. Mr. Chow is welcome to pop by.
🔪 Believe Me by J.P. Delaney
Keywords: Psychological Thriller, Murder, Undercover
Release Date: July 24
Back of the Book: In this twisty psychological thriller from the New York Times bestselling author of The Girl Before, an actress plays both sides of a murder investigation.
A struggling actor, a Brit in America without a green card, Claire needs work and money to survive. Then she gets both. But nothing like she expected.
Claire agrees to become a decoy for a firm of divorce lawyers. Hired to entrap straying husbands, she must catch them on tape with their seductive propositions. The rules? Never hit on the mark directly. Make it clear you're available, but he has to proposition you, not the other way around. The firm is after evidence, not coercion. The innocent have nothing to hide.
Then the game changes.
When the wife of one of Claire's targets is violently murdered, the cops are sure the husband is to blame. Desperate to catch him before he kills again, they enlist Claire to lure him into a confession.
Claire can do this. She's brilliant at assuming a voice and an identity. For a woman who's mastered the art of manipulation, how difficult could it be to tempt a killer into a trap? But who is the decoy . . . and who is the prey?
My Fucking Thoughts: Admittedly this is the book I'm least interested in on the list. The plot from the back sounds kind of unbelievable, and I usually have a hard time with books that lack a level of explainable logic. But, I'm going to assume there's probably an unreliable narrator element to this, which I haven't read in a while. Plus some murderous intrigue? I'm in.
🔪 An Unwanted Guest by Shari Lapena
Keywords: Isolation, Locked Room Mystery
Publication Date: August 7
Back of the Book: We can't choose the strangers we meet.
As the guests arrive at beautiful, remote Mitchell's Inn, they're all looking forward to a relaxing weekend deep in the forest, miles from anywhere. They watch their fellow guests with interest, from a polite distance.
Usually, we can avoid the people who make us nervous, make us afraid.
With a violent storm raging, the group finds itself completely cut off from the outside world. Nobody can get in – or out. And then the first body is found . . . and the horrifying truth comes to light. There's a killer among them – and nowhere to run.
Until we find ourselves in a situation we can't escape. Trapped.
My Fucking Thoughts: I love trapped room mysteries!!! I can't be the only one that finds a sense of nostalgia in it. A house full of people who can't escape, and someone is murdered, is completely classic. Clue! Even Family Guy did an homage to it. Some things are just too fun and too classic to resist. Of course, I'm looking for something new to be brought to the table as well, as you do with tables.
🔪 Our House by Louise Candlish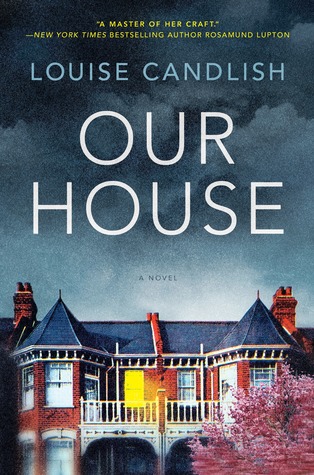 Keywords: Psychological Thriller, Domestic Suspense, Secrets and Lies
Publication Date: August 7
Back of the Book: On a bright January morning in the London suburbs, a family moves into the house they've just bought in Trinity Avenue. 
Nothing strange about that. Except it is your house. And you didn't sell it. 
When Fiona Lawson comes home to find strangers moving into her house, she's sure there's been a mistake. She and her estranged husband, Bram, have a modern co-parenting arrangement: bird's nest custody, where each parent spends a few nights a week with their two sons at the prized family home to maintain stability for their children. But the system built to protect their family ends up putting them in terrible jeopardy. In a domino effect of crimes and misdemeanors, the nest comes tumbling down.
Now Bram has disappeared and so have Fiona's children. As events spiral well beyond her control, Fiona will discover just how many lies her husband was weaving and how little they truly knew each other. But Bram's not the only one with things to hide, and some secrets are best kept to oneself, safe as houses.
My Fucking Thoughts: What the fuck is bird's nest custody? I'm going to say I don't like it. Being a child of divorce and marrying a man who was divorced, has developed my principles on divorce. For instance, "staying together for the kids" is stupid and teaches them the wrong thing about relationships (ie. that they're supposed to suck.) Staying in the family home for the kids???? Right off the bat, I'm going to say that's going to be a no from me, dawg. It doesn't surprise me some divorced parents eventually came up with this idea, like it's going to emotionally fix for the kids the fact that you're divorced. But I digress…I love the idea of coming home one day and the house being sold out from under you and your kids being gone. That is some devious shit! Gimme!
🔪 Pieces of Her by Karin Slaughter
Keywords: Thriller, Mother/Daughter, Feminism
Publication Date: August 21
Back of the Book: What if the person you thought you knew best turns out to be someone you never knew at all?
Andrea Cooper knows everything about her mother Laura. She knows she's spent her whole life in the small town of Gullaway Island; she knows she's never had any more ambition than to live a quiet life as a pillar of the community; she knows she's never kept a secret in her life.
But one day, a trip to the mall explodes into violence and Andrea suddenly sees a completely different side to Laura.
Twenty-four hours later, Laura is in hospital, shot by an intruder who's spent thirty years trying to track her down. Now, Andrea must go on a desperate journey to follow the breadcrumbs of her mother's past. If she can't uncover the secrets hidden there, there may be no future for either of them.
My Fucking Thoughts: I will literally read anything Karin Slaughter writes. ANYTHING. I think she's a literary god. I also like the idea of taking a journey through your parents' past, thinking you know them but realizing they were whole people with so many experiences before you ever existed. In this case, those experiences sound prettyyy sinister. Also super happy to have read an interview by Slaughter where she discusses the inspiration behind the book – and it's got that feminist lean again. She never lets me down!
---
Happy Summer Reading!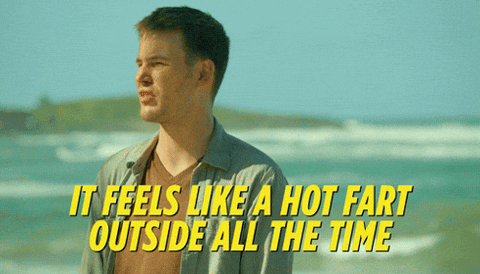 Stay safe. Be kind. But, take no shit.
Later, Booknerds ✌️🔪