OKAY, Okay.
OKAY.
OMFG OKAY.
I need to take a breath and chill.
I feel like I have to pee even though I just peed. But I keep remembering what happened to me today and then I need to pee again.
Y'ALL.
KAREN FUCKING KILGARIFF READ. MY. BLOG.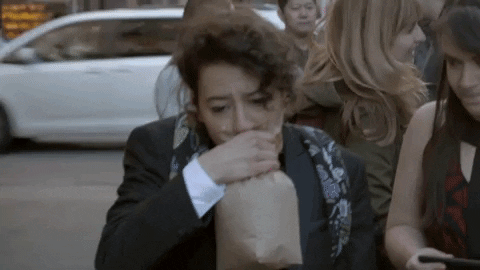 Alright, obviously she didn't read the whole thing, because who has time for that when you're as busy as she is? And she probably doesn't even care that much, but she totally used my post about The Weepy-Voiced Killer as one of her sources for the newest episode of the podcast.
It's true. No shit. You can hear it at exactly the 56:50 mark in the newest episode "Rough Winds and High Waters."
It's like two seconds long and won't mean anything to anyone like it does to me, but it happened and I will be riding this high for literally hours, possibly days.
Though if it's days, it's probably just that I got actually for real high that's making me feel high.
This is amazing and I'm tripping out so hard.
The internet is such a crazy place.
I've been listening to MFM since the beginning. I saw them in Toronto a couple of years ago and I've bought more merch from them than I have from anyone else I've ever been a fan of.
Seriously, you guys know how much I love Foo Fighters and I only have one t-shirt.
I even got my blog name from one of their episodes and started doing my true crime posts because of their influence. I think I have an appreciation post floating around here somewhere.
When I first started listening to MFM, I was having a difficult time at home. My stepson was consistently threatening to take his own life, suffering severe depression and mental health issues. My husband was all consumed by this darkness and our marriage was on the rocks because of it. There was something swallowing our family whole and it just didn't seem like there was a way out.
I became depressed and shut off.
I would listen to MFM as a way to laugh and escape. And as we healed in our family, I pursued blogging and really throwing myself into my hobbies and the things I love – reading and writing and true crime – as a form of self care so that I never went back to a place where my life was consumed by the issues of other people, and so I would always have a place that was just mine.
To think that from that, Karen would ever come across my little space and read my words and use that for her podcast is just fucking incredible.
WHAT IS MY LIFE?!
---
I have to pee again.
I might go buy more merch, too. Just because I'm riding a way of serotonin and I do my best shopping when I'm surging like that.
Okay byeeeeeeeeeeeee!