It's the most wonderful time of the year, booknerds!
And I mean that in the most inclusive way possible. There are 11 holidays celebrated this time of year by people of all different backgrounds. And that's just what I know of. It is completely possible that there are more celebrations that I'm ignorant to.
The point is, that to me, it doesn't matter what you celebrate this time of year, I just want your holidays to be everything that you want them to be. I want you to wish people whatever lovely greeting you choose to and I want you to be happy and loved.
For me and my little family, we are celebrating Yule/Saturnalia. And I need my Yule to include some goddamn murder!
That's right, I said it. With the stress of shopping and wrapping and getting the house in order for family and friends, I like to wind down at the end of the day with some dead bodies and a big mystery to unravel.
Nothing says "Christmas" like blood in the snow.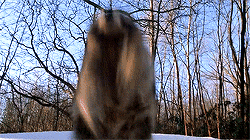 So, if you're anything like me, maybe you're looking to build your TBR in December around some winter holiday themed crime fiction. And because I love you all so much, I've put together a list of what I think are your best bets to add to your pile, just to start you off.
Here's my fucking list of the top holiday-theme books to quench your thirst for death this season!
---
🔪The Darkest Day (Inspector Barbarotti, #1) by Håkan Nesser
HTFT Tagline: The Swedish Trumps Go Missing
Holiday Spirit Index: ❄️❄️
Back of the Book: It's December in the quiet Swedish town of Kymlinge, and the Hermansson family are gathering to celebrate father Karl-Erik and eldest daughter Ebba's joint landmark birthdays. But beneath the guise of happy festivities, tensions are running high, and it's not long before the night takes a dark and unexpected turn . . .
Before the weekend is over, two members of the Hermansson family are missing, and it's up to Inspector Barbarotti – a detective who spends as much of his time debating the existence of God as he does solving cases – to determine exactly what has happened. And he soon discovers he'll have to unravel a whole tangle of sinister family secrets in the process . . .
My Fucking Thoughts: This is going to be a love or hate it kind of book for people. And I say that with absolutely zero first-hand knowledge and entirely based on the reviews that I've read. They are literally all over the place. No one can agree if this is the best Scandinavian novel or the worst. So be warned.
Personally, I'm always intrigued by fucked up families that do stupid things, even in the face of tragedy and crime. Kind of like the Trumps. And that's why it's on the list.
🔪Whiteout by Ken Follett
HTFT Tagline: Attack of the Christmas Romaine Lettuce
Holiday Spirit Index: ❄️❄️❄️
Back of the Book: A lab technician bleeding from the eyes. Twelve missing samples of a deadly virus. Toni Gallo, the security director of a Scottish medical research firm, knows she has problems, but she has no idea of the nightmare to come.
As a Christmas Eve blizzard whips out of the north, several people, Toni among them, converge on a remote family house. All have something to gain or lose from the drug developed to fight the virus. As the storm worsens, the emotional sparks – jealousies, distrust, sexual attraction, rivalries – crackle; desperate secrets are revealed; hidden traitors and unexpected heroes emerge. Filled with startling twists at every turn, Whiteout rockets Follett into a class by himself.
My Fucking Thoughts: Okay, I'm sorry but I love killer viruses. The lab panic, the scientists dying in an airlocked room, skin burning and eyes bleeding. It's magical. So, I especially love this kind of story over Christmas.
Maybe it's because I always get sick during the holiday season and I've come to expect it. I've come to welcome the downtime it forces and the quarantine I put myself in. It's peaceful.
But really, this kind of stuff both scares the shit out of me and excites me. It's better than Romaine lettuce!
🔪No Place Like Home by Kerry Wilkinson
HTFT Tagline: "Crime doesn't stop for Christmas" is actually a pretty good one, I have to admit…
Holiday Spirit Index: ❄️❄️❄️
Back of the Book: Craig Macklin was a teenager when his headteacher told him he was heading either to prison or the grave. Instead, Craig left the north of England, saying goodbye to his friends and family to start a new life.
Thirteen years on, redundant and separated from his wife, he returns to his hometown for the first time.
It's Christmas: markets in full swing, lights twinkling, shoppers shopping, revellers revelling.
Manchester has seen a revolution. The buildings soar higher, the shopping centres sprawl wider. New industries have replaced old and yet, away from the glitter, the tinsel, the hot spiced cider and the enormous inflatable Santa, some things will never change.
Despite the seasonal sense of jollity, there are secrets from which Craig cannot escape and, when debt-collectors call on his parents' house, Craig realizes the teenage hell-raiser he left behind might not be so buried after all.
My Fucking Thoughts: I'm not usually into stories centred around mob-like things. Maybe because I find it kind of ridiculous that grown ass adults behave that way – that "you owe us money so we're going to get all up in your face" things is just a tired trope for me. Even if it does happen in real life. There is something highly cartoonish about it.
But this is definitely a Christmas-season-heavy crime fiction novel and for that reason alone it goes on the list. I mean, just look at that cover!
🔪NOS4A2 by Joe Hill
HTFT Tagline: Christmas on Acid
Holiday Spirit Index: ❄️❄️❄️❄️
Back of the Book: Summer. Massachusetts.

An old Silver Wraith with a frightening history. A story about one serial killer and his lingering, unfinished business.

Anyone could be next.

We're going to Christmasland…
Victoria McQueen has a secret gift for finding things: a misplaced bracelet, a missing photograph, answers to unanswerable questions. On her Raleigh Tuff Burner bike, she makes her way to a rickety covered bridge that, within moments, takes her wherever she needs to go, whether it's across Massachusetts or across the country.
Charles Talent Manx has a way with children. He likes to take them for rides in his 1938 Rolls-Royce Wraith with the NOS4A2 vanity plate. With his old car, he can slip right out of the everyday world, and onto the hidden roads that transport them to an astonishing – and terrifying – playground of amusements he calls "Christmasland."
Then, one day, Vic goes looking for trouble—and finds Manx. That was a lifetime ago. Now Vic, the only kid to ever escape Manx's unmitigated evil, is all grown up and desperate to forget. But Charlie Manx never stopped thinking about Victoria McQueen. He's on the road again and he's picked up a new passenger: Vic's own son.
My Fucking Thoughts: If you want Christmas horror, you want this book. I read this, my first experience with Joe Hill, at the beginning of the year and I still remember it in vivid detail. I didn't love this book, but I don't love a lot of books. But this one still sticks in my mind with crystal clear images. It is the most creative experience I've had with horror writing and I highly recommend it for the season. You will never look at snowmen the same way again.
🔪Dying for Christmas by Tammy Cohen
HTFT Tagline: Twelve Days of Batshit Crazy
Holiday Spirit Index: ❄️❄️❄️❄️❄️
Back of the Book: Out Christmas shopping one December afternoon, Jessica Gould meets the charming Dominic Lacey and impulsively agrees to go home with him for a drink.
What follows is a Twelve Days of Christmas from hell as Lacey holds Jessica captive, forcing her to wear his missing wife's gowns and eat lavish holiday meals. Each day he gifts her with one item from his twisted past—his dead sister's favourite toy, disturbing family photos, a box of teeth. As the days pass and the "gifts" become darker and darker, Jessica realizes that Lacey has a plan for her, and he never intends to let her go.
But Jessica has a secret of her own … a secret that may just mean she has a chance to make it out alive.
My Fucking Thoughts: This book has everything. The title is ON THE NOSE and super lame, the plot is built around the 12 days of Christmas and there are even creepy gifts of teeth! How do you not want to read the shit out of this? It's the perfect choice for the holiday season. I'm giddy just thinking about it.
🔪Christmas Tales of Terror by Chris Priestley
HTFT Tagline: Putting the HO HO HO in Horror
Holiday Spirit Index: ❄️❄️❄️❄️❄️
Back of the Book: From malevolent snowmen to Father Christmas – with a difference … Chris Priestley is in absolutely top form in these atmospheric, clever and thoroughly chilling stories. Add a new kind of thrill to the fluffiest of seasons with seven brilliantly conceived examples of why you'd better be good at Christmas time. For stories which can be enjoyed by the whole family, unwrap these perfectly formed festive tales of terror, each with a gripping yarn and genius twist.
Singing carols may never seem quite the same again … especially after dark.
My Fucking Thoughts: Technically, this is a kids publication. But when you've got everything from a cursed drummer boy to demented snowmen, I'm going to be getting into that kid-on-Christmas feeling and reading this. I don't care if it was written for a ten-year-old. Sometimes I feel like a ten-year-old stuck in a 30-something body that feels like a 60-something body.
🔪The Advent Killer (Antonia Hawkins, #1) by Alastair Gunn
HTFT Tagline: Santa is dropping bodies down the chimney… with care.
Holiday Spirit Index: ❄️❄️❄️❄️
Back of the Book: Christmas is coming. One body at a time.

Three weeks before Christmas: Sunday, one a.m. A woman is drowned in her bathtub.

One week later: Sunday, one a.m. A woman is beaten savagely to death, every bone in her body broken.

Another week brings another victim.

As panic spreads across London, DCI Antonia Hawkins, leading her first murder investigation, must stop a cold, careful killer whose twisted motives can only be guessed at, before the next body is found. On Sunday.

When the clock strikes one . . .
My Fucking Thoughts: I've actually wanted to start this series for a while. Each book seems to be themed around a holiday and book four in the series goes back to Christmas time again. So, excuse me to shit, but that kind of themed-series gimmick really works on me. I'm a sucker! What can I say?!
Not to mention, a strong female lead is always a winner in my opinion. Combine that with some Christmas misery and I'm all in, like Chris Hayes. (Sorry, I've been watching a lot of MSNBC lately and that was a terrible pun.)
🔪Cold Mourning (Stonechild and Rouleau, #1) by Brenda Chapman
HTFT Tagline: If you don't like your family, stalk someone else's for the holidays.
Holiday Spirit Index: ❄️❄️❄️❄️
Back of the Book: When murder stalks a family over Christmas, Kala Stonechild trusts her intuition to get results…
It's a week before Christmas when wealthy businessman Tom Underwood disappears into thin air — with more than enough people wanting him dead.
New police recruit Kala Stonechild, who has left her northern Ontario detachment to join a specialized Ottawa crime unit, is tasked with returning Underwood home in time for the holidays. Stonechild, who is from a First Nations reserve, is a lone wolf who is used to surviving on her wits. Her new boss, Detective Jacques Rouleau, has his hands full controlling her, his team, and an investigation that keeps threatening to go off track.
Old betrayals and complicated family relationships brutally collide when love turns to hate and murder stalks a family.
My Fucking Thoughts: How can I resists a Canadian novel based in my province and taking place over Christmas? It's like the perfect combination. There are just not enough books that feature Canadian law enforcement (not to mention Native characters) so whenever I stumble across one I'm immediately intrigued. Add in the fact that this was nominated for the Arthur Ellis Award for Best First Novel and I'm 100% in.
🔪The Omen Days: A Christmas Ghost Story by J.T. Ellison
HTFT Tagline: Calling it now, Autumn is a ghost!
Holiday Spirit Index: ❄️❄️❄️❄️❄️
Back of the Book: Autumn disappeared from his life once. And he's not going to let her do it again…
Zack Aukey hates Christmas—despises it, actually. December carries painful memories of his first love Autumn Cleary, who left him during the holiday season. But when Autumn mysteriously shows up in Nashville on Christmas night bearing gifts and apologies, Zack knows this is a holiday he won't soon forget.
And then he sees the police report.
From New York Times bestselling author J.T. Ellison comes her first Christmas story, marrying the magic of the season with her signature thriller twist.
My Fucking Thoughts: This is a short story, only 89 pages. So if you're looking to add some holiday cheer to your TBR but don't think you can find the time, this little baby should do the trick!
Look, everyone knows I love J.T. Ellison so it shouldn't be too much of a surprise that I've added this to my list. Christmas ghosts are a classic trope, but if they come with a side of mystery it can only get better.
---
Do you have any holiday-themed books for December that I didn't include on my list? Let me know what they are so I can add them to my TBR and probably not read them for a couple of years because OMG HOW DID I GET THIS MANY BOOKS THAT I'M SUPPOSED TO REVIEW?
Dear Santa,
All I want for Christmas is the ability to read faster.
Sincerely,
This bitch.
Stay safe. Be Kind. But, take no shit.
Later, Booknerds ✌️🔪