What are books with buzz you might ask? Or maybe you won't. Maybe you just inherently understand the concept of buzz and things having said buzz.
If not, here's the idea: these are the books I keep hearing about. They are also probably the books you keep hearing about.
It's the incessant little noise that floats around you, that you're picking up on without really even intentionally acknowledging it.
bzzzzzzz….read me….bzzzzzz
Son-of-a-bee-sting, these are the most buzz-worthy books around right now…
PS. my "buzz index" is a completely arbitrary scale that means basically nothing. Enjoy!
---
🔪The Babysitter by Sheryl Browne
H.T.F.T Tagline: Gavin Rossdale's nightmare
Buzz Index: 🐝🐝🐝
Back of the Book: Mark and Melissa Cain are thrilled to have found Jade, a babysitter who is brilliant with their young children. Having seen her own house burn to the ground, Jade needs them as much as they need her. Moving Jade into the family home can only be a good thing, can't it? =
As Mark works long hours as a police officer and Melissa struggles with running a business, the family become ever more reliant on their babysitter, who is only too happy to help. And as Melissa begins to slip into depression, it's Jade who is left picking up the pieces.
But Mark soon notices things aren't quite as they seem. Things at home feel wrong, and as Mark begins to investigate their seemingly perfect sitter, what he discovers shocks him to his core. He's met Jade before. And now he suspects he might know what she wants …
Mark is in a race against time to protect his family. But what will he find as he goes back to his family home?
My Fucking Thoughts: Anyone else want to be the young, hot babysitter who completely destroys a family just for fun? No? Just me? Well, my time has passed so you're all safe. But seriously, I'm not sure how I feel about the evil (possibly seducing) babysitter trope anymore. It's been a really long time since I've seen it done in a fresh, not campy way. But the word of mouth around this book is pretty strong, so we all know I'm going to hop onto the bandwagon and make my ass comfortable.
🔪The Date by Louise Jensen
H.T.F.T Tagline: They should be called "floories" instead of "roofies," because when you take them you hit the floor… and apparently forget your own face.
Buzz Index: 🐝🐝🐝
Back of the Book: Something has happened to Alison Tayor
Her Saturday night started normally. Recently separated from her husband, Ali has been persuaded by her friends to go on a date with a new man. She is ready, she is nervous, she is excited. She is about to take a step into her new future.
By Sunday morning, Ali's life is unrecognisable. She wakes, and she knows that something is wrong. She is home, she is alone, she is hurt and she has no memory of what happened to her.
Worse still, when she looks in the mirror, Ali doesn't recognise the face staring back at her. She can't recognise her friends and family. And she can't recognise the person who is trying to destroy her…
My Fucking Thoughts: This blurb is super enticing to me… but also confusing? Maybe that's why I like it. At first you're all, ohhhh the girl got drugged and can't remember anything. But then you're all, She doesn't recognize her own face? What kind of drug is this?! Why can't she recognize her face or her friends or her family? That's crazy! I need to know the answer. Wait!… don't tell me.
🔪Foe by Iain Reid
H.T.F.T. Tagline: Henrietta, you in danger girl.
Buzz Index: 🐝🐝🐝🐝
Back of the Book: In Iain Reid's second haunting, philosophical puzzle of a novel, set in the near-future, Junior and Henrietta live a comfortable, solitary life on their farm, far from the city lights, but in close quarters with each other. One day, a stranger from the city arrives with alarming news: Junior has been randomly selected to travel far away from the farm…very far away. The most unusual part? Arrangements have already been made so that when he leaves, Henrietta won't have a chance to miss him, because she won't be left alone—not even for a moment. Henrietta will have company. Familiar company.
Told in Reid's sharp and evocative style, Foe examines the nature of domestic relationships, self-determination, and what it means to be (or not to be) a person. An eerily entrancing page-turner, it churns with unease and suspense from the first words to its shocking finale.
My Fucking Thoughts: I don't even know what to think about this really. It's typically not the kind of book I would pick up because it lacks dead bodies, but there is something about that (gorgeous!) cover and the vague description that has completely piqued my interest. I'll tell you what though, Henrietta can take care of her damn self and doesn't need "familiar company" because the man left the house.
…And that is what we call judging a book by its cover!
🔪Her Pretty Face by Robyn Harding
H.T.F.T. Tagline: Fat friend, skinny friend.
Buzz Index: 🐝🐝🐝🐝🐝
Back of the Book: Frances Metcalfe is struggling to stay afloat.
A stay-at-home mom whose troubled son is her full-time job, she thought that the day he got accepted into the elite Forrester Academy would be the day she started living her life. Overweight, insecure, and lonely, she is desperate to fit into Forrester's world. But after a disturbing incident at the school leads the other children and their families to ostracize the Metcalfes, she feels more alone than ever before.
Until she meets Kate Randolph.
Kate is everything Frances is not: beautiful, wealthy, powerful, and confident. And for some reason, she's not interested in being friends with any of the other Forrester moms—only Frances. As the two bond over their disdain of the Forrester snobs and the fierce love they have for their sons, a startling secret threatens to tear them apart…because one of these women is not who she seems. Her real name is Amber Kunick. And she's a murderer.
In her masterful follow-up to The Party, Robyn Harding spins a web of lies, deceit, and betrayal, asking the question: Can people ever change? And even if they can, is it possible to forgive the past?
My Fucking Thoughts: I meannnnn, it kind of feels like the twist is giving away in the blurb??? But this book has so many people reading it, and so many solid reviews, that maybe I'm wrong and it still has a bunch of tricks up its sleeves pages. Truth is, I'm a little burned out on domestic thrillers so there is a very good chance I'm not going to like this as much as everyone else. Domestic thrillers have a high bar to reach with me because the genre is flooded. It has gotten tougher to surprise me, thrill me or shock me. Let's see what you got, Pretty Face.
🔪The Death of Mrs. Westaway by Ruth Ware
H.T.F.T. Tagline: Someone bequeath me something so I can keep using the word bequeath.
Buzz Index: 🐝🐝🐝🐝
Back of the Book: On a day that begins like any other, Hal receives a mysterious letter bequeathing her a substantial inheritance. She realizes very quickly that the letter was sent to the wrong person—but also that the cold-reading skills she's honed as a tarot card reader might help her claim the money.
Soon, Hal finds herself at the funeral of the deceased…where it dawns on her that there is something very, very wrong about this strange situation and the inheritance at the centre of it.
My Fucking Thoughts: I work with a woman named Ruth who is under five feet tall, has an endless staple of athleisure wear in her closet and is obsessed with birds. Obsessed. Every time I hear Ruth Ware's name this is who I think of. I imagine my bird-loving colleague sitting at home, single at sixty, writing these dark and creepy stories that Ware has become known for. My first and only outing with this author was In a Dark, Dark Wood. A solid 3 star read, but nothing amazing so I'm not exactly moving other books by her up my TBR mountain. But this book is everywhere right now and I'm so fucking gullible so I'm definitely going to read it.
🔪Jar of Hearts by Jennifer Hillier
H.T.F.T. Tagline: A sinister new version of "My Boyfriend's Back!"
Buzz Index: 🐝🐝🐝🐝🐝
Back of the Book: Aged just 16, Geo's best friend Angela disappeared without a trace. Years later, Angela's body is discovered in the woods near Geo's childhood home, revealed as yet another victim of the notorious serial killer Calvin James. Geo's high-school boyfriend.
For fourteen years, Geo knew what had happened and told no one, carrying the secret until she was arrested and sent to prison. Why would any woman protect a man capable of committing such a heinous crime? Geo had her reasons…
To Geo, Calvin is more than a monster, a serial killer with no remorse. He is something else entirely. And while Geo did her time, Calvin escaped and went on the run. Now released, Geo is ready to start over. But then the bodies begin to turn up, killed in the exact same manner as Angela…
As chilling secrets are revealed, everything turns on what really happened one fateful night, almost 20 years ago. Is it too late for anyone, Geo included, to survive the truth?
My Fucking Thoughts: Um, yes please! This sounds like it was written especially for me. I know it wasn't, but a girl can dream. I love serial killers. I love dating serial killers… wait no. Scratch that. Anyway, secrets and serial killers and cold cases… I'm definitely excited for this one.
🔪The Witch Elm by Tana French
H.T.F.T. Tagline: The only author that can make a skull in a tree fucking poetic.
Buzz Index: 🐝🐝🐝🐝
Back of the Book: Toby is a happy-go-lucky charmer who's dodged a scrape at work and is celebrating with friends when the night takes a turn that will change his life – he surprises two burglars who beat him and leave him for dead. Struggling to recover from his injuries, beginning to understand that he might never be the same man again, he takes refuge at his family's ancestral home to care for his dying uncle Hugo. Then a skull is found in the trunk of an elm tree in the garden – and as detectives close in, Toby is forced to face the possibility that his past may not be what he has always believed.
A spellbinding standalone from one of the best suspense writers working today, The Witch Elm asks what we become, and what we're capable of, when we no longer know who we are.
My Fucking Thoughts: I mean, it's new Tana French, so what the fuck else is there to say? Honestly? This is not a new Dublin Murder Squad instalment, to the dismay of many, but it's new Tana French so we're going to read it anyway and be grateful, right? Right.
🔪An Unwanted Guest by Shari Lapena
H.T.F.T. Tagline: Ohhhh the weather outside is weather…
Buzz Index: 🐝🐝🐝🐝
Back of the Book: It's winter in the Catskills and Mitchell's Inn, nestled deep in the woods, is the perfect setting for a relaxing–maybe even romantic–weekend away. It boasts spacious old rooms with huge wood burning fireplaces, a well-stocked wine cellar, and opportunities for cross-country skiing, snowshoeing, or just curling up with a good murder mystery.
So when the weather takes a turn for the worse, and a blizzard cuts off the electricity–and all contact with the outside world–the guests settle in for the long haul.
Soon, though, one of the guests turns up dead–it looks like an accident. But when a second guest dies, they start to panic.
Within the snowed-in paradise, something–or someone–is picking off the guests one by one. And there's nothing they can do but hunker down and hope they can survive the storm.
My Fucking Thoughts: I LOVE locked room mysteries. LOVE THEM. I think it all started with Clue (both the movie and the board game.) This book has a lot of my favourite things – cozy inns, winter and dead bodies. Currently, patiently waiting my turn at the library for this.
🔪Sweet Little Lies (Cat Kinsella, #1) by Caz Frear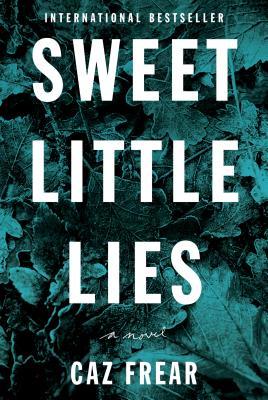 H.T.F.T. Tagline: Serial Killer, Daddy (not kinky.)
Buzz Index: 🐝🐝🐝🐝
Back of the Book: WHAT I THOUGHT I KNEW
In 1998, Maryanne Doyle disappeared and Dad knew something about it?
Maryanne Doyle was never seen again.
WHAT I ACTUALLY KNOW
In 1998, Dad lied about knowing Maryanne Doyle.
Alice Lapaine has been found strangled near Dad's pub.
Dad was in the local area for both Maryanne Doyle's disappearance and Alice Lapaine's murder – FACT
Connection?
Trust cuts both ways . . . what do you do when it's gone?
My Fucking Thoughts: This was my pick for my first ever month of Book of the Month! I cheated the system a little. Yes, I'm in Canada. No, BOTM doesn't deliver to Canada (up your game BOTM), but I am married to an American so I have in-laws in upstate NY which means I have a place to send US deliveries!
*clears throat* So, daddy might be a serial killer and now daddy's little girl is a cop who's going to crack the case, maybe? Probably? This level of family drama only makes serial killer thrillers that much more exciting. This is the first in a new series and I absolutely cannot wait for it!
🔪The Killer You Know by S.R. Masters
H.T.F.T. Tagline: Which one of your friends is a serial killer? Probably Dave.
Buzz Index: 🐝🐝
Back of the Book: I'll murder three strangers. And you'll know it was me. That way we'll all be connected. Always.
When Will jokes about becoming a serial killer, his friends just laugh it off. But Adeline can't help but feel there's something more sinister lurking behind his words.
Fifteen years later, Adeline returns to Blythe for a reunion of the old gang – except Will doesn't show up. Reminiscing about old times, they look up the details of his supposed murder spree. But the mood soon changes when they discover two recent deaths that match.
As the group attempt to track Will down, they realise that he is playing a sinister game that harks back to one they used to play as kids. Only this time there are lives at stake…
My Fucking Thoughts: Admittedly, there isn't a lot of buzz around this book except for the buzz I'm creating for myself but I sooooo want to read it. The blurb has a slasher flick feel to it, but also takes the whodunnit genre and puts a little spin on it. I have high expectations, and that's never always steered me wrong!
---
Have you read any of these beauties? Are you going to add any to your TBR? Do you like stuff and things? Let me know!
Buzz, buzz, bitches.
Stay safe. Be kind. But, take no shit.
Later, Booknerds ✌️🔪