"You know those plants that are always trying to find the light? Maybe they were planted in a location that didn't necessarily facilitate growth, but inexplicably they make a circuitous route to not only survive but bloom into a beautiful plant. That was me—my whole life."
★★★★★
HarperOne | 2019
Opening Queen: Raw and unapologetic.
Main Yasss Honey!: A radiant human.
Fabulous Truthy-ness: Fiercedom and realness.
---
Let's take a break from doom, gloom, death and viruses to cloak ourselves in the bright and shining warmth that is Jonathan Van Ness. This isn't what I usually read, but it felt like the perfect time for it. Also, I love Queer Eye, because duh.
Their memoir, Over the Top, is an optimistic telling of a life that has been full of struggles, wrong turns, bad decisions and amazing turnarounds.
If you don't watch Queer Eye (WHY THO?!), maybe you have no interest in Van Ness or their journey from a small, bigoted little town to Netflix, where they have become, in my opinion, a beacon of joy, self-acceptance, love and honesty. I mean, really, they just makes the world a better place, and that's a fact.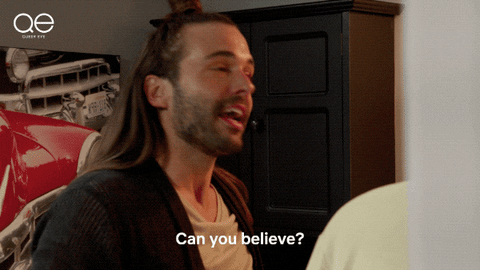 But, if you do watch Queer Eye (because you have TASTE) then you definitely want to read this autobiography. It will bring you so much more understanding and appreciation for the person behind the hair and personality.
Continue reading

"Review: Over the Top – A Raw Journey to Self-Love by Jonathan Van Ness"