Happy Hump Day, ghouls and ghosts!
Halloween is getting closer with each passing day and I'm so excited about it that I've literally been living off of pumpkin pie and bite-sized candy for the last week.
…I don't feel good.
So, while I try to maintain a normal blood-sugar level, it's time for another #Blogoween post!
What is Blogoween, you ask? Well, I'll damn-well tell you. It's a month-long celebration of Halloween on your blog with daily prompts and different levels of post commitment. Find out how to sign up for the Blogoween event here. And a list of all the prompts is here.
Today's prompt was local haunted hot spots. Turns out that my area isn't exactly hopping with good ghost stories, from what I can google/gather, so I decided to take the prompt and turn into something a little bit more suited for Booknerd Wednesday.
Today we're going to check out some of the most haunted libraries around the world!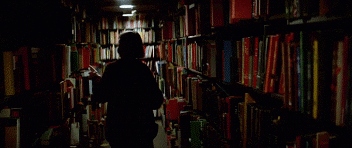 Whether you believe in ghosts or not is completely irrelevant. We're not here to discuss the merits of life after death. Although I will say, once people start reporting ghosts whispering "it's Britney, bitch," and "what's the wifi password?" I might give a little bit more credence to the idea.
Continue reading "Booknerd Wednesday: Haunted Libraries (#Blogoween)" →