Most of us ladies who are obsessed with crime fiction, likely got our start reading Nancy Drew when we were young girls in pigtails; young girls who didn't really want to play the games our friends were playing. We liked puzzles and being observant and maybe kids thought we were weird or awkward. We watched Goonies and Ghost Writer and read The Babysitters Club. We wanted to go on a mystery adventure and solve a crime!
So we played at being Nancy Drew with our Sailor Moon "casebooks," watching from our windows and writing down the neighbours' activities as if we were going to catch them doing something sinister, like rolling a body into a carpet.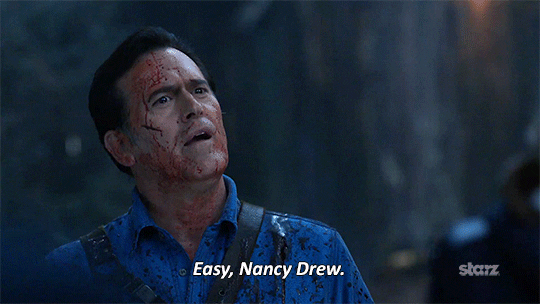 And as we got older, we moved on to more adult crime fiction mysteries, but always gravitated towards Nancy like characters – Veronica Mars, Olivia Benson, Clarice Starling. Because Nancy had taught us it was okay to be into what we were into. We've never forgotten Nancy even though we have grown up. She's frequently cited as an inspiration by writers and readers alike. Her name is mentioned in my "about" page for this blog, and I have been working on a collection of her books for a few years, picking them up from antique markets and used books stores. (Only the ones originally published by Dunlap & Grosset.)
But let's be real for a moment – in hindsight, Nancy was kind of boring, tame. A true basic bitch. She was rich and white and polite, doing her sleuthing in sweet collared dresses and Mary-Jane pumps with a perfectly coiffed flipped bob. Of course, the series started in the 1930s, so what do you expect? There wasn't really any room for Nancy to change societal norms drastically, nor was there a market for it.
Really, if you go back to those original books, you'll find them to be racist and anti-feminist in a lot of their elements. Again, what do you expect from the time?
Continue reading

"Booknerd Wednesday: Female Sleuths You Need To Know (Other Than Nancy Drew)"