It's the most wonderful time of the year, booknerds!
And I mean that in the most inclusive way possible. There are 11 holidays celebrated this time of year by people of all different backgrounds. And that's just what I know of. It is completely possible that there are more celebrations that I'm ignorant to.
The point is, that to me, it doesn't matter what you celebrate this time of year, I just want your holidays to be everything that you want them to be. I want you to wish people whatever lovely greeting you choose to and I want you to be happy and loved.
For me and my little family, we are celebrating Yule/Saturnalia. And I need my Yule to include some goddamn murder!
That's right, I said it. With the stress of shopping and wrapping and getting the house in order for family and friends, I like to wind down at the end of the day with some dead bodies and a big mystery to unravel.
Nothing says "Christmas" like blood in the snow.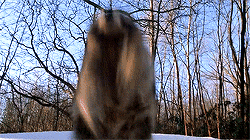 So, if you're anything like me, maybe you're looking to build your TBR in December around some winter holiday themed crime fiction. And because I love you all so much, I've put together a list of what I think are your best bets to add to your pile, just to start you off.
Here's my fucking list of the top holiday-theme books to quench your thirst for death this season!
Continue reading

"All the Winter Holiday-Themed Reads You Need!"