"Today, we are going to be playing a little game of Murder."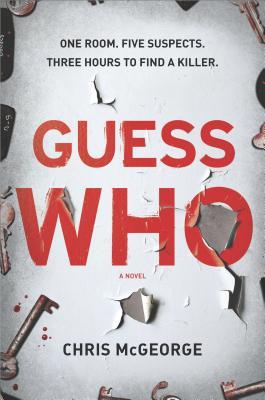 ★★★½
Hanover Square Press | 2018
Opening Hook: Basically a classic Kesha song
Main Character: If Maury and Robert Stack had a baby, but that baby was drunk all the time
Plot Twisty-ness: Jigsaw would be proud
---
I went into this novel with every intention of loving it completely. I swear to Thor. But okay, obviously I didn't completely get there. Story of my life. No one is shocked.
Guess Who started off as a five-star read until I passed the halfway mark and that's when things fell off the chart. For the first half of the book, it is very much SAW meets Clue, just minus the horror element. But it does create a sinister, frantic pace and tone that definitely had me hooked. It's a locked-room mystery that feels both extravagant and desperate at first, at that definitely worked for me in a totally non-sexual sexual way.
Morgan Sheppard is a TV star who has made a living doing a Maury meets Unsolved Mysteries-style show called Resident Detective. As a child, he solved the murder of his math teacher and created a very successful career riding (read: exploiting) that wave. Through his fame, he's turned into an alcoholic, drug addict and womanizer. The only problem is, Sheppard has been full of shit for a very long time. And someone knows it. And someone hates him.
This villain, known as The Evil Man who wears a goofy fucking horse mask, and locks Sheppard and five other people in a hotel room with a dead body in the bathtub. Sheppard has 3 hours to find the killer – one of the people in the room – and prove what kind of detective he really is, or the hotel blows up.