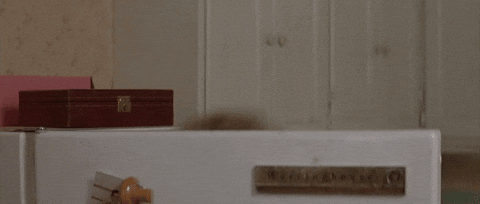 It's been a while!
Sorry for the break! But not really. I hope you stumbled across many other funny and wonderful book bloggers and true crime writers to fill the Krystin-shaped hole in your heart. I know there are so many writers to read, and it means a lot to me that you still stick around my blog even when I disappear every now and again.
I've been super fucking busy at home trying to finish my bedroom renovation. I know, I know. I've been promising forever to post my basement reno and I've already moved on to my bedroom. What can I say? I don't possess a lot of virtues, and patience definitely isn't one of the few.
I finished painting on Sunday and I'm so happy to say there are no more rooms in my house that require a full wall of paint… three years later. I fucked up my shoulder once again and my back is twisted, but all the heavy, big projects are officially done and now I can just focus on the smaller details like hanging a mirror or putting up curtains.
I can't tell you how excited I am to just sit on my fucking ass and do nothing once again. I can see the light at the end of the tunnel. And it looks a lot like me in bed with a book and a snuggly puppy. And of course, writing more posts around here. I fucking swear it!
Truly, my Fitbit has never seen me achieve so many steps before. It thinks someone new is wearing it.
Anyway, I'm feeling a little bit less stressed, my brain fog is clearing and my creative juices are totally pumping… forgive me for saying "creative juices." That phrase could not be any more disgusting. But I digress… a new true crime story is just breaking within the last couple of days, and it is completely fucked up and sensational and has me rolling my eyes in all kinds of directions because goddamn teenagers are just so fucking stupid, cruel sometimes.
We're talking terrible teenagers. We're talking murder. We're talking child pornography. We're talking fake millionaires. We're talking being gullible as fuck.
This is the murder of Cynthia Hoffman.
Continue reading

"True Crime Tuesday: The Nine Million Dollar Murder"