★½
G.P. Putnam's Sons | 2020
DNF'd @ 67%
---
I really gave this the old college try, you guys. Honestly. I kept reading, pushing forward like… an… iceberg? No. That's a terrible analogy. Whatever. I was waiting for this novel to get scary or interesting, but at a certain point – 67% to be precise – I just couldn't waste my precious reading time anymore.
Side note: Where does "old college try" even come from? I guess I could google it. Hold, please.
…okay, it either came from college sports or from the idea of taking a few tries before you pass a college course.
Do you even care? I legit spent some time googling that and it was kind of anti-climatic. I guess that works for a review about a boring AF book, though.
I was looking forward to reading this supernatural account about the 1912 sinking of the Titanic and the fate of its sister-ship, the Britannic, which also fucking sank in 1916.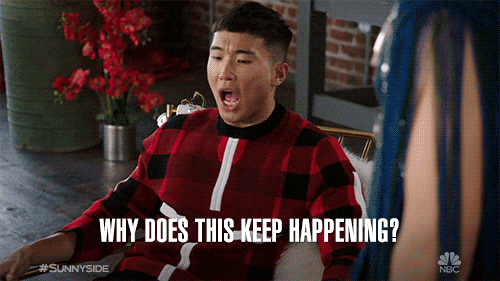 Nothing was happening in this that I gave a shit about, so eventually, I just couldn't find a point in continuing to read this. It is packaged as a historical reimagined supernatural horror, but it actually reads more like historical romance wrapped up in a little bit of supernatural-ness.
Not my thing. Maybe it's yours.
A maid, Annie, survived the sinking of the Titanic – a ship many of the crew and passengers began to believe was haunted right before it hit that goddamn iceberg. All the dark secrets and unanswered questions about what was really happening aboard the ship were forever lost to the bottom of the ocean.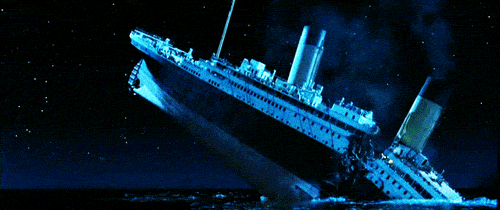 Now, years later, Annie is a WW1 nurse aboard the Britannic. Being back on a big ass ship stirs Annie into remembering the strange events that she witnessed aboard the Titanic. Also, she's got an enigmatic past – because of course – so there's a little drama there too. Aboard the Britannic, there is another Titanic survivor, Mark, with whom Annie is endlessly infatuated and has been since they met on the Big T. Does anyone call the Titanic that? No? I'm a pioneer.
I feel like I know enough about the Titanic to realize that it was not done justice in this book. It's such a massive concept to undertake that it needs to be given an appropriate spotlight. Especially if you're going to take reality and interject a supernatural twist. Here, the Titanic is written like an afterthought, which is surprising because Kastu clearly put a lot of time into the historical research.
My reading experience was not at all helped by the interwoven timelines between the Titanic and the Britannic. Jumping back and forth between those settings, the lines began to muddy as if the two ships were bleeding together. The events of each lacked a distinct vibe. And the perspectives on the ships were split between too many voices, so much so that even two-thirds of the way through the story I was not attached to any of the characters, invested in their dramas or personal relationships, and no vibrant, tangible personalities were yet to pop.
I think what's most disappointing, however, is that the supernatural horror elements were basically non-existent, watered down to the point of irrelevancy. And the atmosphere of both ships, which were obviously leaning towards dark, eerie and isolated, just wasn't executed well. Both of these things dramatically impacted my rating, because without the horror or the sinister vibe, this is really just historical fiction and I fucking hate historical fiction.
That's not a personal indictment against those that love the genre, but for me and my brain, I just can't even. Without any genuine thrills or sinister moments, this novel ended up reading at a turtle's pace. No offence to turtles.
I mean, the historical details are there and the writing itself was dripping with literary talent, but the plot wasn't put to paper in a way that worked for me, becoming meandering and trading emotional impact for multiple character perspectives. The ghost story/horror elements were severely lacking and that impacted the pacing, leaving me kind of relieved when I decided to DNF.
Definitely not the novel for me.
🔪🔪🔪
---
From the acclaimed and award-winning author of The Hunger comes an eerie, psychological twist on one of the world's most renowned tragedies, the sinking of the Titanic and the ill-fated sail of its sister ship, the Britannic.
Someone, or something, is haunting the ship. That is the only way to explain the series of misfortunes that have plagued the passengers of the Titanic from the moment they set sail. The Titanic's passengers expected to enjoy an experience befitting the much-heralded ship's maiden voyage, but instead, amid mysterious disappearances and sudden deaths, find themselves in an eerie, unsettling twilight zone. While some of the guests and crew shrug off strange occurrences, several–including maid Annie Hebbley, guest Mark Fletcher, and millionaires Madeleine Astor and Benjamin Guggenheim–are convinced there's something more sinister going on. And then disaster strikes.
Years later, Annie, having survived that fateful night, has attempted to put her life back together by going to work as a nurse on the sixth sailing of the Britannic, newly refitted as a hospital ship to support British forces fighting World War I. When she happens across an unconscious Mark, now a soldier, she is at first thrilled and relieved to learn that he too survived the tragic night four years earlier. But soon his presence awakens deep-buried feelings and secrets, forcing her to reckon with the demons of her past–as they both discover that the terror may not yet be over.
Featuring an ensemble cast of characters and effortlessly combining the supernatural with the height of historical disaster, The Deep is an exploration of love and destiny, desire and innocence, and, above all, a quest to understand how our choices can lead us inexorably toward our doom.