If you can't handle me when I show you my gaping butthole, you don't deserve the rest of me.
★★★★½
Random House | 2019
Opening Act: Eating mango sliced by a dude named Noah.
Main Lesson: The TV is taking care of the baby, okay?
Plot Jokey-ness: Doodoo and rat placentas.
---
Disclaimer: I love Ali Wong. Like a deep, spiritual love based on unabashed honesty, IDGAF attitude and vagina jokes.
But you don't need to love Ali Wong the way I do to read and enjoy this book of raw, personal and unflinching essays that will give you her takes on life and love, and erectile dysfunction.
Speaking from my biased standpoint, you do want to know her opinions. I'm not saying she's a genius, but at the very least, she's one the most intelligent, open-minded, well-spoken and experienced women out there, and as a bonus, she uses words like "doodoo", "caca" and "punani." What's not to love? She's fucking disgusting and I look up to her like a fucking idol.
Maybe you won't agree with all of her hot takes (I don't always,) but you will learn and grow and laugh. Definitely laugh.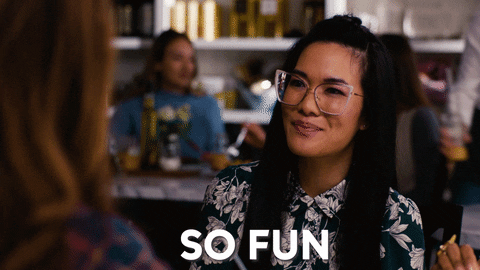 Wong speaks less about her career (but it's in there) and more about relationships, her most interesting life experiences, dating & sex, motherhood and her life growing up, structured in letters meant to warn, enlighten and introduce her daughters to who she is as a woman outside of being their mother.
I first saw Ali Wong when I got high and watched her Netflix special, Baby Cobra, a few years ago. I had never heard her name before but I figured any woman doing stand-up while heavily pregnant and wearing a skin-tight mini-dress deserved my stoned attention.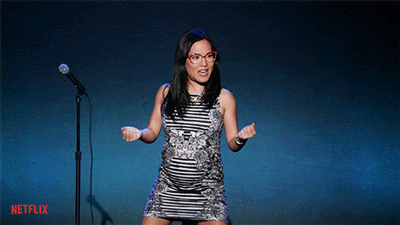 What I ended up watching was a woman so filthy, so astoundingly honest and blunt and disgusting that I was instantly in love.
"It's very rare and unusual to see a female comic perform pregnant, because female comics … don't get pregnant. Just try to think of one. I dare you. There's ― none of them. Once they do get pregnant, they generally disappear. That's not the case with male comics. Once they have a baby, they'll get up on stage a week afterwards and they'll be like, 'Guys, I just had this fucking baby. That baby's a little piece of shit. It's so annoying and boring.' And all these other shitty dads in the audience are, like, 'That's hilarious. I identify.' And their fame just swells because they become this relatable family funny man all of a sudden. Meanwhile, the mom is at home, chapping her nipples, feeding the fucking baby, and wearing a frozen diaper 'cause her pussy needs to heal from the baby's head shredding it up. She's busy."
Dear Girls features Wong's trademark authenticity and risk-taking style but in heartfelt, lesson-teaching, story-telling sincere letters written to her two daughters.
She speaks about growing up with immigrant parents:
I also understood why my mom wasn't into processing her feelings, and how she was taught to just get over tragedy. To survive, she had to believe things like depression and allergies were a choice.
Dating and sex:
A man who's down to eat fermented cabbage is also probably down to eat butt after a long, humid summer day. Probiotics!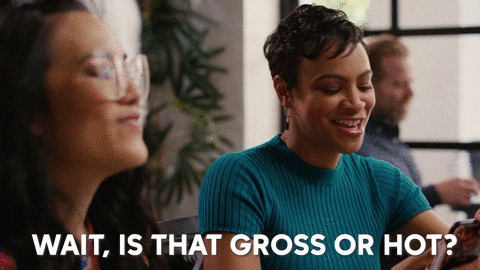 Being a comedian:
I get so annoyed when people claim to be stand-up comedians but they're actually comedic bloggers or vloggers. Videoing yourself putting on makeup or unboxing candles is not a job.
And becoming a mom, among other things:
I made plans to eat my placenta to prevent postpartum depression and not waste any of that valuable, free nutrition (if you haven't picked up on it by now, I'm extremely cheap).
Wong relays stories from her life – meeting her husband, studying abroad, trying to make it as a comic – with the approach that honesty is the best policy, even if they are things most parents might rather keep from their children. Wong is clearly more interested in passing down experiences, and the knowledge she learned from those moments, than in preserving or sheltering some kind of faux innocence that honestly doesn't really exist.
I was in second grade when a parent heard me say "fuck" on the playground and told the principal on me.
Like, bitch, what do you think that taught me? Look at me now!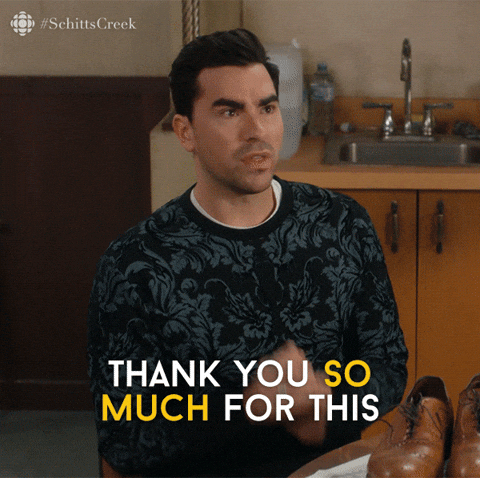 For me, the main takeaways from Dear Girls were:
To find humour in your most embarrassing, traumatic or bleak moments, while you try to stay optimistic and remind yourself of your good fortune. You can be upset, but always try to move on and learn something.
To use your fuck-ups as motivation and teaching moments, not depression fuel or a reason to give up. Wong uses a story about bombing HARD in front of Eddie Murphy to make this point. And, like, can you even imagine? EDDIE MURPHY watching you in SILENCE? Cringe. Like cringe so hard you'd think you were watching Delirious. That shit does not holdup today.
To define yourself outside of what other people will easily define about you for you. Maybe that's race, gender or where you come from. Wong makes some pretty big points about growing as human beings, connecting across all "party" lines in every way and to give other people a chance the same way you want a chance at the freedom to be yourself and succeed in whatever way you define success.
Ali Wong is a relentless powerhouse and everyone needs a peek inside her mind, her world and her comedy to grow as people. That's a fact. Honestly, even the parts about her bush, and not knowing she was supposed to do anything with it as late as college-age, will enrich your life.
Considering everything sucks and we're living in a sick, sad world right now (Daria reference, what of it?) I think this book is the perfect thing to give you a little joy, cringe and laughter. My only complaint is that it lacked some of the magic of her stand-up. But, still, Ali Wong is a filthy QUEEN.
🔪🔪🔪
---
In her hit Netflix comedy special Baby Cobra, an eight-month pregnant Ali Wong resonated so heavily that she became a popular Halloween costume. Wong told the world her remarkably unfiltered thoughts on marriage, sex, Asian culture, working women, and why you never see new mom comics on stage but you sure see plenty of new dads.
The sharp insights and humor are even more personal in this completely original collection. She shares the wisdom she's learned from a life in comedy and reveals stories from her life off stage, including the brutal singles life in New York (i.e. the inevitable confrontation with erectile dysfunction), reconnecting with her roots (and drinking snake blood) in Vietnam, tales of being a wild child growing up in San Francisco, and parenting war stories.
Though addressed to her daughters, Ali Wong's letters are absurdly funny, surprisingly moving, and enlightening (and disgusting) for all.