Please read the "TCT Disclaimer" under the True Crime tab at the top of the page before reading any true crime posts.
It's that time of year again, creepy lovers! The hopeless romantics are losing their ever-loving minds planning a full day of romance, the cynics are complaining about commercialization, the consciously uncoupled are waiting for chocolate to go on sale, and I'm writing up some true crime about being murdered on Valentine's Day.
February 14th literally has something for everyone!
I have stuff & things planned with my husband for Saturday because there's nothing I want to do less than go out on a Friday night after being awake since 6 a.m. and working all day.
We have yoga in the morning, followed by a float session. Then we're doing dinner and a movie. I'm hoping I can drag Husband to see the new Blumhouse movie, Fantasy Island, because nothing says Valentine's Day like blood and guts and horror and murder.
So in that spirit, this week's True Crime Tuesday is a 1971 double homicide that took place while some crazy kids were just trying to celebrate Valentine's Day and young love.
Two lovers. Lovers Lane. Torture. And a killer who has never been caught.
This story is giving me Zodiac/Son of Sam/The Town That Dreaded Sundown vibes and I am very fucking into.
Important sidebar: I'm not celebrating or glorifying the murder of real human beings, but I do take an unapologetic interest in the psychology of these kinds of crimes, the mystery and those creepy AF vibes. Don't get it twisted, every story is tragic, but I believe it's important to confront the worst in humanity, especially on a day when we're celebrating all the mushy love we can experience too.
This is the story of Jesse McBane and Patricia Mann.
---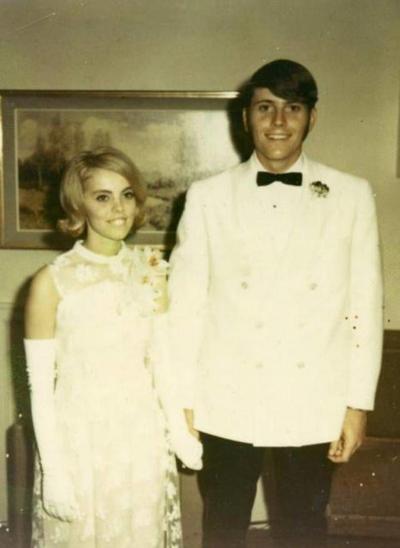 February 12, 1971. Durham County, North Carolina.
The rain is misting the night that 19-year-old Jesse McBane met his girlfriend, Patricia Mann at her dormitory.
Jesse shared a car with his brother and it was his brother's turn to have it, but Jesse worked out a deal to switch nights so that he could take Patricia to the Valentine's Day dance at Watts Hospital in Durham.
Patricia was 20-years-old and studying to be a nurse at the hospital.
Around 11:30 p.m., Jesse and Patricia left the dance and walked back to her dormitory so she could sign out for the night. The dorm had extended it's curfew hours to 1 a.m. in order to accommodate the dance. And honestly, there is just nothing more innocent or sweet than a couple of kids needing to sign out until curfew.
The sweet, young couple took Jesse's car and drove down to the present-day neighbourhood of Croasdaile. In 1971, developers had created numerous cul-de-sacs in the area, but no houses were built yet. It was the unofficial "lovers lane" for the nursing students who wanted alone time with their partners.
The unwritten rule among the nurses was that if a cul-de-sac was taken, you moved on to the next. There were even a few couples who had unofficial spots that were "theirs." The other couples would leave those open just in case the regular couple showed up that night.
Again, the setting is just too sweet and innocent. I've always wanted to hook up in a lover's lane, wearing a cardigan and ribbon in my hair, but by the time I was a teenager that just wasn't a thing anymore.
For Jesse and Patricia, her 1 a.m. curfew came and went.
But Jesse and Patricia never came back.
And that sweet, innocent young love vibe was totally shattered.
Saturday morning. Patricia's roommates were concerned – she never broke curfew. She's described as a responsible young woman who took her nursing schooling very seriously and "went by the rules." And Jesse, by all accounts, was a good guy who wouldn't pressure Patricia to do anything against her moral code, not even skipping curfew.
Patricia's roommates began looking for Patricia and Jesse – calling local hospitals (maybe there had been a car accident!), filing a report with the Durham County Police department, and then, not being about to sit on their hands waiting any longer, Patricia's friends, colleagues and roommates decided to go out and physically look for the couple. They hit all her usual spots including the nurses' lover's lane.
Here, they would find Jesse's car parked in one of the empty cul-de-sacs. Their coats were in the back. Nothing was is in disarray. There were no signs of struggle. And the car was locked.
But Jesse and Patricia were no one to be found.
With the families of Jesse and Patricia now fully aware that their children were missing, the local police department finally acted on that morning's initial missing persons report.
Investigators started by working off of the idea that Jesse and Patricia had eloped, skipped town, swept up in the glow of a romantic Valentine's Day. But within a day or two, it became clear to investigators that something just wasn't right with the case. And what started as a missing persons inquiry quickly snowballed into something much more sinister.
Still, no one had any idea that this was actually a homicide investigation.
Carolyn Spivey is Patricia's cousin. They grew up next door to each other and were close friends. Spivey has said, "I just got the sickest feeling in my stomach that something terrible had happened."
For nearly two weeks, police and search parties made up of concerned locals worked the area. Investigators followed-up every lead, but constantly came up empty.
February 25, 1971. Twelve days after the couple went missing, a surveyor working in a heavily wooded area along a one-lane dirt road, sees what he thinks is pieces of a mannequin – a leg, sticking out of a pile of leaves. When the surveyor gets closer he realizes it's a human body.
Police are immediately called. The scene worked. And by the end of the day, Jesse McBane and Patricia Mann are officially identified.
And this is were it gets seriously twisted.
The couple had been tied to a tree, backs to the bark and their hands tied backwards with thick rope. There was rope around their heads and necks, and though they'd been secured to the tree, their bodies had slumped forward and down, leaving them side by side and partially covered by leaves. Jesse was still wearing his class ring and watch, so police determined this wasn't about a robbery.
The medical examiner found no evidence of sexual assault. Patricia had internal injuries from being punched, kicked or stomped. Further, there were multiple strangulation marks around their necks, suggesting that the rope had been tightened and loosened over and over again. I find that seriously sick.
Investigators determined the murder of this young couple had been about straight-up torture.
The area where Jesse and Patricia had been found was also known as a lover's lane. It was a road that had been pushed in. There was a cul-de-sac at the end. It was about a quarter-mile into the woods and very secluded. The ground was littered with cigarette butts and beer bottles. People went there to drink, smoke and screw around.
It was also located right on the county line between Orange County and Durham.
An extensive investigation began between multiple agencies including the Orange County Sheriff's Department, the Durham Police Department and the SBI and FBI.
As detective Tim Horne put it, there was a lack of collaboration between all the different law enforcement agencies at the time. "Everybody individually worked on the case," Horne has said. "It didn't catch a whole lot of traction. There was a lot of work done, but it was individual. Not a lot of information was being shared by the various agencies. So there were some missed opportunities."
Through the chaos, however, there emerged a couple of decent suspects. Some were cleared by polygraph tests, others failed. One in particular was a doctor at Watts Hospital who worked with Patricia. He repeatedly refused to co-operate with law enforcement, casting himself in an increasingly suspicious light.
This doctor was the focus in 1971. And Horne says he's still the focus today.
"No one ever really zeroed in on any one of the suspects," Horne has said.
The case went cold.
Tim Horne works for the Orange County Sheriff's Department. In 2014, Carolyn Spivey contacted him with rumours and tips she'd heard or been told, including a possible suspect.
Horne, along with his partner, detective Dawn Hunter, opened up the cold case and began pouring through the old boxes of records and evidence. For years they rechecked the suspects, looked for new ones and amassed as much information as they could, putting all the puzzle pieces together where the multiple agencies originally failed.
The original investigators, who were still alive, got phone calls from Horne and Hunter asking them to come down to the sheriff's office and go back over the case details with them.
"I put on a presentation and put on all the evidence I had," Horne has said. "There was silence in the room."
Most of the information Horne presented was new to some or all of the investigators because the different agencies investigating back in 1971 hadn't shared information with each other. If they had, Horne believes, it might have made a difference.
Only one suspect is still alive, the doctor from Watts Hospital. Horne won't say exactly why the doctor is a suspect, but shares that when the original investigators asked him to do a lie detector test, he called his lawyer and declined.
Now, nearly 50-years later, Horne asked the doctor to provide a DNA sample. The doctor called his lawyer and declined.
And that's suspicious AF.
Though it's been decades, Horne still believes he can close this case. And he's going to do it with DNA.
M-Vac is a wet-vacuum DNA collection system that can extract DNA from difficult places – like say, the knotted ropes used to tie up and strangle Jesse and Patricia.
Only 80 M-Vac machines exist in the world, and the U.S. has 40 of them, including the one belonging to Guilford County, NC. Horne intends to put it to use.
"What a horrible tragedy, especially for young kids just starting out their life. To be kidnapped and abducted from a lover's lane, transported to a second lover's lane. And then marched up a small embankment, bound and tied to a tree, and strangled," Horne has said. "We believe – and we've had a lot of consultants look at this, everybody is in agreement – somewhere on that rope, you're going to have a suspect's profile. And this new technique is the best one to obtain that DNA. So we're very hopeful."
The murders of Jess McBane and Patricia Mann remains an open and active investigation.
---
It really does feel like this kind of crime exists in a different world. I'm not totally sure that it would happen in today's age, with the technology that exists. I don't even think lover's lanes are a thing anymore?? If they are let me know where, because I have some bucket list items to check off.
I won't be doing that over Valentine's Day though.
And you should probably stay away from fooling around in parked cars in secluded areas this Friday, too. Just in case.
Stay safe. Be Kind. But, take no shit.
Happy Valentine's Day, murderinos ✌️🔪