★★★★★
Amazon Original Stories | 2018
Opening Hook: A bad costume choice.
Main Character: Should have used a smaller knife.
Plot Twisty-ness: Mean Girls meets Urban Legend
---
Of all the books in the Dark Corners collection, this was my absolute favourite. The whole structure of it is just so perfect, I can't say enough. I've read Jennifer McMahon before and didn't really care for her writing from that experience, but this short story is a fucking firecracker and I adored it.
It would be the perfect creepy Halloween read, so put it on your TBR for October!
Told between past and present, this is a story about mean girls, the actions that haunt you and how urban legends are created.
The vibe of it is perfect – an otherwise rational adult succumbing to fears of what is in the dark as her mind runs wild with memories of the past.
This is exactly why I love horror: because it's so easy to lose yourself to the unknown, even if you are a grown-ass woman who should know better. I don't believe in ghosts, demons or anything supernatural, but a good scary movie will have me checking the hallway for spooky shit in the shadows every. single. time. And that's what this book captures and plays with.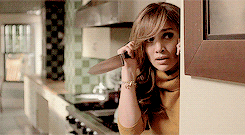 Amanda hates Halloween. In her small town, the most popular costume is also the one she can't stand to look at: Hannah-Beast. The infamous town legend of Hannah-Beast is one she helped to create as a child, and she's been wrestling with the guilt of that her whole life.
Hannah-Beast wasn't always the scary symbol of evil that she's become decades later. She started out as a regular kid who just wanted to have real friends. Maybe she was too eager, poorer than the other kids; a little annoying and naive and an easy target. But she didn't deserve what happened to her and there's no way for Amanda to make that right now.
The chapters revealing the fate of Hannah Talbott on Halloween 34-years ago, outside of the urban legend she is now, are horrifying because of the realness they expose: the gleeful cruelty of children.
The chapters featuring an adult Amanda, remembering what she participated in while reluctantly carving a pumpkin, inject the novel with a different kind of horror – what might be lurking in the dark.
The timing, the pace and the combination of these different elements of horror and fear are so well structured and made for a perfectly creepy reading experience.
Any woman reading this story will cringe recognizing similarities between what they did to someone else or what was done to them growing up. The mean girls bullshit is so universal, and McMahon uses it to perfection while taking asshole children to the next level.
And that ending is fucking gorgeous.
🔪🔪🔪
---
The fate of a lonely girl becomes part of a town's shameful secret history in Thriller Award winner Jennifer McMahon's terrifying story of guilt, retribution, and one tragic Halloween night.
Thirty-four years ago, on October 31, poor Hannah Talbott took part in a scavenger hunt gone violently wrong. The mean girls made sure of it. To this day, for a haunted local mother, the most unsettling Halloween costume of all is an urban legend they call Hannah-Beast. It's a reminder of the past she can't forget. Especially tonight when it's come back, so close to home.