★
Amazon Original Stories | 2018
Opening Hook: A mid-life crisis never looked this annoying.
Main Character: Deserves a swift kick to his cheating balls.
Plot Twisty-ness: Same thing as watching MSNBC.
---
In the spirit of the fall season, I've started picking up some scarier, horror-themed books. Now all I need is genuine sweater weather. Honestly, what is with this heat? Greta Thunberg is amazing, but she's clearly too late. I shouldn't still be running my air conditioner.
Why couldn't she start yelling at all these adults when she was like eight? Would that have been too much to ask? FOR A CHILD TO FIX ALL THESE PROBLEMS SOONER!?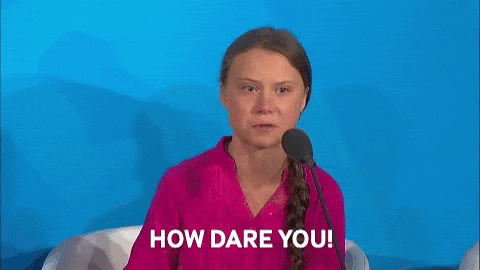 Honestly, nothing makes me happier than watching boomers, and the alt-right, lose their minds over this teenager rubbing what they've ruined in their faces. Her and David Hogg need to host a Ted Talk together or something, purely just for the shit-show conservatives will put into production.
Anyhooters… when I realized I had Amazon Prime Books, which lets me borrow ebooks and return them whenever I'm done (easily the greatest discovery of my 30-something years of life so far,) I knew it was time for me to finally read the Dark Corners collection, which I've had my eye on for a while.
Three dollars for a 40-page story? That's gonna be a no from me, dawg. Oh, it's free now? I'll read the shit out of that.
Yeah, I said it. You were all thinking it.
Dark Corners is a collection of seven creepy short-stories by some dope authors like Lisa Unger, Jennifer MacMahon, and this one by Emily Raboteau.
Honestly, I think maybe someone forgot to tell Raboteau what the idea behind this collection of stories actually was because this little story is fucking lame.
I get what she was trying to do, but when I pick up a horror story I actually want to be entertained by scares, not confronted with the same hideous human cesspool shit I hear about every hour of the goddamn day until my head hurts and my husband turns the news off because he's concerned for my mental well-being.
That's not entertaining. That's not an escape.
Film critic Reginald Wright is in the throes of a mid-life crisis. He hates his wife. He can't stand his child. He's having an affair and spends all of his time lamenting everything he hates. So who the fuck knows why, but Reginald decides to go on a family getaway to a novelty hotel.
Along the way, the Wright family encounters all the "horrors" that the United States has become. From being pulled over while black, to the uneducated/selfish rednecks at the hotel, to the fear of a mass shooter ruining a day at the pool.
I understand that Raboteau's theme was that everyday life for a lot of people in the United States is horrific, but this little story was so heavy-handed with it, and where it wasn't, it was smothered by the absolute awfulness of the main character.
I seriously wanted to throat punch Reginald from the very first page. That's not exactly a winning concept.
Plus that random Harry Potter theme? Like why?
I was expecting this to be an entertaining scary story that would take me away from real life, and instead what I got was the same shit I can get any day just by turning on the news.
This entry was pretty weak.
🔪🔪🔪
---
He went on the road expecting the worst of America, but what if the worst of America was also in him? This is the unsettling story of a man in a midlife crisis and his unexpected awakening, by award-winning writer Emily Raboteau.
Poison-tongued film critic Reginald Wright is known for his creative insults and intolerance for the garbage culture, insufferable rudeness, and thoughtless racism of predictably common people. Now, against his better judgment, and with a marriage in crisis, he's attempting a getaway in the Poconos that quickly fulfills his every low expectation. In fact, it's becoming a nightmare. And that's just what Reginald needs to wake up.