Ooo boy, I haven't done one of these in a while!
This seems like a perfect one for me because, technically, I think I'm still in mourning over the end of the show. There might even be a little bit of trauma I've not yet found closure for because of how this fucking ridiculous show ended. Like, excuse me, but HOW DARE YOU Game of Thrones?
Count me among the disappointed fans.
Not because I would have hated any ending or some Freudian shit like that, but because the last three seasons were rushed AF and not nearly as dedicated to telling a full story as the first 5(ish) seasons were.
There are so many story threads that needed closure! So many other ways that character plots could have been wrapped up! You kill Cersei by dropping a few bricks on the bitch?! What is this, Wizard of OZ?
AND UMMM HELLO AZOR AHAI?????? WHERE ARE YOU?
*deep breaths*
Anyway, I can't get into all of this without my blood pressure going up, so let's just do the damn tag.
Thanks to the lovely Grey over at Use Your Words for tagging me!
---
🔪Name a book that you originally loved but, upon a reread, you realized it wasn't so great after all.
Kiss the Girls | James Patterson
I use to really like anything by James Patterson. I read him all through high school and college. It wasn't until I started to take reading a bit more seriously with reviews and discussion through Goodreads and then here, that it began to dawn on me that maybe, just maybe, Patterson is actually not a very good writer.
I've read the entire Women's Murder Club series just because I've invested a large chunk of my life into the series. I don't exactly like it – I sometimes even fly into a rage over the dumbest moments – but also I need to know what happens next?? Whatever, I never claimed to be anything but a tangle of contradictions.
I've reread Kiss the Girls in the last couple of years and I was literally stunned by how much I didn't like it. I truly use to believe that it, and Patterson, was the epitome of crime fiction.
For example, this is an actual sentence in Kiss the Girls: "He made a noise. It sounded like 'yaaaaaaagh.'"
I mean, really.
Patterson is massively successful, prolific and considered a legend in crime fiction. But he's not a very good writer. #sorrynotsorry
🔪Name your most anticipated read for the year.
There are so many, honestly, but I'll narrow it down to two that are on my mind today and also on a library hold list somewhere:
The Chain | Adrian McKinty
Consider it a real life FW:FW:FW:FW:FW chain email.
Someone has kidnapped your child and the only way to get your kid back is to kidnap someone else's kid.
It sounds amazing and I need it immediately.
American Predator: The Hunt for the Most Meticulous Serial Killer of the 21st Century | Maureen Callahan
The description of the book starts with the line, "most of us have never heard of Isreal Keyes…"
And it's true, I've never heard of this killer, but apparently he's one of the most ambitious and meticulous serial killers in modern US history. The author, Maureen Callahan has spent years researching this case and I've heard nothing by amazing things.
🔪Name a book that you felt completely slayed with fantastic characters, plot, pacing, etc.
No Exit | Taylor Adams
For 2019, that distinction goes to No Exit.
That book is a fucking firecracker and one my favourite reads this year. A total exercise in cinematic writing.
It was such a refreshing read for me. I mean, yes it's a thriller and I read an endless amount of thrillers, but the genre is packed with domestic-noir "girl" titles, and unreliable narrators, that are just continually trying to out-clever each other. No one is writing straight action thrillers anymore. This was nothing but an action-packed, edge-of-your-seat breath of fresh air and I feel like it's restored some kind of zen to my life.
Full review here.
🔪Name a book that ended with a cliffhanger that genuinely pissed you off.
I honestly can't think of any.
I'm one of those strange rangers who actually really likes cliffhangers, whether there is a sequel to the story or not.
I think it's an evil literary device that is meant to stir the emotions of the readers in the final second, and if done properly, it is the most fun and effective way to end a story. So, for me, even if something ends on a cliffhanger, I'm more likely to appreciate the writing choice than to be pissed off by the ending.
There are lots of books that I've read that have shit endings, just in general, but that aren't cliffhangers.
🔪Name a book or series that's been on your TBR since the dawn of time.
The Robert Hunter series | Chris Carter
Literally the very first book on my "to-read" shelf on Goodreads is The Crucifix Killer by Chris Carter, number one in the Robert Hunter series.
I think I own the first two books in the series and I've never so much as picked them up to look at them since I bought them. I've always wanted to read this series because the blurb of #1 is gross and enticing and everything I want in a book. The Robert Hunter books have been sitting on my TBR since 2012 and now the author is up to book # 10 in the series.
I'm so far behind that the odds of me ever catching up are slim-to-fucking-slimmer.
🔪Name the most graphic or disturbing book you've ever read.
The Bedwetter: Journal of a Budding Psychopath | Lee Allen Howard
I recently wrote a review for this.
It's homophobic, misogynistic trash that only exists to be gross and vile and shocking.
🔪 Name a book or series that gets better and better with every reread.
Girl, Interrupted | Susanna Kaysen
I still have books on my TBR from 2012 and dozens upon dozens of unread arcs. You think I have time to reread books multiple times? I do not. And I haven't since high school. Which was a decade-and-a-half ago, and now I feel old…
I was obsessed with Girl, Interrupted during my grade 9 & 10 years. There was something about a girl who was treated as if she was crazy, but really she was just a teenager dealing with teenager shit, that really resonated with me. Being on the outside, feeling different from everyone else; Observing the world around me and wondering how everyone else couldn't see what I was seeing. These are big themes in the book.
I felt like I had a home in this novel during the more difficult years of transition in my life. Reading Kaysen's words always gave me comfort, and each reread provided a new insight into myself and into the world around me. She told me it was okay to seem crazy to other people, as long as I was okay with myself.
"Was I ever crazy? Maybe. Or maybe life is… Crazy isn't being broken or swallowing a dark secret. It's you or me amplified."
---
I'm not going to tag anyone, but feel free to take this and answer the questions for yourself…or at the very least, let me know if you LOVED the ending of GOT, because I've yet to find anyone who really has, except the Emmy voters apparently.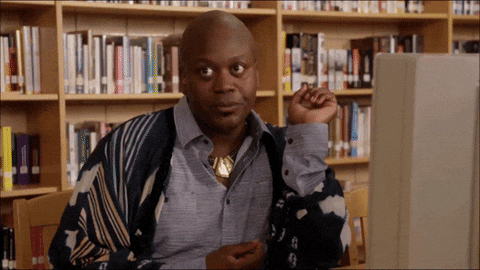 Stay safe. Be Kind. But, take no shit.
Later, Booknerds ✌️🔪