Please read the "TCT Disclaimer" under the True Crime tab at the top of the page before reading any true crime posts.
A surprise affect of my true crime interest is that some days my appreciation and deep love for my husband is amplified as if the volume has been turned up to eleven.
That's not to say that there are other days where I am numb to it. Quite the opposite. I'm always fully aware of the cosmic luck that brought my husband to me. Contrasted against the background of my shitty ex and the shady AF choices I've made in my life, (that I'm truly surprised didn't totally fuck me,) he doesn't really need to do much to be wonderful. But he does anyway.
Every one thought we were crazy when we met. Getting involved, being long distance, trying to navigate an immigration system, starting over from scratch once he moved to Canada and blending our family. But it was truly one of the best decisions we've ever made. I followed my heart completely on that one, because from a rational point of view, yeah we were taking big, unknown risks and it could have gone totally sideways.
But here were are. Seven years later.
And some days, when the volume is up to eleven, it feels like my heart is going to burst out of my chest and be carried away by a million butterflies because I know, truly and honestly, from the bottom of my bottom, that my husband would never kill me and stuff my body in a 55-gallon drum.
True crime can bring sorrow with awareness, knowing that there are so many women who are killed by their spouses and partners without ever finding a truly safe relationship – something I try not to take for granted in my own life.
Today's #tct case is that of Terry Rasmussen and the Bear Brook murders.
Not only is Terry suspected of killing his girlfriend and her children, but there are other women who are still missing.
Connections to Rasmussen weren't made to the Bear Brook murders until after he'd died in prison in 2010 while serving out a 15-to-life sentence for, naturally, killing and dismembering his wife.
Seriously, this guy is prince fucking charming.
---
The Allenstown Four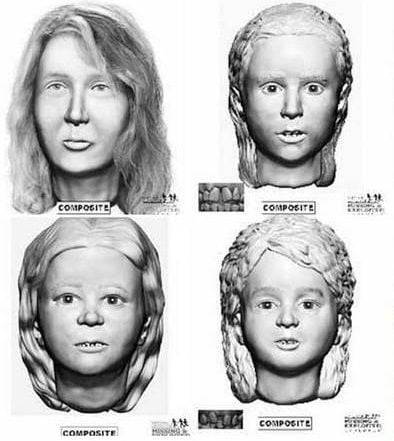 On November 10, 1985 a hunter was working his way through Bear Brook State Park in Allenstown, New Hampshire when he came across a metal 55-gallon drum. Inside the barrel, the hunter found the bodies of an adult female and a young girl wrapped in plastic, possibly garbage bags.
Autopsies would later determine that both victims were killed by blunt force trauma. The remains were partially skelentonized.
During the investigation, police sought out tips and information from all of the United States and even parts of Canada. Despite hundreds of leads, the bodies were not identified.
Scientific examinations told investigators a few things about the victims. The adult female was concluded to be Caucasian with some Native American ancestry. She was estimated to be between 23 and 33 years old. Her hair was curly or wavy and brown in colour, and she stood between 5'2″ and 5'7″ in height. Her teeth revealed significant dental work, including fillings and extractions done by a professional.
The young girl found in the drum with the woman was thought to be between 5 and 11 years old. She had symptoms of pneumonia and a crooked front tooth with a gap. She had her ears pierced, two earrings in each lobe and stood between 4'3″ and 4'6″. Her hair was light brown with a wave.
After 15 years, the case had gone completely cold. Reconstructions of the victims had long been released with no new leads or tips coming in.
The bodies in the barrel remained unidentified.
Then, in May 2000, a second drum was found not far from the initial discovery site from 1985. Inside this barrel were the bodies of two female children. Their remains were completely skeletonized.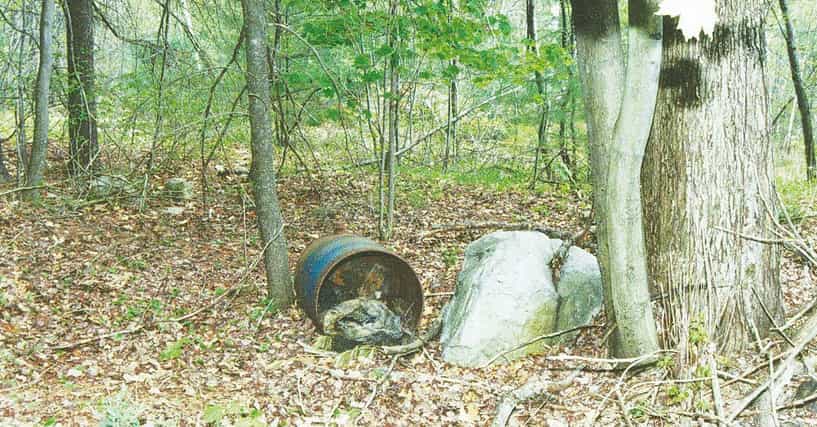 And I'm not being judgemental, but for real, what is the protocol when working a scene like this? Should the area not have been canvassed out? Maybe they would have found the second drum in 1985, instead of fifteen years later? Just a question.
Autopsy revealed both children had been killed by blunt force trauma, just like the other two bodies discovered a decade-and-a-half earlier. Police connected all four victims and they became known as the Allenstown Four.
The first of the two children died between the ages of 2 and 4. She had a gap between her front teeth like the first young girl found in 1985. She had brown hair and was about 3'8″ tall. This young girl had an overbite, which was probably noticeable when looking at her, and may have suffered from anemia.
The last child was estimated to be between 1 and 3 years old at the time of her death. She had blond or light brown hair, and stood between 2'1″ and 2'6″ in height. She also had a gap between her front teeth.
All four victims are believed to have been killed between 1977 and 1981.
Again, investigators pleaded with the public for any tips or leads, but nothing solid came in and the Allenstown Four remained unidentified.
In June 2013, investigators released an updated version of the victims' facial reconstructions created by the National Center for Missing and Exploited Children. This recontruction showed how their teeth could have affected the appearance of their faces.
Again, no leads.
Then again, in November 2015, The Nation Center for Missing and Exploited Children released an updated set of reconstruction photos of the four victims during a news conference by the New Hampshire Attorney General's office.
Terrence "Terry" Peder Rasmussen
Rasmussen was born in 1943 in Denver, Colorado, but grew up in Arizona. In April 1961, he enlisted in the US Army (or the Navy, depending on source material) and was discharged seven years later.
Between 1967 and 1968, Rasmussen lived in Hawaii where he met his first wife (name unknown and I can't really blame her.) In 1969, he and his wife moved to Phoenix and Terry started work as an electrician as the couple grew their family. The Rasmussens later moved to Redwood City, California around 1974. It was only a short time later that Terry's wife left him, taking their four children with her. The last time Rasmussen's children would ever see their father was Christmas 1974.
In 1978, Rasmussen began dating a woman named Marlyse Elizabeth Honeychurch. She was last seen alive in La Puente, California on Thanksgiving day in 1978. During the holiday, Honeychurch had an argument with her family and she left the house with Rasmussen and her two daughters, 6-year-old Marie Elizabeth Vaughan and 1-year-old Sarah Lynn McWaters.
Rasmussen relocated a number of times after his wife left him. In 1979 he ended up in New Hampshire where he worked as an electrician under the name Robert "Bob" T. Evans. Now, I don't know about you, but if I'm moving and living under an assumed name, the last name I would pick is Bob. Sorry Bobs.
A woman by the name of Elizabeth Evans was listed as "Bob's" wife during this time, but she was never actually been identified. I suspect it was Honeychurch.
In 1980, Rasmussen is arrested three different times. Once for writing bad cheques, and the second and third for stealing electricity, which is just the most trash thing I've ever heard someone be arrested for.
On November 26, 1981, Denise Beaudin, 23, attended a family Thanksgiving dinner with her 6-month-old daughter and her boyfriend, Bob Evans in Goffstown, New Hampshire. This would be the last time her family would ever see Denise again. Sadly, she was never reported missing because at the time her family believed that she had left town due to financial reasons.
And I have to wonder, what is with this guy and Thanksgiving kidnappings? Did something happen to him over Thanksgiving that triggers him as an adult? Like Chandler on Friends?
Rasmussen stayed in New Hampshire and kept possession of Beaudin's baby daughter, who he called "little Lisa," as you would if things were totally on the up-and-up after a woman disappears.
In March 1984, Rasmussen was going by the name Curtis Mayo Kimball. Choosing the name Mayo is peak white nonsense. He relocated to Los Alamitos, California. In May 1985, he was arrested for a DUI in Cypress, California and booked under the Kimball alias.
By the beginning of 1986, Rasmussen had changed his name yet again, this time to Gordon Jenson. Lord help me. He was working at an RV park in Scotts Valley, California. After six months in the RV park, Rasmussen took off, leaving behind "little Lisa" with some neighbours. Police started a search for Rasmussen, ultimately matching the fingerprints of Curtis Mayo Kimball to those of Gordon Jenson and a warrant is issued for his arrest for child abandonment… for a child that wasn't even his, who he just kept after probably definitely killing her mother.
It took over two years before Rasmussen was caught, ultimately pulled over in San Luis Obispo, California in November 1988 for driving a stole vehicle out of Idaho. Rasmussen was charged with, among other things, possession of a stolen vehicle and child abandonment. He was sentenced to 3 years, but ended up paroled after serving only one year. He immediately absconded, like duh, the very next day.
Not much else is known about Rasmussen's life between then and June 2002 that I feel confident in reporting as facts, so we'll just skip ahead to when his common-law wife, Eunsoon Jun, went missing. He was going by the name Lawrence "Larry" William Vanner, or even sometimes, Dr. Vanner. He's a Larry now, but sometimes he likes to make it fancy.
Jun was a Korean immigrant and bio-tech worker who had a master's degree in chemistry from San Francisco State University. Jun hired Rasmussen has a "handyman" in 2000 and soon he was living with her as her boyfriend. The two had an unofficial wedding in the summer of 2001. It was a Star Trek theme.
It didn't take long before Jun was complaining to friends that her husband, Larry, was lazy and not interested in working or starting a family. In May 2002, she went missing.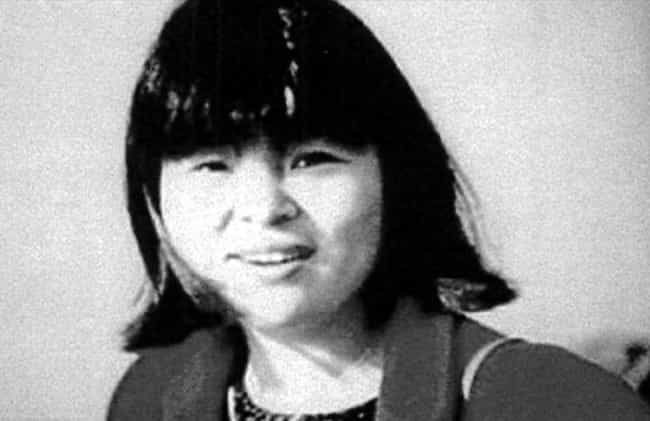 Vanner had multiple explanations for Jun's absence. That she had gone to Virginia, or Oregon, to work on a cabin was the most popular excuse. But like, was Jun really into cabin restoration? Because otherwise, what the fuck kind of story is that? Within two months, Vanner was using Jun's credit card to making purchases, and friends of Jun's officially filed a missing person's report.
Investigators interviewed Vanner about his missing wife, but he insisted she was fine, living in Oregon, working on a cabin. You know, just totally normal, believable stuff. However, detectives noticed that Vanner was speaking of Jun in the past tense and were convinced something bad had befallen the chemist.
On September 26, 2002, police secured a search warrant for Jun and Vanner's home. In the basement they found a large pile of cat litter on the floor and tools near the litter – a saw, an axe, and a meat cleaver – that appeared to have hair and blood on them.
On closer inspection, they found a woman's mummified foot, still wearing a sandal, sticking out from beneath the kitty litter. Digging through the litter, police would soon find the rest of Jun's mummified remains.
I think this might be the first time I've ever heard of someone using cat litter in this way. It has so many uses! For cats, obviously. For getting traction in the snow. For soaking up a gas spill. And now, mummifying human remains!
Rasmussen was charged with murder and dismemberment of a body. He pleaded no contest, which basically means he's guilty but assumes no guilt for the crime. It's a little different from a straight guilty plea. He was convicted of Jun's murder and sentenced to 15-to-life in prison.
The fingerprints taken from "Vanner" reveal to police that their killer had used a whole slew of dumbass aliases, one connecting back to the abandoned girl known as "little Lisa." DNA was tested to find out if "little Lisa" was biologically related to Rasmussen. She was not.
In 2010, Rasmussen died of natural causes while in prison. He was 67 years old.
Aided by a genetic genealogist in 2015, "little Lisa," now an adult known as Dawn, discovered her mother's identity as being Beaudin and learned the story that "Vanner" had been her kidnapper, then known as Bob Evans and subsequently Curtis Mayo Kimball. This linked Vanner/Evans/Mayo to the area and time frame of the Bear Brook murders. Authorities soon announced that Evans was a suspect in the Bear Brook murders.
Are we all keeping this straight?
The National Center for Missing and Exploited Children announced on January 26, 2017 that "Robert Evans" had been found to be the father of one of the children from the Bear Brook murders, but that the name was a pseudonym and the man's legal identity was unknown. Police released a video of an interview conducted with "Evans," then known as Vanner, in the hopes that it would bring someone forward with his true identity.
Two months later, Vanner/Evans/Mayo was confirmed to be Terrence Rasmussen through DNA evidence believed to have been contributed by one of his grown sons from his very first marriage.
The techniques used to identify Rasmussen were used in the Golden State Killer case to identify Joseph James Deangelo in 2018.
In June this year, investigators announced that the identities of the other three Bear Brook murder victims, confirmed through DNA, were Marlyse Elizabeth Honeychurch (b. 1954) and her two daughters, Marie Elizabeth Vaughan (b. 1971) and Sarah Lynn McWaters (b. 1977) – Rasmussen's former girlfriend, and her children, who had left with him in November 1978 after an argument with her family over Thanksgiving.
The fourth child found in the barrels, nicknamed "Angel" by Honeychurch's family, has been confirmed through DNA to be Rasmussen's daughter, but Honeychurch was not her mother, leading investigators to believe that whoever Angel's mother is, she is likely another victim of Rasmussen's. They do not know when Rasmussen might have met Angel's mother, but they believe the little girl was born between 1975 and 1976, possibly in California, Texas or Arizona.
It's not clear how long Angel was in Rasmussen's care, but investigators think she was killed with Honeychurch and her daughters before November 1981 when he left New Hampshire.
Today, police are actively trying to find out Angel's real name, as well as the identity of her mother. They are also looking for any tips or leads as to the whereabouts of Denise Beaudin's body.
Rasmussen is a suspect in a number of other crimes, because of course he is.
In 1980, 14-year-old Laureen Rahn disappeared from Manchester, New Hampshire. Rasmussen lived one mile away from her.
Six weeks later, Denise Daneault, 23, went missing from a bar in Manchester. She lived on the same street as Rasmussen.
On March 29, 1995 in Holt, California a woman was found in a fridge, wrapped in an ice bag. Her identity is still unknown. Her time of death is estimated to be sometime during 1994. The cause of death was determined to be blunt force trauma. Jane Doe is estimated to have been between 24-45 years old at the time of her death, with strawberry blonde or red hair. She was 5'5″, between 110-130 pounds, wearing a blue sweatshirt, Levi shorts and Gorilla brand hiking boots.
If you have any information on Jane Doe, please contact San Joaquin County Sheriff's Office at 209-468-4572.
On August 23, 1975, a victim known only as Turquoise Doe, was found in Tilden Regional Park in Contra Costa County, California. She was killed four days before she was found by blunt force trauma. She is believed to be between 18-30 years old with brown eyes and brown hair. She stood at 5'3″ and 166 lbs. She was wearing a turquoise blue t-shirt and a thin chain with four turquoise stones and a matching ring.
If you have any information on Turquoise Doe, please contact the Contra Costa County Sheriff's Office at 925-335-1500.
And of course, if you have any information on Denise Beaudin, please contact Manchester Police Department at 603-668-8711 or 603-792-5505.
---
Terry Rasmussen had two victim types. He hunted for women and he hunted for children, but he preferred them as a set. He would befriend a mother with a child and start dating her. He would manipulate that woman into wanting to disappear voluntarily, or into having conversations with family that would imply that if she disappeared it was because she wanted to.
Police say Rasmussen has killed at least six victims.
---
This case trips me out. It's hideous to think that these vulnerable women thought they had found a man who would love them and their kids, only to end up how they did.
And at the same time, I feel like the motive isn't totally clear. Was he just a true psychopath who needed to hunt and kill, or was he just getting rid of these women and the kids because it was more convenient in his twisted head? And why keep "little Lisa?"
Let me know what you think in the comments!
Stay safe. Be Kind. But, take no shit.
Later, Murderinos ✌️🔪