★★★★
St. Martin's Press | 2016
Filed Under: Amnesia is a bitch.
---
I took a break from this series in order to catch up on some books that I owed reviews on, but since I was given the final book in the series through Netgalley, I'm back on the Charley Davidson bike, as it were. And I'm going to ride this son-of-a-bitch right to the finish line.
The ending of #8 was a little bit of a cliffhanger, but more than that it was just a bummer. Actually, the whole book was a bit of a bummer for me. I didn't like how different it felt to everything else the series had been up to that point. It was a little heavier, a little too lovesick-romantic – just a little much all around, with not enough levity. It was like the series lost its way.
I'm happy to report, however, that #9 is a clear swing back around to Classic Charley. Only this time she has no idea who she is. She's living a "just the essentials" kind of life as a waitress named Janey. She's trying to figure out who she is, where her people are – she must have people, she has a wedding ring on after all! But she's also just living her life without too much pressure.
What she doesn't know is that her people have already found her. The gang are letting her persist in her amnesia because it's safer this way after the events of the last book. But also because she's happier in this new life she's built in Sleepy Hollow. As Angel points out, Charley needed a fucking break from everything.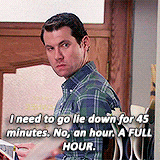 Cookie is working as a waitress at the diner with Charley/Janey. Uncle Bob stops by to check in regularly. As does Garrett and Osh. Charley is still seeing spirits, and Angel is there to help as she pulls her typical hijinks when she suspects something is afoot around her. Charley's instincts really start firing when she literally sees smoke coming off of a very angry Reyes, who is the new cook at the diner.
Why is he angry? Because he's a giant man-baby, douchecanoe? Probably. Although I'm sure he gave some reason that sounded justified in his opinion.
Even though Charley/Janey knows she's married to someone, she still finds a way to not stop herself from doing dirty things with Reyes. Because, of course. If you were looking for that dark, sexy bam-bam in the ham that was lacking in the last book, then your wish has been granted!
In between all of the personal mystery stuff, Charley is still being uber-Charley and hatching little schemes to solve small-town mysteries and help out those around her. This includes a very Insidious-esque storyline about an evil, murdering spirit and it was probably my favourite part of the book.
These caper-style parts were an important element to the plot because it answered the question: if Charley doesn't know who/what she is, does she still help people? Is she still selfless in her most typical Charley way? And the answer is yes. She gets into people's business with the best of intentions, causes some trouble and in the end, saves the day.
Charley's memory isn't what defines her. Her instincts do, and those instincts are beautiful.
For me, this book was a re-discovering of all the characters in this series who I love. And a reminder of why I don't like the ones I don't (*cough Reyes cough*)
They were so familiar, but being out of their normal element really allowed the relationships to seem new and exciting. It gave the reader a chance to step back, take a breath and remember why these books are so fun even though the last book was a shit-sandwich. This was kind of like rediscovering the passion in a long-term relationship.
🔪🔪🔪
---
In a small village in New York lives Jane Doe, a girl with no memory of who she is or where she came from. So when she is working at a diner and slowly begins to realize she can see dead people, she's more than a little taken aback. Stranger still are the people entering her life. They seem to know things about her. Things they hide with lies and half-truths. Soon, she senses something far darker. A force that wants to cause her harm, she is sure of it. Her saving grace comes in the form of a new friend she feels she can confide in and the fry cook, a devastatingly handsome man whose smile is breathtaking and touch is scalding. He stays close, and she almost feels safe with him around.
But no one can outrun their past, and the more lies that swirl around her—even from her new and trusted friends—the more disoriented she becomes, until she is confronted by a man who claims to have been sent to kill her. Sent by the darkest force in the universe. A force that absolutely will not stop until she is dead. Thankfully, she has a Rottweiler. But that doesn't help in her quest to find her identity and recover what she's lost. That will take all her courage and a touch of the power she feels flowing like electricity through her veins. She almost feels sorry for him. The devil in blue jeans. The disarming fry cook who lies with every breath he takes. She will get to the bottom of what he knows if it kills her. Or him. Either way.