The next time I put out a Booknook Sunday post I really wanted it to be about my new reading/rec room space in my basement that we pushed to get together for the end of the year. And we did accomplish that, I will say, but only for about 3 weeks…
After that, if you've read my posts over the last few weeks, you'll know we had a broken pipe in the kitchen that has resulted in some fucking annoying water damage that has ruined my ceiling, walls and floor in my brand new rec room.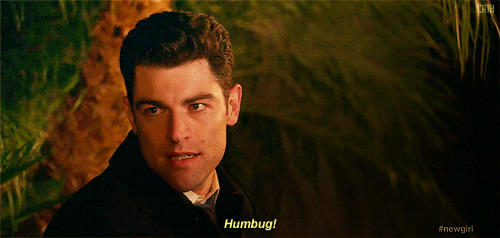 And to answer the question I know you've got on your mind, yes all my books are safe and sound!
I'll save that special personal post for whenever my basement is back together (fingers crossed for the end of January,) and for now, we'll get into the spirit of the season – pure, unadulterated envy over other people's personal book nooks.
I've scoured the internet for some of the most beautiful personal libraries decorated for the holidays.
Try not to drool on your phone/computer…
---
---
OH YEAH, RIGHT IN THE FEELS.
This is completely depressing. I had every intention of having my tree and celebrations in my new rec room this year. It was going to be a festive, book nerd paradise. And my in-laws were going to have such a nice place to sleep.
But instead, it's a mess of piled up furniture and ripped out drywall.
I mean my main family room is nice and done and decorated (although we did have to move an armchair into the furniture pile in the basement to have room for the tree,) but there was something exciting about having the whole house looking good for the holidays and getting to enjoy all the new space.
But I remain grateful that it wasn't worse. And also envious that the people have who own these photos have decorated their home libraries so beautifully.
Do you guys decorate your libraries/bookshelves for the holidays?
---
Until next time, Booknerds…