I'm like 80% sure I'm coming down with a cold, so my brain is basically sleepy mush today and I had no idea what kind of post I'd be able to write that wasn't completely half-assed.
And honestly, I don't want to put out half-assed stuff. I'd rather post less often with high quality (for me) stuff then post daily with shit I'm just tossing out there, hoping it sticks.
Thankfully, Dora @ Swift Coffee has given me the perfect out for today by nominating me for the Versatile Blogger Award!
I have no idea what that means, but I'm grateful!
Honestly, while we're on it, I never have any idea what most of these blogger award tags are for. Best Actor? Best Director? Worst Blowjob Scene?
What we need is some description of what these awards are far, what was the qualifying criteria? Am I to assume I'm versatile in some way? Because I can assure you, I am not. I'm a fickle, stubborn, cranky bitch who is very difficult to please and if you change plans on me last minute I'm gonna throw a fit.
But here we are… Versatile Awards for me!
The Rules:
• If you are nominated, you've been awarded the Versatile Blogger Award
• Thank the person who gave you the award
• Include a link to their blog
• Select 15 blogs/bloggers that you've recently discovered or follow regularly
• Nominate those 15 bloggers for the Versatile Blogger Award
• Finally, tell the person who nominated you 7 things about yourself
Here we go…
---
7 Things About Me:
🔪When I was a child, I was scared of moustaches. My childhood best friend's father had a moustache, as well as my grandfather and my father's friends. Whenever any of them approached me, I would run away. Occasionally I would hide in a closet. I literally have no idea where this fear came from. I still don't like moustaches and usually find they make any man look like a potential child predator, but I'm not scared of them anymore.
🔪If I start watching Bar Rescue, I cannot stop. This is the dumbest thing ever, but I'm so serious. There is a marathon of this show every Sunday. I always say I'll just watch one or two episodes to get my fill of John Taffer turning red as he yells at idiots, but before I know it I'll have watched five or six hours and will have completely ignored my family (sometimes eating dinner alone in bed so I don't miss anything) and I can't find the willpower to move or pee or shower. I have to hold the remote in my hand, ready for the last episode to end and immediately change the channel, because if I even get a hint of what dumpster fire of a bar Taffer is going to remodel, I can't turn away. I have to see the outcome. It's a real addiction.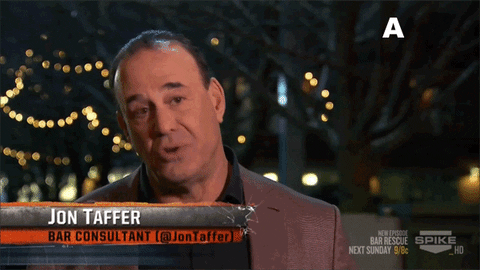 🔪I have a dog. His name is Finnegan. And I love him more than anything. You know those millennials who would rather have dogs than children? Yeah, that's me. I got my boy, Finn, last July and he's easily the best thing I've ever spent my money on. He's the happiest, sweetest pup you will ever meet in your life and I don't know what I would do without him. He makes everything better, he even manages to turn me into a morning person most days with his affection and excitement to be awake with everyone again. My husband finds him a little bit annoying because he is the definition of a "velcro dog" (can never be alone.) Finn sleeps under the blankets with us at night and it stops my husband from being able to spoon and cuddle. I'm definitely guilty of spoiling my dog. I'm way over-the-top and I know it. He eats a raw food diet, he gets bully sticks and pig ears regularly. And recently I bought him $200 worth of Canada Pooch clothes to get ready for the winter. He got a new jacket, a onesie for sleeping and a fall sweater. I can't help it.
🔪I strive to find silver linings in everything; to be proactive instead of a whiny bitch. This is not something I learned overnight, but rather something I tried to cultivate in myself after ending an abusive relationship in my mid-20s. My natural inclination has always been to get down and upset, and dwell, when things didn't go my way. But after I left that abusive relationship, I realized that I could get through anything and there was no reason to not look for solutions in even really shitty situations. I also believe in perspective as a tool for appreciation and a mood lifter. There are people who need face transplants, who don't have clean drinking water, who have aging parents who can't remember who they are. I am a fortunate person and I think it's important to remember that when I feel some depression or negativity creeping up on me, telling me that I should waste precious time in my life being upset about bills or body image issues. Yes, I still have moments where I need to have a bit of a dramatic meltdown, but I have a quick turnaround time now. I pick myself back up, try to formulate a plan and find my perspective again. Optimism mixed with realism is my choice for how I view my life and the world around me. And I have a very limited amount of patience for people who interfere with my vibe. Very, very limited.
🔪I have blonde moments sometimes. I'm a natural blonde, though I do get some bleached help to make it more obvious. Not to toot my own boob too loudly, but I do consider myself to be someone who is intelligent, well-informed, with educated opinions and the skill set to be an excellent debater. In most rooms, I'm usually the smartest person. Like, I'm just being honest. Haters to the left. In some other life, I probably should have been a lawyer or a political analyst or an activist of some educated status. So, it usually comes as a surprise to me when I think something so fucking stupid and it literally takes minutes, or someone else correcting me, for a thing to become clear. For instance, yesterday, I was in the kitchen at work looking at the Halloween potluck sign-up sheet. Someone had written "Cherry, Beef/Rice." And as my food was heating up and counting down from 3 minutes, I literally stood there with a disgusted look on my face thinking, who the FUCK wants to eat cherry flavoured beef and rice? It took the whole countdown on the microwave before I realized Cherry is the name of a woman in my office. Another example: I was driving home with a friend (during my college days) and we passed by a sign in someone's yard that read "LAB PUPPIES." I turned to my friend, indignant as fuck and completely repulsed, and asked her, "why would any be selling puppies for animal testing?" She looked at me like I was fucking stupid, but I dug in and ranted about animals being bought by labs and used for testing. My friend let me go on for a while before she stopped me and said, "You're a fucking moron. They are selling Labrador puppies."
🔪I love video games. I hesitate to call myself a "gamer" because I'm not hardcore about it. I have a job and relationships and a house and other hobbies that usually take precedence over playing anything during my day-to-day life. But when a new game I'm super excited about falls into my hands I will tell my husband, "sorry but I'll be playing all weekend." This last weekend I had Friday off, so I spent 3 days playing Far Cry 5. In total my game time was 28 hours, so that's like an average of 9 hours a day. LOL. I'm very much into open world RPGs. Dragon Age and Mass Effect are two of my favourites. But I also love the story mode games like Hard Rain or Until Dawn. Borderlands 2 is my all-time favourite and it's one of the ways my husband and I bonded when we first started dating. We even have some engagement pictures with game controllers in the frame. I took the Friday after my birthday off next month because I fully expect to be getting the new Assassin's Creed as a gift and I'll need another 28 hours to dive into it.
🔪I'm a little bit of a stoner. I'm not really a drinker, haven't been since college. I don't really like the feeling of being drunk. And a little buzz just ends up putting me to sleep. I might drink some wine during a girl's night but that's about it. I don't smoke cigarettes and I've never done any hard drugs or psychedelics. But I love weed. I'm basically convinced it's a miracle plant and everyone should be ashamed of themselves for keeping it illegal when it's been proven to help with everything from cancer to Parkinson's, stress and depression and anxiety and pain. My anniversary gift from my husband was an Air II Vape and I'm completely in love with it. And what's even better, last Thursday, Canada officially legalized marijuana nationwide!! Oh, Canada, eh.
I Nominate:
My nominations are a mix of the people I've known the longest, and newer accounts I've just become acquainted with. There's no obligation to do this, but if you do I'll obviously like you more than the people who chose to ignore me.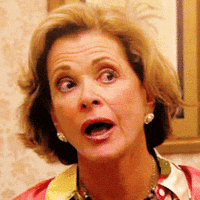 ---
Stay safe. Be Kind. But, take no shit.
Later, Booknerds ✌️🔪