Please read the "TCT Disclaimer" under the True Crime tab at the top of the page before reading any true crime posts.
IT'S FINALLY HAPPENING!
*deep breaths*
It's officially October which means my month-long celebration of Halloween can commence.
At home you will find me decorating, watching scary movies and buying bite-sized boxes of candy from Costco, eating it all before Halloween night, then buying more because I guess I need to give some away to children. Good times.
I love Halloween so much. It's my favourite time of year (which I think is true of most of us around here judging by the number of pumpkins currently spicing everybody's posts), but because I love it so much, I can't just leave my Halloween festivities at home. I've got to bring it here to share with all of you in my little corner of the internet, as well.
I started with a brand new header for my blog. Consider it me putting out jack-o-lanterns on my proverbial front porch. And next up are going to be Halloween-themed True Crime Tuesday posts for the next month.
That's right! I'm going to fill your murderino noggins with terrifying stories of people being murdered on Halloween so that when that spooky night rolls around you've really got that festive scared-out-of-your-mind feeling!
You're welcome. I love you.
First up, a story of unknown motive and Halloween nightmares. The murders of Adriane Insogna and Leslie Mazzara.
---
Halloween Night. 2004.
Roommates Adriane Insogna, Leslie Mazzara and Lauren Meanza had decided to call it a night after they had finished handing out candy to trick-or-treaters. It was not long after 11PM, when the three 26-year-old women, who shared a house on Dorset Street in Napa Valley, California, headed for bed.
Outside, a man watched the house. He waited, smoking cigarette after cigarette and dropping the butts in the yard. When the house was dark and quiet, the man shimmied in through an unlocked first-floor kitchen window. Which leads me to Murderino rule #8: Always lock up your fucking house! I don't care how "safe" you think your neighbourhood is.
Lauren, who had the only bedroom on the first floor, was woken by strange noises coming from upstairs. She crept out of her room, quietly and slowly, trying to discern what she might be hearing. Then came what she described as a "blood-curdling, terrified scream" and breaking glass. Suddenly, there were footsteps thundering overhead, coming down the stairs.
Lauren bolted from the house using the back door, hiding in the backyard. She stayed hidden, fearing she was trapped and that whoever was in the house was coming for her next. She heard the intruder climb out of the same window he entered through, and run off, footsteps echoing in the night air.
Meanza ran back into the house when she felt safe enough to do so. She headed to her friends' bedrooms upstairs and found Leslie Mazzara facedown, in a pool of her own blood, in the doorway of her bedroom. Meanza then found Adriane, crouched behind Leslie's bed and alive, but bleeding profusely from multiple stab wounds. Lauren tried to use the landline to dial 911 but found the connection was dead. She raced for her cell phone, fleeing the house and driving away in her car, fearing she might still be in danger.
When police and emergency services arrived on scene, Leslie Mazzara was officially pronounced dead, but Adriane Insogna was still clinging to life. Paramedics started to work on stabilizing her on the ride to the hospital, but Adriane died before they got there.
Both women had been stabbed multiple times.
Meanza told police what she heard, but wasn't able to give a description of the killer because she'd been hiding, too scared to look as the man left the house. And honestly, can you blame her?
Personal anecdote time! When I was a kid, I went to a youth group (my mom forced me.) Once a month, we played hide and seek, but it was like the creepiest game of hide and seek ever. All the lights in the church would be turned off, the kids would hide wherever they wants and then the youth pastors would stalk around the dark church with flashlights trying to find us.
One time – I think I was 13 – I hid in a cupboard in one of the offices. The youth pastor was in the office, sing-songing "where are you?" like a fucking psycho. I could see the flashlight bouncing around the room through the crack in the cupboard doors, my hand was over my mouth to muffle my breathing. It was like a Christian scary movie. I got so caught up in it all that I legit peed my pants. Just a little. Not a full on bladder emptying, but like, enough that it was concerning. I wore my sweater around my waist for the rest of the night.
So, I can only imagine, that being in her backyard like Meanza was, knowing something actually terrible has happened in her house, to her friends, that it would be near impossible to move from her hiding spot, even if it meant catching a glimpse of the killer.
That fight-or-flight fear gets turned up so high, to a level most people will ever experience in their lifetime, that it's impossible to know exactly what you would do in that kind of situation.
Except, I'm pretty certain I would pee my pants.
The grisly murders shocked residents of the gateway to wine country. The two women were outgoing, kind and well-liked by neighbours.
There had not been a murder in the town in four years.
"The killings affected everyone," says one local. "It was like a Halloween movie come true."
Leslie Mazzara was a South Carolina native and former beauty queen (Miss Williamston) who had moved to Napa Valley just that year to be closer to her mother. She worked at a winery in nearby Rutherford. She was described by friends and family as having a bubbly personality, someone who could elevate the mood of everyone around her.
During the summer of 2004, Leslie moved in with Adriane Insogna and Lauren Meanza. They rented a house on Dorset Street and needed a third roommate to split the rent.
An avid volleyball player, Adriane was a fiercely competitive woman who was no stranger to close calls with death – at 16 she'd nearly died in a car collision. The accident left her with short-term memory loss and difficulty reading. Despite this, her driven-nature eventually landed her a college scholarship. She became a civil engineer and got a job with the Napa Sanitation District after graduation.
It was at this job where she met Lily Prudhomme. The two women became close friends. Lily, along with her fiancé Eric Copple, had spent several evenings hanging out at Adriane's home.
After the murders, police and forensic investigators painstakingly combed the scene for evidence. And for the next 11 months, they interviewed over 1300 people and collected 218 DNA samples, determined to solve this crime.
On September 22, 2005, police released a statement saying they had a match on blood DNA evidence from the scene to cigarette butts found outside. Furthermore, the cigarette brand was very unusual – Camel Turkish Gold. Police hoped that by releasing this information that it would prompt someone to make a link between a person in their life who smoked that particular brand, and that they would come forward with a name.
The surprise of the police, only days later on September 27, Eric Copple, the now-husband of Adriane's friend Lily Prudhomme, turned himself in for the murders of Leslie Mazzara and Adriane Insogna.
Camel Turkish Gold was Copple's preferred brand. Fearing his capture was only a matter of time after the police released the information about DNA and the cigarettes, Copple confessed to his family and new wif, who convinced him he needed to turn himself in immediately. They even accompanied him to the police station to do so.
"Eric didn't seem stressed or depressed," says a family friend. "He was just a normal guy."
No motive has ever officially been released for the murders, with Copple himself unable to justify or explain his actions. He told police during interviews that he could barely remember what happened. However, the most likely theory believed by authorities is that Copple felt threatened by Lily's close friendship with Adriane Insogna; that perhaps he feared Lily spending time with Adriane would interfere in his relationship with his future wife.
Copple, for all the time he had visited Adriane's house, had never met Leslie Mazzara and why he killed her is unclear. Was her bedroom the first one he entered, confusing her for Adriane? Was his intention to kill everyone in the house, knowing two other girls besides Adriane lived there?
Adriane, police believe, died as she went to Mazzara's rescue after hearing her friend's screams. She scratched and hit at Copple – which left his blood at the scene to be matched to the cigarette butts – before he overpowered her.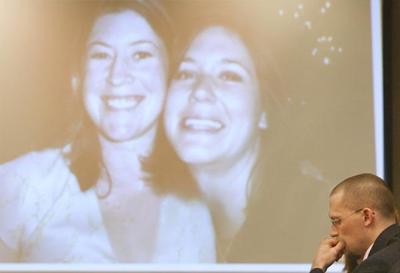 Lauren Meanza has been plagued with Survivor's Guilt since that night.
Copple, in court, expressed regret for his actions, saying, "I'm a broken man. I cannot fathom an explanation for my sinful deeds … the terrible agony inflicted upon a great number of people. Words evade me."
Two weeks after the murders, Lily Prudhomme had organized a candle-light vigil for her friends, which Copple attended. Then in February 2005, Lily asked Adriane's mother, Arlene Allen, to read a passage from the Bible during her and Copple's wedding ceremony.
"I looked directly into both of their eyes and read, 'Love is stronger than death and passion fierce as the grave,'" says Allen. "I know Lily picked those verses in honor of Adriane."
Lily, for her part, says she had no idea the man she married was the man responsible for the murders of her friends. During his trial, Lily told the court, "In the days before he confessed I knew something was terribly bothering him. I told him, 'Eric, there is nothing in this world that you could do to make me love you less.' Those words are just as true today as they were that afternoon."
Eric Copple was charged with two counts of first-degree murder and pleaded guilty to both, forgoing a trial. After discussions with the victims' families, Copple's attorney's and the Prosecution, an agreement was reached that Copple would spend the rest of his life in prison, with no possibility for parole, in exchange for the death penalty being taken off the table. He also waived his right to appeal and his right to talk about the case to anyone except for members of a clergy, meaning media interviews are not allowed and we may never get to hear just what his motive was, should he ever realize one. But for shit's sake, dude, get some therapy to figure it out, because what the fuck?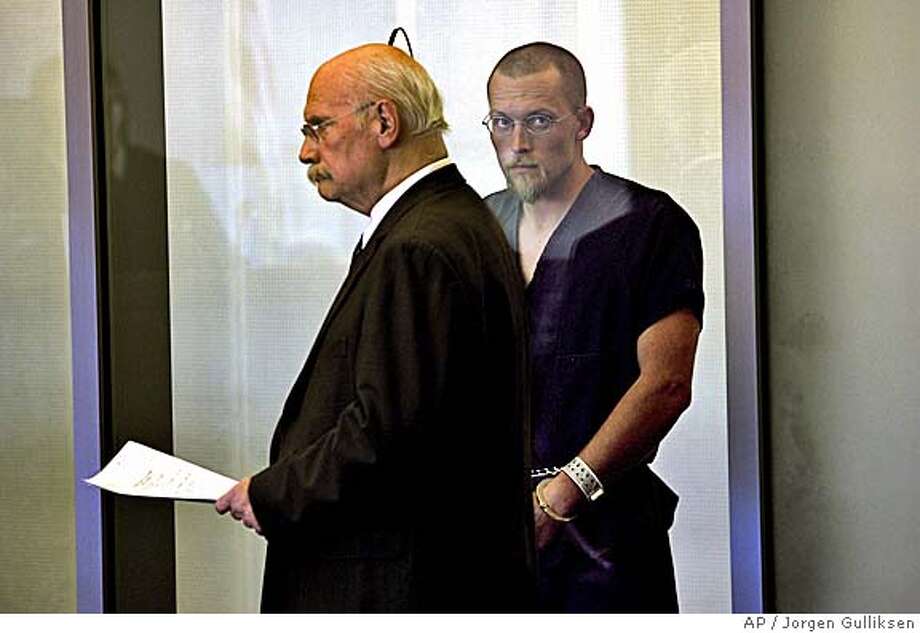 At his sentencing hearing, Leslie's mother, Cathy Harrington, told Copple, "For the rest of your life, you and your family will experience what both your victims and loved ones have felt: Terror, desperation, hopelessness, violence. I wish I could tell you that I forgive you. At this time, I cannot. And finally, I pray that never again will any mother's child grow up to be a murderer."
Heavy words.
Said Adriane's mother, after the trial, "I am pleased with the outcome. It is the best thing that could happen for all of the families involved… I don't want to spend the rest of my life worrying what Mr. Copple is doing. I want to get on with my life. I don't know if I would call this closure, but more a resolution. I loved my daughter very much and miss her deeply. That door will never close for me. I have suffered a terrific loss that will never go away."
---
Closure, in my opinion, is a myth. Specifically when it comes to those that live on after a murder. Sometimes the resolution can be enough to allow the family and friends of a victim to move on with their life just enough. But I can't say that closure would ever actually exist in the face of such an unfair tragedy.
Stay safe. Be Kind. But, take no shit.
Later, Murderinos ✌️🔪