Attention Murderinos! Today's post is solely dedicated to the world of My Favorite Murder!
If you don't know what that is, then you must not be a true crime fan, because Georgia Hardstark and Karen Kilgariff are fucking RUNNING the true crime game right now.
Last September, I saw them live in Toronto. That was a crazy-ass show and I think I left the Sony Centre with hearing loss. Murderinos were losing their damn minds like One Direction just walked out onto the stage (One Direction is still a thing, right?)
Even though I'm a little bit behind on my podcast listening, I'm a Murderino for life. I've spent a lot of my hard earned money on their merchandise, including two sweaters, a t-shirt, some stickers that adorn my tablet case and most recently, a new keychain from an independent creator on Etsy that says "LOCK YOUR FUCKING DOOR." It's perfect and I can't wait for it to ship.
These ladies are about to get even more of my dolla-bills, because it's just been announced that they have a book coming out, published by MacMillan!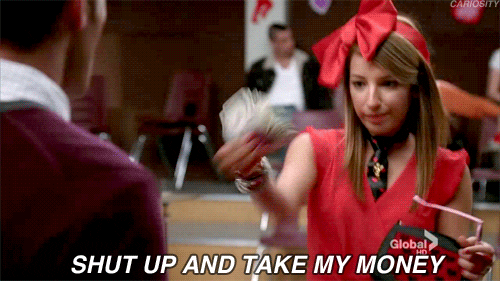 That's right! Titled Stay Sexy and Don't Get Murdered (what else would they call it?), this essential reading material is set to be released on May 28th next year. You can pre-order it RIGHT NOW here.
What's is going to be about? As per the press release, "Sharing never-before-heard stories ranging from their struggles with depression, eating disorders, and addiction, Karen and Georgia irreverently recount their biggest mistakes and deepest fears, reflecting on the formative life events that shaped them into two of the most followed voices in the nation."
Karen and Georgia will also delve into true crime stories to discuss meaningful cultural and societal issues with fierce empathy and unapologetic frankness, which I think is definitely a signature brilliance of their show.
So, yeah, obviously Murderinos everywhere are going to need this book in their collection.
Karen and Georgia are quoted as having told Buzzfeed, "Working on this book has allowed us to dig deeper into some of the stories we have only hinted at on the podcast or haven't told before at all. We can't wait to share the results with our listeners."
In honour of these favourite ladies of mine, here are my top five favourite MFM quotes! These are quotes that have made their way into the Murderino fandom, hard, for their combination of humour, inspiration and uplifting advice for women during a show that is focussing on heavy subjects.
1. "Get a job. Buy your own shit. Stay out of the forest."
2. "Nothing is real. Speak for yourself. Question authority."
3. "Don't take things for granted or judge books by covers and don't do the things that average people get tricked by."
4. "I'm sorry, wishes aren't a thing."
5. "Fuck politeness."
And just as a bonus:
"Okay, here's the fuckin' twist!"
Yeahhhhh that's right. They even inspired this blog name.
So, if you like true crime, feminism, comedy, real talk about life and personal issues, then I don't know why you aren't listening to this podcast. Try it, I promise you won't regret it. Join the Murderino Cult! But if you're in a cult, call your dad. And even if you don't listen to the podcast, you booknerds will definitely want to pick up the upcoming release by these ladies.
---
Until next time, Booknerds…