Please read the "TCT Disclaimer" under the True Crime tab at the top of the page before reading any true crime posts.
Good morning friends, lovers and strangers! It feels sooo goood to be back with a new edition of #TCT.
The end of August was SO busy for me I barely posted anything around here, but I got a lot done at home, so I'm not complaining. We're just here for a good time, right?
Before we get into it, how was everyone's long weekend?! Really, I want to know. I had a family BBQ, played some Battleborn with my husband and yesterday I deep cleaned my car.
You don't understand what a big deal that was. I bought my car in 2015 and this was the first time I've ever cleaned the inside of it.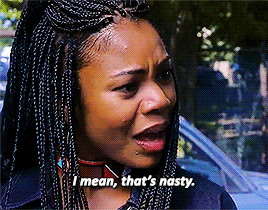 It was time. There were puppy puke stains everywhere. A little heads up that puppies can have motion sickness for the first year of their life would have been nice.
Besides that, I've been doing so much stuff at home all month that last week I actually bulged a disk in my lower back and I was laid up in bed for three days. Welcome to your 30s – where a Sunday afternoon of yard work means you are a cripple for half the week. I mean I'm still in pain constantly, but at least I can walk now.
We also had some crazy excitement about two weeks ago in my neighbourhood. And that's what this post is going to be about. That's right! When I say MY HOMETOWN MURDER, I fucking mean it!
Now, I have to say I'm a little bit hesitant to share this story because it essentially tells you exactly where I live *nervous laugh.* But it's too close to home, too intriguing and too big of a story right now in my city to not share with you guys.
So please, just promise not to stalk me okay?
This week's true crime story is the Kitchener House Explosion! Dun dun dunnnnn…
On Wednesday, August 22nd, I left for work around 7:30 in the morning. We dropped my dog, Finnegan, off at his doggy daycare – which is basically just an old friend of mine, let's call her Susan, who retired and started a dogsitting business out of her home. And lucky for me, she lives literally around the corner from us and only charges $10 a day to watch my boy so he's not home alone for 8 hours.
A little after 8 a.m., I got to work and immediately got a text from Susan saying that she'd felt an explosion, that her whole house shook, slamming her patio door shut and scaring the shit out of my dog.
Immediately sirens approached our neighbourhood, smoke clouded the sky and rumours began to swirl. In a matter of hours, the biggest rumour circulating was that a meth house with 10 people inside had exploded. This is the news Susan texted me.
"A meth house?" I said to my co-worker, stunned, after reading the message. I had no idea something like that would be anywhere near me. The fact is that I live in a very suburban area, with mature houses and mature people on the farthest end of the city. My co-worker said, "Those places are always where you least expect to find them" Okay maybe that's true, but still. A METH HOUSE?
Here's the truth, it's a hot neighbourhood. When houses go up for sale they don't stay on the market very long. Everyone wants to live in Forest Heights for the location and the schools and the peace.
Previous to living in Forest Heights, I lived closer to downtown. There I had three bikes stolen, my car vandalized twice and broken into once. My new place feels worlds away, even though it's just fifteen minutes down the street. When I moved my car insurance dropped $15 a month. Seriously.
So, to hear that a meth house had been operating in my neighbourhood was stunning. The rumour spread and eventually the police needed to address it. It was not a meth house that exploded. And there were only two people inside, one of whom was pronounced dead on the scene.
If it wasn't a meth house, then what exactly happened? I'll fucking tell you.
Just after 8 a.m. that morning, a house on Sprucedale Avenue in Kitchener, Ontario exploded. It was completely levelled in the blast, all that was left was rubble. Pieces of the home could be found across the street, on other people's roofs and in their yards. The homes neighbouring the Exploding House were severely damaged.
First responders immediately arrived on the scene and decided that the best course of action was the evacuate the street, with 16 houses of people leaving the area. If this was a gas-related explosion, more lives could be at risk.
The Red Cross showed up to help with temporary housing, the street was blocked off and the Canadian news cycle went into overdrive. Because the thing is, when bad things happen in Canada they make national news. They just aren't an everyday occurrence like other countries *cough the United States cough.* And certainly, where I'm from, Kitchener, the most common local news stories are about petty theft and bicyclists being hit by motorists.
An exploding house was a big fucking deal.
Information about the real victims were eventually released. Married couple Edra Haan, 58, and her husband Udo, owned the house and had lived there for decades with their two dogs. One of the dogs escaped, the other was killed. Udo was critically injured in the blast and had been airlifted to the hospital. Edra was pronounced dead at the scene.
It was all anyone at work was talking about. I was texting my husband and mother and friends about it every time a new piece of information came my way. Is that gross or creepy? I don't know, anymore. But, I was enthralled and, honestly, most of that was just due to the fact that I live super close to the Exploding House.
When I got home, I had a hard time finding a way to turn onto my street. Most entrances had been closed by emergency workers. I passed 100% more traffic than I ever do; people pulling up the main street entrance to Sprucedale and stopping to take pictures. People walking on foot, some holding flowers, mostly everyone holding a camera. Now that's gross.
When I finally pulled into my driveway, all of my neighbours were on their front porches watching the skies as a dozen news helicopters flew over us. I'd never been so close to something this newsworthy before and it was very surreal. And decidedly sombre. One of my neighbours had died, though I didn't know her.
Then it got worse.
On Thursday, Waterloo Regional Police held a news conference to announce that the cause of the explosion was not related to a gas leak or natural occurrence and that most evacuated residents would be allowed to return home. Police said they were still collecting evidence and investigating to determine exactly what had caused the house to explode.
Furthermore, they declared Edra Haan had been murdered.
"With the assistance of the coroner's office and as a result of the post-mortem and with the information from our major crime investigators, we have determined that Ms. Haan's death is a result of homicide," Waterloo detective Mike Haffner said during the press conference. Haffner added that the time of her death and the cause had not yet been determined.
"We can't provide any further information as the investigation is in its infancy and is continuing, however, we are confident that her death is a result of a homicide," said Haffner.
Police also said Udo was in ICU and was not responsive. They were holding back on labelling him a suspect in his wife's murder until they could speak to him about what happened.
Crime Specialist Steve Ryan says the fact that an obvious cause of death was found before anyone has determined the cause of the explosion suggests Edra was killed prior to the blast.
"It's not a far stretch to say that the homicide occurred and then the explosion happened to perhaps hide the evidence of a homicide – I would suggest that the explosion was intentional and it was as a result of the homicide occurring first."
Currently, everyone in the neighbourhood is waiting for Udo to wake up. For him to explain what happened. Because what else could have happened besides him killing his wife and then setting an explosion to kill himself? Perhaps the fire was meant to cover up his crime as to not mar the memory his family and friends would have of him.
But the big "why" remains. In such a quiet, unassuming, suburban neighbourhood at 56 Sprucedale, why did this seemingly normal couple's marriage and lives end up in tragedy? The mystery and the psychology behind it are some of the very things that attract me to true crime.
Last official word on the investigation comes from Colleen Collins, a spokesperson for the City of Kitchener. "The onsite work has concluded and the samples/evidence collected has been sent to the Centre of Forensic Science in Toronto." Fire officials completed their work at the scene on Sunday evening and equipment has been removed. Samples taken from the site have been sent to the Centre of Forensic Science in Toronto for the Ontario Fire Marshall's office to continue the investigation into the cause of the explosion, while the Waterloo Police oversee the homicide investigation.
"[The City's] focus is now on supporting this neighbourhood in recovering from this traumatic event," Collins said.
---
And that's today's #TCT, and it's super personal to me in a way. And for anyone wondering, the dog who escaped the blast is fine and has been handed over the local Humaine Society. Whether Edra's family will take him or if he'll be adopted out is not yet known to me.
What do you guys think? Are you currently trying to google where I probably live? Stop it.
I'll do an update for this when more information become available.
As always, if you have a suggestion for a case you want to see written up, pop over to the TCT Suggestions page under the True Crime tab at the top of the page, and send me your ideas!
Stay safe. Be kind. But, take no shit.
Later, Murderinos ✌️🔪