Let's talk about Jenna Jameson for a minute. Yes, the porn star.
I never thought I'd be at a point in my life where I was inspired by Jenna Jameson, but here we are. And I have no shame. Not that anyone doing porn should either.
But, that bitch is doing work on her body and mental health right now and I'm completely in love with her for it. She's using the keto diet and intermittent fasting to drop the weight she gained from pregnancy & addiction troubles. Seriously, go to her Instagram, check out her before & after photos and her honest messages, and tell me that shit doesn't get you completely motivated.
My friend and her husband have been doing keto for 6 months themselves, and collectively, they've lost 100 pounds. So between these two examples I've been witness to, I'm all pumped to get into shape myself.
I know I've been saying that since January, but it's all about motivation and mental health sometimes. And I just wasn't in the right head space to take care of myself, unfortunately. But I feel so much better since a lot of the negativity in my life has disappeared with certain life changes.
Plus, I'm turning 33 in November and I don't want to get another year older still stuck in the same rut. Since I got married in 2013, I've been SUPER lax about taking care of myself, which is the total opposite of how I was before I was married. Strange how that happens. I suppose it's contentment. Then there was also some depression thrown in there for me.
It's been a ride of a lot of complicated milestones, let's just say.
So, anyway, like most women I've gained weight since getting married. And now I'm pulling a Jenna Jameson and using her as my spirit guide.
I'm on day four. Yeah, not a lot, but I'm serious about this.
As I write this post I'm into hour twelve of my daily intermittent fast. I try to make it to 11 most mornings before I start eating, but I'll tell you I'M FUCKING HUNGRY.
I'm so hungry. It's all I can think about.
This is supposed to be a WWW Wednesday post – what I read most recently, what I'm currently reading and what I'm reading next – but honestly, my answer to all of those questions is, "I'm going to eat this book, not read it." And the only reason the opening to this post is about getting into shape is that I'm so hungry I couldn't think of anything else to talk about.
At least it's content. Whatever.
Onto the books!
---
🔪What I Read Last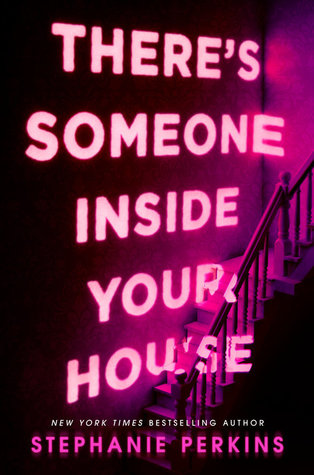 There's Someone Inside Your House by Stephanie Perkins
Dutton Books for Young Readers | 2017
I included this book on my list of YA Mystery-Thrillers that I was hoping would change my opinion about the genre.
Did this book do that? I guess I'll say… kind of?
It was well written, gory and portrayed the characters as human, as opposed to caricatures of teenagers like I have typically seen. I'll have a real review up tomorrow.
Back of the Book: Makani Young thought she'd left her dark past behind her in Hawaii, settling in with her grandmother in landlocked Nebraska. She's found new friends and has even started to fall for mysterious outsider Ollie Larsson. But her past isn't far behind.
Then, one by one, the students of Osborne Hugh begin to die in a series of gruesome murders, each with increasingly grotesque flair. As the terror grows closer and her feelings for Ollie intensify, Makani is forced to confront her own dark secrets.
🔪What I'm Currently Reading
The Hellfire Club by Jake Tapper
Little, Brown & Company | 2018
I'm listening to this on audio because Jake Tapper is doing the narration. I'm going to be completely honest here – I have zero interest in this book. Washington politics and corruption and a 1950s setting… blah. Not my thing.
But Jake Tapper is my thing.
I had no idea who he was before Trump became the President *gags*, but right now he's one of a handful of voices who is giving me hope. He's so smart, funny and easy to look at. How is he as a writer? We'll find out. How is he as a narrator? I mean I just heard him do a German accent so it's not so bad.
Back of the Book: The debut political thriller from Jake Tapper, CNN's chief Washington correspondent and the New York Times bestselling author of The Outpost — 1950's D.C. intrigue about a secret society and a young Congressman in its grip.
Charlie Marder is an unlikely Congressman. Thrust into office by his family ties after his predecessor died mysteriously, Charlie is struggling to navigate the dangerous waters of 1950s Washington, DC, alongside his young wife Margaret, a zoologist with ambitions of her own. Amid the swirl of glamorous and powerful political leaders and deal makers, a mysterious fatal car accident thrusts Charlie and Margaret into an underworld of backroom deals, secret societies, and a plot that could change the course of history. When Charlie discovers a conspiracy that reaches the highest levels of governance, he has to fight not only for his principles and his newfound political career…but for his life.
The Confession by Jo Spain
Quercus | 2018
I'm just a tad over 70% through this one and it's not exactly doing it for me. I'm waiting for a big twist, something that knocks my socks off, but currently, it's just a relatively dramatic domestic "thriller" about rich people and poor people intersecting, and it's missing the thrills.
The book opened with a hell of a bang, but it hasn't held up the pace or the tension. I've spent – at least up to this point – the whole book going back through characters histories from the time they were children, leading up to the present day where someone has smashed in a man's skull with a golf club for apparently no reason.
While the personal stories are interesting in the context of a drama, they are lacking the darker depth and revelations that you typically find in thrillers. Considering I'm 3/4 of the way through reading this, something more should have happened by now. But who knows, the ending might blow me away???
Back of the Book: Late one night a man walks into the luxurious home of disgraced banker Harry McNamara and his wife Julie. The man launches an unspeakably brutal attack on Harry as a horror-struck Julie watches, frozen by fear.
Just an hour later the attacker, JP Carney, has handed himself in to the police. He confesses to beating Harry to death, but JP claims that the assault was not premeditated and that he didn't know the identity of his victim. With a man as notorious as Harry McNamara, the detectives cannot help wondering, was this really a random act of violence or is it linked to one of Harry's many sins: corruption, greed, betrayal?
This gripping psychological thriller will have you questioning, who – of Harry, Julie and JP – is really the guilty one? And is Carney's surrender driven by a guilty conscience or is his confession a calculated move in a deadly game?
🔪What will you read NEXT?
A Wolf Like Me by Andy Fitz
CreateSpace Independent Publishing | 2017
I was given this book by the author through a review request, and I've been delayed in reading it because of house projects and other books. Life gets crazy sometimes. I know I'm 5 books ahead in my reading goal for the year, but that is not as far ahead as I want to be going into the fall and Christmas seasons when my life gets even busier than it is right now.
But I'm going to be starting this as soon as I'm done with The Confession.
I can't say I've ever read a werewolf novel before so this will be a new story adventure for me. And because of this, I have no real context for what makes a werewolf story good or bad. I do, however, pick Vampires over Werewolves any day of the week – just putting that out there for total transparency.
Back of the Book: A midnight ritual by a secret society in the English Countryside nearly costs Thomas Spell his life. He returns home to Chicago to find that he carries within himself something unspeakable – a condition for which he believes there is no cure until he meets Penelope, a beautiful and brilliant pre-med student determined to heal him. But The Brotherhood searches for him still, convinced that he holds the key to unimaginable power. As his life begins to spiral out of control, Thomas is forced to confront his own past, as well as the dark forces closing in on him and everything he holds dear.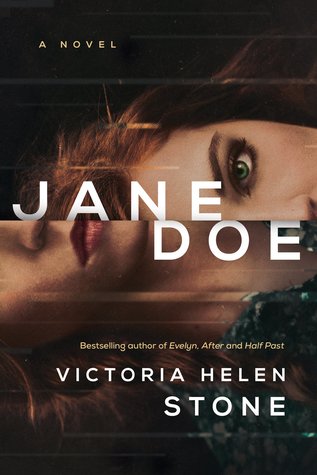 Jane Doe by Victoria Helen Stone
Lake Union Publishing | 2018
I have been hearing nothing but rave reviews for this one, so I'm excited. I try not to listen to the hype because I don't want to get my hopes up, but sometimes a book has so much buzz you can't ignore it. This is one of those books.
Back of the Book: Jane's days at a Midwest insurance company are perfectly ordinary. She blends in well, unremarkably pretty in her floral-print dresses and extra efficient at her low-level job. She's just the kind of woman middle manager Steven Hepsworth likes—meek, insecure, and willing to defer to a man. No one has any idea who Jane really is. Least of all Steven.
But plain Jane is hiding something. And Steven's bringing out the worst in her.
Nothing can distract Jane from going straight for his heart: allowing herself to be seduced into Steven's bed, to insinuate herself into his career and his family, and to expose all his dirty secrets. It's time for Jane to dig out everything that matters to Steven. So she can take it all away.
---
Stay safe. Be kind. But, take no shit.
Later, Booknerds ✌️🔪