I have to be honest, I did not want to get out of bed this morning. This Monday felt particularly difficult to have to deal with.
Maybe it's because my weekend went by in a flash. Saturday I was three hours at the hairdresser. I came home to my husband touching up painting that we needed to finish so I couldn't let him do that alone. Sunday we did our groceries, took the dog to the groomer's and then I bought new furniture for my rec room.
I'm super excited about this! Our rec room is currently garbage, almost literally. We have a brand new TV down there and all our gaming systems. It's meant to be the entertainment spot, the gaming spot, the spot to disappear and relax in, but in order to make that happen, it requires painting and new furniture. That furniture includes bookshelves.
Currently, all of my books are still packed away in our laundry room, taking up space in U-Haul boxes. I've been dreaming about getting to unpack them and display them the way they should be.
And it's finally happening!!!
Our couches are a custom order, so it'll take 8 weeks before they are delivered, which leaves me 8 weeks to paint and put together bookshelves. After that, it's quite possible you won't see me again for a couple of weeks while I hunker down in my new comfy space and play PS4 until my eyes bleed.
That being said, when I woke up this morning I was still totally zapped. One way to guarantee I'll perk up a little bit is good music. And I love a good soundtrack for reading.
I'm just finishing up There's Someone Inside Your House by Stephanie Perkins.
---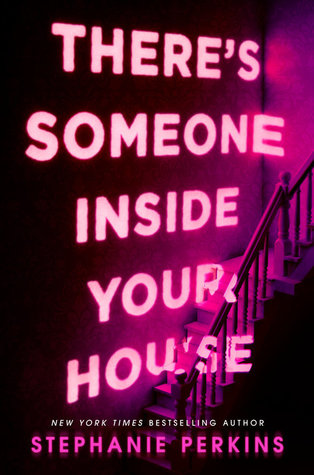 Back of the Book: Makani Young thought she'd left her dark past behind her in Hawaii, settling in with her grandmother in landlocked Nebraska. She's found new friends and has even started to fall for mysterious outsider Ollie Larsson. But her past isn't far behind.
Then, one by one, the students of Osborne Hugh begin to die in a series of gruesome murders, each with increasingly grotesque flair. As the terror grows closer and her feelings for Ollie intensify, Makani is forced to confront her own dark secrets.
This is probably the best YA thriller I've read lately (but that's not necessarily saying much.) I will say, it's having a bit of difficulty deciding if it's primarily a romance or a thriller, leaving behind suspense for too long while showcasing relationship progression. But then jumping into some gruesome murder, the juxtaposition of which feels out-of-place and abrupt.
But, it's an interesting story so far. Diverse characters, believable dialogue and realistic emotional levels. No teen soap opera here, just some kids fucking and killing. I like it. And it's way more graphic than I usually find YA thrillers to be. That's a plus in my book.
The book has a teen slasher feel to it but is heavy on the personal stuff, with a side of mystery about the main character, Makani's, past bad deeds. It gives me a dark vibe that is kind of sexy and bleak. It makes me think of some late 90s/early 2000s teen thrillers that had the same vibe, like 1998's Disturbing Behaviour.
If you haven't seen it, I recommend it. Classic Katie Holmes before the whole Tom Cruise fiasco.
Presenting: The Flys – "Got You Where I Want You"
---
Oh yeah, that's the stuff. It takes me right back.
Until next time, Booknerds…