Please read the "TCT Disclaimer" under the True Crime tab at the top of the page before reading any true crime posts.
One of the hottest stories in true crime right now – if such stories can be "hot" – is alleged serial killer Bruce McArthur.
If you haven't heard of this serial killer yet, you must be living under a rock with zero access to the internet. (At this point, I'm pretty sure a rock could be wired for Wi-Fi, though.) Even if you aren't interested in true crime, this is one of the biggest serial killer cases to hit the news in a long time so you've probably heard something about it.
What makes it even more interesting is that this whole thing is unfolding in Toronto, Canada.
That's right. Canada. Land of maple syrup and apologies.
Canada, my home, where the most often laid charge falls under the legal category of mischief. As in, "Hey guy, you're kinda of being a dick there, eh? Why don't you knock it off, buddy?"
In 2016, there were 611 homicides in the entire country.
The whole thing.
For comparison, there were 627 homicides just in the state of Ohio that same year.
Further, serial killers in Canada are like unicorns. Rare, seemingly mythical but coming equipped with something that could stab you.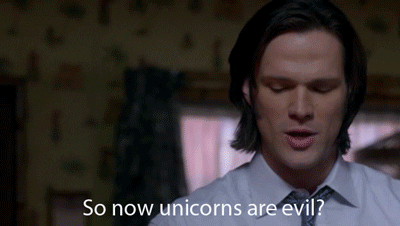 Not to say we haven't had any. Most prolific, I would say, was Robert Pickton, the pig farmer. He even inspired an episode of Criminal Minds. Most famous is probably Paul Bernardo, the Scarborough Rapist, and the case to which I credit with my fascination with true crime.
[Dream sequence begins] I was 5 years old when he started raping and killing young girls, basically in my backyard. When my dad's work put out ribbons in remembrance of the victims, it was the first time I asked what was going on, and the first time my parents had to explain to me that sometimes people kill other people. When I found out one of the victims shared my name, that is likely the precise moment my brain warped. [End dream sequence.]
Our most recent serial killer is Elizabeth Wettlaufer, a 51-year-old "Angel of Death." She was nurse who injected several elderly patients with insulin over the span of a decade to hasten their deaths.
…Our most recent, as of last year. Now there's a new kid in town.
His name is Bruce McArthur. He's a 66-year-old landscaper who has been picking up men from Toronto's Gay Village, killing them and hiding their body parts inside the gardens he has worked on for clients.
Is that not the most fucked up thing you have ever heard? Let it sink in, wash over you and really come to terms with what he was doing.
Hiding body parts in people's gardens.
I want to learn more, and I think you do too, or you wouldn't be reading my stupid shit. I'm going to be dividing this story into two parts because it's so much information.
Part One starts now…
---
This is the ongoing case of Bruce McArthur, The Landscaper Killer. (He needs a better name, by-the-way. Let's work on that.)
Thomas Donald Bruce McArthur was born in 1951 in Lindsay, Ontario and grew up on a farm just outside Woodville. McArthur's classmates recall him never fitting in, trying to become to the teacher's pet and being the tattletale of the class – informing the teacher about the mischief his classmates got into.
His parents were both devout, but of different faiths, and this often led to arguments in the household where McArthur would always side with his mother. The choosing sides caused derision from his strict father. McArthur would later wonder if perhaps his father could sense that he was homosexual and deeply disapproved.
At the time, McArthur's sexuality was seen as abnormal, especially for those of devout faith, so he had a very difficult time accepting what he knew to be true of himself. Instead, he went forward, pretending to be heterosexual, which was not uncommon for gay men to do because of the social stigma and how many doors would be close to them should they come out.
In high school, McArthur started dating Janice Campbell. They both graduated in 1970. McArthur went on to attend post-secondary education in a general business program. When he and Campbell were 23, they married and moved to Toronto.
After the decriminalization of same-sex adult behaviour in 1969, a "gay village" began to form in Toronto between College and Wellesley streets. McArthur worked a few blocks from the gay village.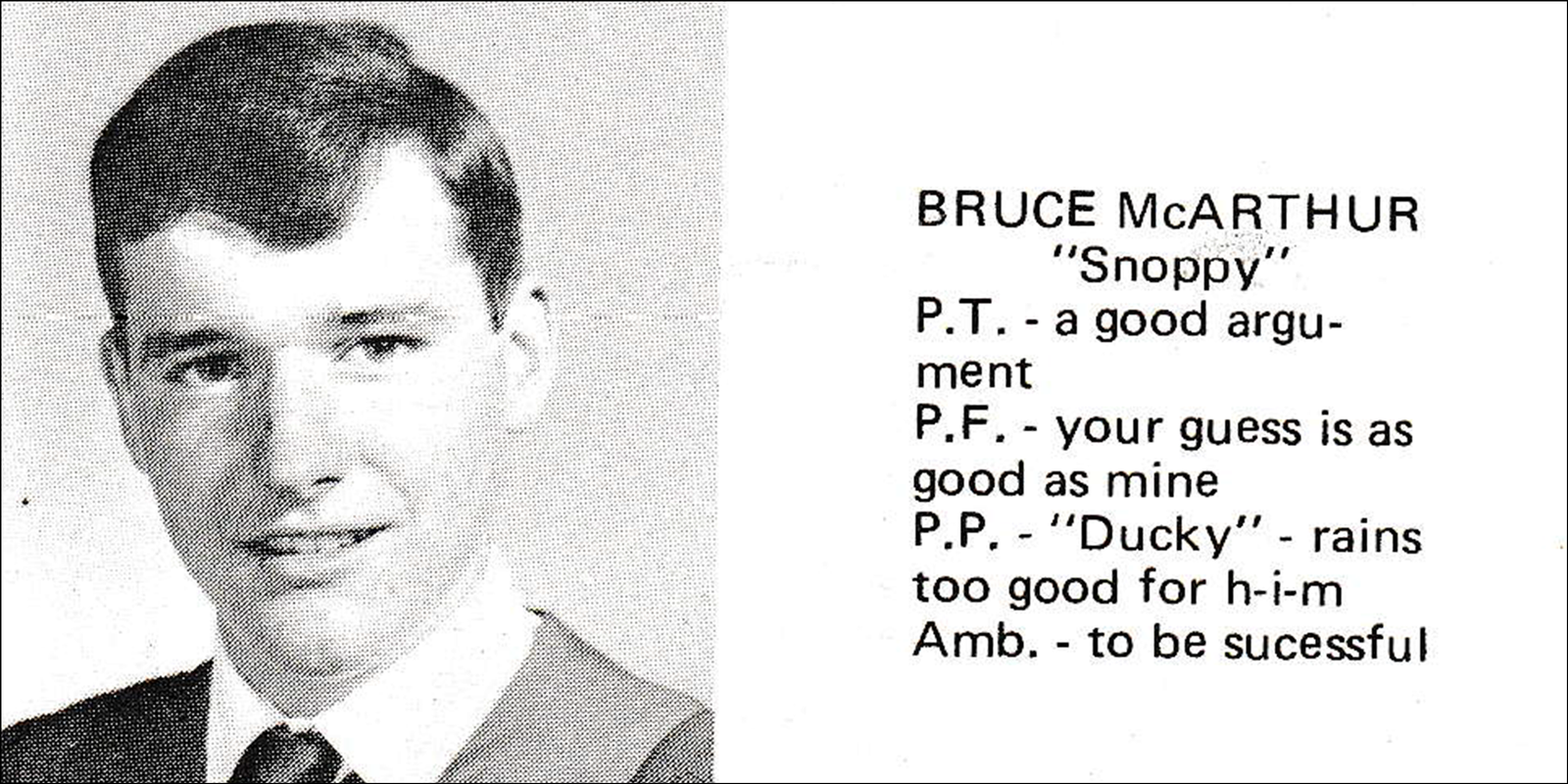 Going into the early 80s, McArthur and his wife had a daughter, Melanie, and a son, Todd. (Stop naming your children Todd and Chad.) After settling into an Oshawa community, McArthur became very involved with his local church in order to distract himself from examining his homosexuality, something he considered himself to be "successfully" ignoring.
But by the early 90s, McArthur could no longer deny his sexual urges and he began having affairs with men. A year later he came out to his wife, but they decided to stay married and living together. They remained committed to their faith and the belief they could overcome McArthur's desire to be with men. Sometime around 1993, McArthur lost his job and he and his wife faced financial ruin, thanks in no small part to the legal ordeals of their son Todd.
Todd was obsessively making obscene phone calls to women he did not know and faced criminal action that required his parents to spend thousands on legal fees. In 1997, McArthur and his wife were forced to re-mortgage their home. The stress, sexual issues and legal issues had taken their toll and McArthur and his wife decided to separate.
McArthur, now technically single, made the decision to move back to Toronto, as there was no gay community in Oshawa that he could immerse himself in. He moved into an apartment on Don Mills Road and began to frequent the bars in the gay village, becoming something of a regular face. It was here that he met a man and they would pursue a four-year-long relationship.
When McArthur and his boyfriend broke up, his divorce was also being finalized. McArthur began seeing a psychiatrist to help him cope with the stress of those things and was prescribed Prozac for several months. It was around this time that he also started working as a self-employed landscaper.
…This is where it starts to get violent.
One must ask themselves, what caused McArthur to snap? The end of his relationship? His divorce? Or was this in him all along?
On Halloween afternoon, 2001, McArthur was invited into the apartment of a sex worker whom he had met in a gay chat room. They had had sex a couple of weeks earlier. The man wanted to show McArthur his Halloween costume. McArthur had brought a pipe with him and as he was walking into the apartment behind the man, he struck him over the head. After beating the man, he fled the scene.
The victim lost consciousness, but when he came to, he was alone in the apartment and he called emergency services.
He was treated for injuries to his head and body, requiring several stitches in his scalp and his fingers, and 6 weeks of physiotherapy.
McArthur later turned himself in for perpetrating the attack but told police that he did not know why he had done it and that he couldn't remember doing it.
McArthur was charged with, and pled guilty to, assault with a weapon and assault causing bodily harm. The Crown Prosecutor originally believed that jail time was warranted, but agreed to a conditional sentence of two years that would see McArthur on the streets after psychiatric and pre-sentencing reports suggested he was a low risk to re-offend, and "displayed absolutely no signs of psychopathy."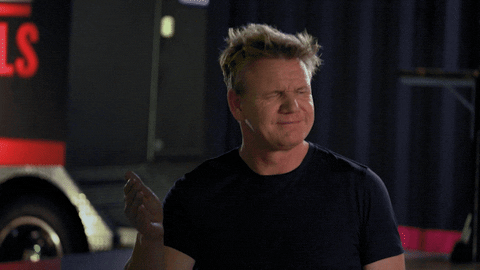 In terms of McArthur's personality, the psychiatric report described him as "characteristically passive and indecisive," and said he seeks "to maintain an image of being a proper and co-operative person, prone to behaving correctly and modestly." But it also says that his "overt cooperativeness may hide strong rebellious feelings that may occasionally break through his front of propriety and restraint."
There were concerns that McArthur's motivation for the attack was due to a combination of the medication he was taking mixed with "poppers," an illegal drug that enhances sexual pleasure.
McArthur spent the first year of his sentence on house arrest, followed by a 10 P.M. curfew for six months and then three years on probation. During this time he was barred from the gay village, with an exception for work and medical appointments. He had to stay at least 10 metres away from the victim at all times, and could not spend time with "male prostitutes." He was not allowed to possess a firearm, and was not to purchase or consume drugs without a medical prescription. Specifically, he was not to possess poppers.
Sometime after April 2008, McArthur applied for and was granted a pardon on the conviction.
It was wiped clean from his record, and would not appear in criminal background checks during subsequent investigations.
Most records and exhibits were destroyed in 2010, in compliance with the Toronto Police Service retention policy. The only surviving documents were the transcripts of the guilty plea and sentencing hearing, the psychiatric report and pre-sentencing report ordered during the trial, as well as the pictures of the victim's injuries and the weapon.
In 2002, while his assault case was still before the courts, McArthur registered on Recon – a gay fetish dating app for men who were into BDSM and looking for partners with similar proclivities. His profile noted that he was searching for "submissive" men.
He became heavily active on nearly every gay dating app and site he could. Under the handle "Silver Fox," he created profiles on Silverdaddies, Manjam, Grindr, Bear411, BearForest, Scruff and Daddyhunt.
In 2003, when his banishment from the gay village was dropped, he was already well-known throughout the community. He had developed a reputation for BDSM, rough sex and having an explosive temper. Men he was seen with were occasionally warned to stay away from McArthur, circulating disturbing stories about him.
According to one potential mate, Robert James, after telling McArthur that he'd been warned to not get involved with him, McArthur screamed: "Fucking faggots telling stories about me! you're just like the rest of them! You think I'm crazy!"
By 2011, McArthur had joined Facebook and proudly displayed his pictures of parties, vacations, birthday dinners and concerts. Younger men, of South Asian or Middle Eastern descent, frequently appeared in his pictures. Now off of probation, McArthur was able to return to the gay village, becoming a regular at the bars. He was living in a 19th-floor apartment at Leaside Towers in Thorncliffe Park, a neighbourhood mainly populated by immigrants and within walking distance of the gay village.
McArthur was running a successful landscaping business, operating under the name, Artistic Designs. Most of his clients were elderly, wealthy women who found McArthur charming, and he had built a client base through personal recommendations. A former colleague who installed water features for some of McArthur's projects said McArthur was always accompanied by an older white man, whom he appeared to be romantically involved with, and a day labourer, usually of Southeast Asian or Middle Eastern descent.
During the off-season, McArthur was a mall Santa and made floral gifts for charities.
Through the years, his son Todd was reported to be having difficulty accepting his father's sexuality and the relationship was strained. Moreover he was still facing legal troubles. In 2014, Todd was sentenced to 14 months in jail for again making more obscene phone calls to women. He was released on bail and ordered to be placed under his father's supervision at McArthur's Toronto apartment, and to assist with the landscaping business.
A friend of Todd's visited one night. When he went to use the bathroom, the friend discovered that the bathroom walls were decorated with photos of naked men with erections. The friend reportedly said that most of the men appeared to be "East Indian" and that Todd said they were all men his father knew. McArthur did not try to hide the fact, laughing about it over breakfast the next day. Excellent parenting.
Toronto Police Service started an 18-month long investigation in November 2012 to look into the disappearance of Skandaraj "Skanda" Navaratnam. They formed a task force called Project Houston in response to a tip about an "online cannibalism ring," but the tip was ultimately discounted.
In the meantime, the task force had identified two other missing-persons cases linked by geography and lifestyle. Abdulbasir "Basir" Faizi and Majeed "Hamid" Kayhan. These men, along with Skanda, were all middle-aged immigrants of South Asian origin who had disappeared between 2010 and 2012.
Faizi and Kayhan were each gay men married to women, leading "double lives." Police linked them to the gay village where they disappeared.
An anonymous tip directed police towards McArthur, who was linked to two of the missing men through dating apps. He was interviewed in 2013 as a possible witness.
Project Houston drummed up one solid lead in the disappearance cases – James Alex Brunton. He was 69-years-old and had much in common with McArthur. He was eventually cleared as a suspect in the three men's disappearance, but pleased guilty to possession, making and distributing child pornography, as well as entering into a "cannibalistic sexual contract" with a teenager from Colorado.
And that's a whole other fucking case that we just don't have time to get into right now. But, a cannibalistic sexual contract? Jesus take the wheel.
Project Houston concluded soon after with no evidence to identify a suspect.
The day after Toronto's pride parade in 2017, Andrew Kinsman, 49, disappeared. He was last seen alive near his residence. Two days later, after learning that no one had seen Kinsman, friends of his gained access to his apartment. They reported no signs of disturbance, but noticed Kinsman's cat was out of food and water. They reported Kinsman's disappearance to the police the following day.
Unlike the three other missing men, Kinsman was openly gay and a proud member of the community with deep roots and friendships. He was a long-time volunteer with the Toronto People with AIDS Foundation and a superintendent of his building. He was known to be stable and responsible, and friends did not believe he would suddenly leave without his prescriptions medications. And certainly would have made some kind of arrangement for the cat he loved.
Kinsman was active on social media, but police found his phone had been turned off the day he disappeared. Kinsman was 6'4″ and 220 pounds and street-savvy, making him an unlikely victim of violence unless he had known his attacker.
Kinsman disappearance spurred the creation of online groups in Toronto's gay community dedicated to finding him – Find Andrew Kinsman and Toronto's Missing Rainbow Community. Their goal was to raise awareness with missing-persons posters and organized volunteer searches.
Soon after the creation of these groups, a picture featuring twelve other missing persons from the gay community began to circulate online. As information was received – five men had already been found, one died of suicide – the men left unaccounted for were the three Project Houston victims, Kinsman, and Selim Esen, who had disappeared on April 14, 2017. The suggestion was that these five disappearances were connected.
Fears began to grow rapidly in Toronto's gay community that a serial killer was among them.
[end of Part One]
---
Okay! Let's take a breather.
That's a lot of information to soak up, so I think this is a good place to stop. We have a clear picture of who McArthur is, what he's into (even if perhaps it seems like he went from "0 to violent killer" seemingly with the flick of a switch,) and what his family situation has been like over the decades. And we know that men are going missing and the gay community wants some answers.
Next Tuesday we will get into the creation of the new task force, Project Prism, and recount how it drew connections between all the missing men, found human remains in gardens and planter boxes, and eventually arrested Bruce McArthur.
"[Most serial killers begin their carnage at a much younger age which means this] could be the longest run of a serial killer on record; not only in Canada but anywhere. I'd suggest police need to look back at least 35 years." –Michael Arntfield,criminology professor at the University of Western Ontario.
Stay safe. Be kind. But, take no shit.
Later, Murderinos ✌️🔪