Omigod, you guys, it's Friday! I can't believe I made. Honestly I almost fell asleep at work numerous times. Anyone else feel like this week dragged on foreverrrr?
Whatever, now IT'S FRIDAY!!! like I'm going to party or something. Ha! No. You should know me better than that by now. I went to the Foo Fighters concert last Thursday and it took a LITERAL WEEK for me to recover from being up until 3:30 in the morning. That is not even a joke. I wish it were.
Welcome to your 30s.
Even if I did have a quicker recovery time like I used to, I'm an introvert. I don't want to party. Ugh, what a nightmare!
A blissful Friday to me looks more like laying in bed, eating cheese and crackers and not worrying about how late I read or watch TV because I don't have to be up for work the next day.
Paradise.
I picked up The Last Time I Lied – the new Riley Sager – to read this weekend, but before I get to that I desperately want to finish Caged by Ellison Cooper.
I have to say, the villain in Caged is the most twisted diabolical serial killer I've read in a while. It's making me very uncomfortable and super excited at the same time, which is my favourite emotional state to be in while I'm reading.
All I'll say is kitten and puppies. Take that as a trigger warning if you're an animal lover, like me.
Despite that, I'm definitely feeling this super villain. If I look back at the books I love, the villain is usually a huge part of my ratings. Good villains are addictive, the joy of loving to hate them is uncompromising.
Sure, you can write good crime fiction with a run-of-the-mill serial killer. You know, someone with a foot fetish or some weird masturbating techniques because of mommy, but when the villain is engaging with the reader on that next level with either their personality or the extreme nature of their crimes, I'm hooked.
Let's take a look at my choices for the top 5 villains in crime fiction.
---
🔪Amy Dunne
"I often don't say things out loud, even when I should. I contain and compartmentalize to a disturbing degree: In my belly-basement are hundreds of bottles of rage, despair, fear, but you'd never guess from looking at me."
I'm going to acknowledge that maybe this is a controversial choice, but I read Gone Girl years ago and I still think about Amy Dunne. A clear portrait of the so-called All-American girl: sweet, funny, sexy – every man's dream. She's seems too good to be true, and that's because she is.
The girl is straight up cray.
A master manipulator, mind-games expert and with an unwavering dedication to getting her way and having people submit to her, no matter the cost. Her "Spoiled Only Child Syndrome" has gone off the fucking rails as Amy has become an adult. Lying, blackmail, murder – nothing is off-limits for Amy.
It is in this sense that I deem Amy the most purely cruel character I have ever read.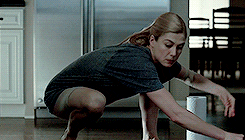 🔪Patrick Bateman
"I'm into, oh murders and executions mostly. It depends."
Maybe the only thing you need to know about Patrick Bateman is that he idolizes Donald Trump.
Shall I go on?
Patrick is meticulous in his health, his cleanliness and his work. He's interested in only the finest of everything; appearances matter in a, excuse the pun, completely psychotic way.
If you can call anything Patrick feels as "interest," because in American Psycho – Bret Easton Ellis' satirical monument to 80s yuppie culture – Patrick Bateman is the most bored, and the most boring person you will ever meet. And angry. He loathes women and has an unbridled disdain for every person in his life.
The book itself is likely the most violent you will ever read, which stands in sharp contrast to the dullness of Patrick Bateman's narration. A true psychopath – lacking any and all emotion. But moreover, he is missing even the slightest hint of a moral compass and his descent into madness is both riveting and uncomfortable. He goes from self-aggrandizing to narcissistic to erratic to completely out of his goddamn mind, taking the reader along with him.
🔪Gretchen Lowell aka The Sweetheart Killer
"Do you know what's more intimate than sex?" Gretchen eventually asks. "Violence."
Gretchen Lowell is the female Hannibal Lecter, minus some of the eating people thing, but with all of the sociopath psychiatrist goodness. Imagine a sexy, elegant, educated woman who enjoys torture and murder in her free time. Don't ask her or she just might show you her party trick – extracting three meters of human intestine with a crochet hook from a live victim, through an inch-wide hole in an abdomen. And all without making a mess.
She was designed to be the counterpart to Archie Sheridan, Portland detective. And over the course of the Chelsea Cain series, has become a true nemesis. One that he is obsessed with, in every sense of the word. In prison, escaping prison, influencing other killers and going on murder sprees across the country as she evades capture.
Gretchen is truly the most diabolical female serial killer in crime fiction.
🔪Anson Bishop aka The Four Monkey Killer
"We're going to have such fun, you and I."
J.D. Barker is using the questions all of us ask about serial killers – What causes them to kill? Is that urge hardwired from birth or learned behaviour? A combination of both? – to create a thriller series that exists in shades of moral grey. With his character, Anson Bishop, Barker is playing with your human instincts for compassion and hate. You feel bad for the victim, but also maybe a little bad for the killer.
There is no strict right or wrong, good or bad. It exists as Bishop exists, straddling both lines. You know he's the villain of the story, but you also can't help but feel something for him, which is the most terrifying part of this series and also the most fun.
Anson Bishop believes that what he's doing is right, just even. He sees his work as righting wrongs, making the bad guys suffer. But doing so in violent, horrific fashion. All while giving us glimpses into his terrible upbringing, his shitty parents and his experiences around people he cares about who have endured similar unfairness from life.
The waters Bishop operates in, and drags the reader in, are muddy. You can never see what's below the surface. That is the brilliance of 4MK – he could be real. And probably is.
🔪Hannibal Lecter
"Nothing made me happen. I happened."
Anthony Hopkins said he modelled his performance of Hannibal Lecter after the HAL 9000 computer in 2011: A Space Odyssey. And nothing anyone has ever said about Hannibal has ever been more perfect or right before.
Literary crime fiction is full of tropes that pop up again and again. And while different takes are more entertaining than others, and can generate a fandom and success, they are still the same archetype of a villain.
But ask yourself – how many cannibals have you read about lately?
Likely between 0 and 1.
And this is where Hannibal Lecter stands above the rest. He is truly original in his evilness. An inspiration for all the evil that has come after him, but still no one dares to attempt another cannibal. It would be almost sacrilegious. We have an enduring love affair with this psychopathic killer, one that cannot be duplicated or touched. Hannibal is a pop culture icon.
Not too shabby for a man who literally fucking eats human beings.
Despite being a cannibalistic serial killer, Hannibal is also smooth and charming and intelligent with exceptional manners and sense of style. He masters the role of monster anti-hero powerfully and vividly, using mind games and intellect to disarm his readers. He is something more than human in that sense, eating his way into our hearts with his magnetic personality and complete lack of conscience that is as terrifying as it is interesting.
---
Who are some of your favourite villains? Let me know so I can check them out!
Stay safe. Be kind. But, take no shit.
Later, Booknerds ✌️🔪