Hey Nerds! How's the mildly inflammatory, click-bait post title hitting you?
Right in the nads, I hope.
But, seriously, how's life? I'm honestly interested. I need to know. Tell me about yourselves. Tell me what's going on. I'm always telling you about my life, like maybe to an overly personal degree, as if this isn't a book blog at all.
So, let's make this uncomfortableness a two-way street.
This week is crazy busy for me. There's so much going on at home, from preparing for a 15th birthday party for the stepkid, to cleaning out the other stepkid's room because he moved out and I want my goddamn office space; to trying to build and stain our Adirondack chairs because it was cheaper to DIY-it than to buy them ready-to-sit and I'm all about DIY where I can if it saves me money for more books.
PS. whoever decided that Willy Wonka Funko dolls are worth $50 can get bent. You've ruined a teen's birthday wish!
Anyway, through it all, I'm super dedicated to getting some books read and putting some half-assed content up on this clearly amateur blog.
Today's post is going to be a personal book blogging existential crisis experience. That sounds like a blasty-blast, right?
I'm going to be working through a thing, so just bear with me and feel free to let me know your opinions in the comments.
---
I don't know if you've noticed but I have a specific way of writing and expressing my opinions, which are usually pretty strong. It's true. I know. You're so shocked your eyes rolled back into your head. Oh, no, you're just rolling your eyes? Even better.
I get some emails and messages about how funny I am (*bats eyelashes*,) that my posts are entertaining and always get to the heart of things. I have a few friends who take my reviews as law and don't really read anything I haven't recommended. It feels good.
I have to say I truly, from the bottom of my bottom, appreciate all your lovely words so much. It helps me to feel more resolute in my "this is me and I won't change" agenda that I have for my life and for how I express myself.
But, recently a nice woman asked me to review a book on behalf of an author she represents. I'm always happy to do that. Turns out though, that I hated the book and I let that be known in my review. Hard. I said, "sorry but I gotsta be me," but you know, in a much more professional tone.
I still feel blah that I had let her down, to tell her my snark was on full blast and directed at her author. To be clear though, I don't feel bad about the review. It's 100% truth and I think I make some good points about sexist writing and double standards between men and women.
What I feel bad about is that she has to read it because I don't want it to be taken personally.
Here's the thing: I really, truly, do not believe there is any point in sugar-coating opinions. And by sugar-coating, I mean lying. I do not mean, "giving an opinion without being an asshole." There IS a way to do that. Maybe sometimes I don't care to suppress my inner asshole, but that's a different story.
By lying, I specifically mean that fake, polite, "I'm just going to beat around the bush and never really say how I feel" thing that a lot of people do.
It's passed off as being kinder, but is it?
It seems to me that a lot of people think being polite is better than being honest, and I just don't understand that logic. Honest does not have to equal being mean.
If you're dating someone and you don't really like them, is it better to lead them on because you're being polite and this way they don't get hurt? Or is it better to be honest, break-up and stop wasting their time so they can go find someone who truly likes them, instead of investing their time in a relationship that you knew wasn't going to work?
So many people fall into this trap of being polite because it makes them feel better, but what of the person on the receiving end? That's never really taken into account.
I feel the same way about book reviews.
If there is the option to be honest, to point things out to an editor, book promoter or the author, about where things fell apart isn't that a good thing? Does that not give them an opportunity to reflect on their work, to think about changes and how to improve in a way that they can feel good about? If they want to of course. They don't need to agree with reviews. As readers though, we are being asked to hand over our precious time and hard-earned money for a product. That product should be worth it. And sometimes it's only worth it after a little bit of criticism.
Am I thinking about this way too much? It's okay, you can tell me.
Bottom line: No one is perfect. We can all be better in everything we do, whether that's writing or blogging or taking pictures or the effort we put in at work. Note to Self: I could start being better at work by not blogging while I'm here.
If there's no room for growth than we'd all be kind of boring. It's better to be striving, in this context anyway.
I feel like if a person is truly invested in being an author, following that dream, shouldn't they want an outside opinion that challenges them, that will point things out they might not have considered? This gives a chance to alter if they feel they want to, or be more resolute in their current position.
Right now we're going through something as a society where some people believe in Safe Spaces, that no one should have to hear an opinion that disagrees with their own. But I am firmly on the side of Team That's Fucking Stupid.
This blog is not a Safe Space.
If all you ever heard was "yes," you'd never need to find ways to be better; you'd think you were already the best you could be. And that's never the case. Sorry if you thought you were the shit, but you definitely have ways you could improve. We all do. Except maybe Beyonce. She's tops.
Just look at where being in a safe space has gotten Trump. He's a giant orange dumpster fire, who blocks those who criticize him, can't believe it's true that he might suck at things and has, therefore, never grown into being a better person.
He's literally the only person on Earth who could get the job of PRESIDENT OF THE FUCKING UNITED STATES and still never learn to do it better than he did a year ago. He's not growing, he's floundering, and he's turned the U.S. into an international laughing stock.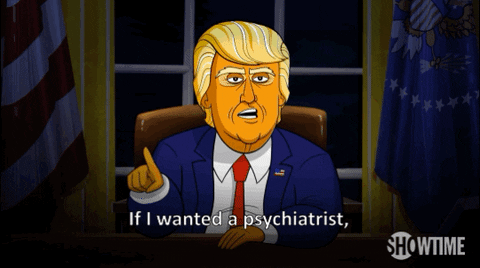 Not only that, he's teaching everyone in his base that they don't need to listen to criticism or facts. They can just exist in this alternate reality where there's no point in listening to the other side. It's pathetic and dangerous and this is how people end up being the human embodiment of a boob punch.
I digress. Sorry. All the Canada attacks from Trump lately have really strung me out. I truly didn't want to bring Trump into this. It's barely relevant, I know that.
It's not like book reviews are in any way the equivalent of being the leader of a country.
OR ARE THEY?
They aren't.
Anyway, it's the "no's" that make us stronger. Either you are challenged and find your opinions evolving, or you are challenged and you stand strongly behind your opinions because it helped you to further understand why you feel the way you do. Hiding from criticism and different points of view is not helpful to a person's character. It makes us weak and stagnant, and sometimes a national laughing stock.
It's in the challenges that you find power. That's why a huge basic part of story structure is conflict. It makes things interesting and it gives the characters a reason to grow. Character arcs, bitches!
I'm always on the side of evolving and learning. Of challenging, and being challenged. I wouldn't ever want to be stagnant. I wouldn't ever want to think: "This is it, I'm the best and I don't need to work on a thing."
Now, I'm not claiming that my reviews are in any way profound teaching moments, but I always provide a constructive angle between all the swear words and gifs. Sometimes you might just have to search for it, but I promise it's there.
I have to be honest around here. I gotsta be me!
I guess this could look slightly like I'm trying to justify my behaviour, but I'm not. I believe in what I write. All I want is to explain my point of view, so that if you see a bad review from me you know that I stand firmly behind my opinions; that I tried to do nothing more than be honest, give a reader the tools they need to decide if they'll dedicate their precious time to reading someone's story, and to give a writer a chance to evolve if they feel like it.
I'm sorry I didn't like your book, but I'm happy to point out why.
---
Stay safe. Be Kind. But, take no shit.
Later, Booknerds ✌️🔪