My girl Greyson, over at Use Your Words, tagged me to do this original gem created by Cait @ Paper Fury, which was inspired by a couple of other blog posts. It's colours as emotions as related to books, or something like that.
Basically it kind of seems like a booknerd version of Emotion-evoked Synesthesia. (Google it, it's pretty cool.)
Of course, I will never experience Synesthesia because, I'll be honest, I'm pretty dead on the inside. This tag could end up being exceptionally difficult for me, but I'll usually try anything once – even emotions.
Once.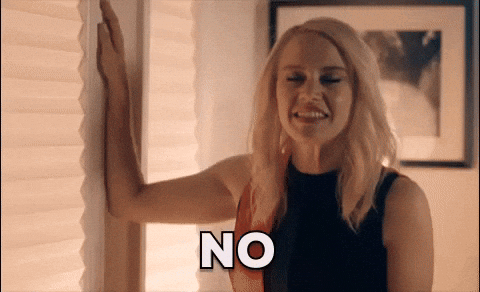 ---
BLUE →

BOOK THAT MADE YOU SAD.
The last time I remember actually physically experiencing sadness over a book was Still Missing by Chevy Stevens. It is technically a dark thriller, but there is so much heart and soul in the words and events.
Stevens has the ability to write about disturbing happenings in such a visceral, honest way – a way that doesn't beat around the bush, but puts everything on the table so you have to see and you have to feel – that I came away from this particular reading experience a changed person.
Annie is abducted by a stranger, and you experience her trauma in such a tangible way that my heart was literally broken so many times because of what she goes through, what is done to her and what she loses.
That book is an experience.
RED →

BOOKWORM PROBLEMS THAT MAKE YOU ANGRY.
Off the top of my head? When someone has encased some unknown, booger/blood/food-like substance in a library book that I've picked up. Thank you for sharing, but no thank you.
On a more in-depth level, I get angry/irritated about published (indie or professional) authors who do not take their good fortune seriously enough to study the craft and properly execute the essential parts of a novel.
I truly revere the art of writing, and nothing grinds my gears more than to see someone who mashes together something technically bad, and just throws it out there like it's worthy of being in the same class as a Thomas Harris or Poe. I am annoyed by authors who haven't taken the time to properly learn about the craft they are claiming to love and want to pursue as a career.
I've experienced this disregard for stories a number of times with indie authors who want to be writers (good for them, really) but don't take the time to learn about what they're selling to people, and it honestly pisses me off and I end up writing ranting diatribe reviews because how dare you.
Writing is an art, have some fucking respect for it. Have some respect for a reader's money and time and interest. Learn how to write before you start trying to sell it.
Also!!!! If reading The Last Mrs. Parrish or When The Serpent Bites has taught me anything lately, it's that I really fucking hate plots that are heavily entrenched in misogyny and try to pass it off as insightful or clever or valid.
YELLOW →

UPCOMING BOOK YOU'D BE HAPPY TO HAVE RIIIIGHT NOW.
The Last Time I Lied by Riley Sager. SOMEONE, PLEASE GIVE THIS TO ME!
I loved his last novel, Final Girls, sooooo much. And I'm beyond excited to read another novel by this exceptional author, who is clearly taking inspirations from 80s horror yet again. Teenager girls and a summer camp? I NEED THIS.
GREEN →

FAVOURITE UNLIKELY FRIENDS.
I quite honestly don't read a lot of books involving "friends," but even if I did, I would still pick Charlie and Cookie from the Charley Davidson series by Darynda Jones.
I have no idea why they are friends. Charley is a reckless handful and Cookie is a logical, down-to-earth, mother and wife and career-woman. But somehow they are BFFs who have nothing but love at the centre of their relationship.
Cookie is always mothering Charley, cleaning up her messes and getting dragged into bar fights, or dangerous demonic situations, because of Charley's life and job and calling. You'd think Cookie would eventually have enough and peace out, but Charley loves Cookie so much, and genuinely has a heart of gold. Their sisterhood is a thing of beauty.
GREY →

BOOK YOU ARE TOTALLY EMOTIONLESS ABOUT.
I mean, a lot of them???? This is a hell of a question to ask someone who is basically cold and unfeeling like 96% of the time.
Most recently I flatlined over Dark Games by Rachel Lynch. The Twilight Wife by AJ Banner didn't do anything for me either. At Rope's End by Edward Kay was pretty "meh," as was The Dry by Jane Harper.
Everyone else looovvveeeddddd The Dry, but honestly, it was just like the title says: DRY and boring and dull and flat. It did nothing for me. While everyone else is drooling over themselves for it, and its sequel, I can only remember how hard it was to keep my eyes open.
PINK →

BOOK ENDING (NO SPOILERS THOUGH!) THAT YOU LOOOOVE.
I LOVE CLIFFHANGERS. Love 'em.
Into the Black Nowhere is, hands down, the best cliffhanger I've read this year (and maybe last year too.) And that's all I shall say about that, besides READ THIS SERIES.
PURPLE →

BOOK YOU NEVER REALLY UNDERSTOOD??
Not to spank my own monkey, but typically I'm pretty smart and insightful. Give me any subject and I'll find a way to make it 10x deeper in substance that anyone else thought it was. Guaranteed. This unique aspect of my personality came in super handy in college, but it drives my husband crazy, because goddamn I can go off on a tangent on any subject. And all he wanted to do was talk about something simple.
So, I usually always understand the concept of a book. That doesn't mean I like it or agree, but I can get it.
What I don't always understand is why everyone likes a book that is clearly bad. Don't even get me started on James Patterson!
*whispers* he's a terrible writerrrrrrrrrrr
WHITE →AUTHOR YOU'RE SCARED OF (THEY'RE SO MEAN TO THEIR CHARACTERS!)
Scared of because they're mean? Um no, give me mean!
JD Barker and Meg Gardiner come to mind though, in the sense that I'm scared of how good they are as writers; scared of how good they are at pulling shit on their main characters, the sub characters and the victims. They come up with some twisted, gruesome plot points and I fucking love it.
BLACK →

BOOK YOU THINK IS POWERFUL AND INFLUENTIAL.
Brave by Rose McGowan was a good read with insightful lessons and opinions. It gives the reader a new way to look at women taking back their power, rising from the ashes and fighting for their own lives despite the shit hurled at them.
But, overall, in my heart, I have to go with my faithful standby for advice and wisdom Dear Coquette. The anonymous advice blogger put together a best of novel and it is literally the only thing you will ever need to reference in life.
For instance…
Going through life with the expectation of some fantastical form of uber-love is childish wish-thinking that would be silly if it weren't so damaging to adult relationships.

and
Seriously, don't you get how amazing it is to be alive? One day you won't be. In the meantime, the skin you're in will wither and age, your personality will ebb and flow, and everything around you will be in a constant state of flux. Ultimately none of it really matters, except for those moments of joy you carve out for yourself.
and
You can only give somebody one second chance. After that, 'giving him second chances' is just code for putting up with more bullshit. 
and
There is nothing out there that you can smoke, seek, fuck, find or read that will suddenly give you the self-love and acceptance you're so desperate to discover. You're worthy of love. You're worthy of acceptance. You're just plain inherently worth. Trust me, you don't even know the meaning of freedom until you finally discover what internally validated self-worth feels like.
Coquette kicks your ass and prepares you for life. It should be mandatory reading.
ORANGE →

PLAYFUL CHARACTERS WHO ARE JUST TOO ADORABLE.
Everybody is either a dead body, or looking at a dead body, in the books I read (generally.) They don't have the space to be adorable.
---
I'm not going to tag anyone specifically, but if you're reading this, play along!
Stay safe. Be Kind. But, take no shit.
Later, Booknerds ✌️🔪