Here's a little-known secret about me. And by "little known", I mean literally no one knows it, not even my husband.
I love Matt Dillon.
I keep it a secret because my love for him is complicated to explain. I actually I find him really gross. There's something about Matt Dillon that is so incredibly off-putting to me; something smarmy, something that tells me he probably has weird sexual proclivities. I can totally see myself saying, "Um, no Matt Dillon, I will not have sex with you covered in mayo!"
Maybe it's the roles I've seen him in that have coloured my opinion – Wild Things, There's Something About Mary. But I find him to be very unattractive…so much so that I also want him.
I know, it's weird. Maybe I'll talk about it in therapy.
Point being, this morning I woke up to the news that Mr. Matt is starring in a new thriller by weird-ass movie maker Lars Von Trier. Somehow this hasn't been on my radar.
If you've never seen a Von Trier movie, you're missing out. They are SO fucked up. I can't even say that I've ever liked a Von Trier movie, but any time I know he's the writer/director, I have a compulsion to watch what new boundary-disregarding story he's created. And the movie stays with me long after it has ended. Sometimes only because I'm thinking "what the fuck?", still trying to process.
Antichrist, Meloncholia, Nymphomaniac. Seriously if you're looking to be mind-fucked, a Von Trier movie is the place to start.
I suppose there is something copacetic to how I feel about Von Trier movies and how attracted/unattracted I am to Matt Dillon.
So, the fact that they are working together in this new movie, The House That Jack Built, just might make my head explode. Adding in that it's a violent serial killer movie?
Excuse me. DEAD.
At first, I thought this was based on a book with a similar name, but no. It's written and directed by Von Trier. So this part of the post is not strictly book-related, but it is a horror story about a serial killer and those are two of my favourite things, so I NEED to talk about it.
Synopsis: The movie follows Jack (Dillon), a highly intelligent serial killer over a span of 12 years and depicts the murders that truly develop Jack as a serial killer.
The movie premiered at the Cannes film festival last night and is making some headlines this morning after over 100 movie-goers walked out of the screening due to the violent scenes depicted in the film. Advance word suggested that it would feature scenes of sadistic violence and brutality, with Cannes director Thierry Frémaux saying that it featured "a subject so controversial" that it could only appear in an out-of-competition slot at the festival.
This is the first time Von Trier has been back at Cannes in six years, after being banned for comments he made in 2011 that appeared to cast him as a Nazi sympathizer.
I've read some things about a mutilated duckling and children getting shot in the head, so my sensitivities are piqued. But so is my interest. Check out the trailer:
OMG, why do I like him?! This looks violent and disgusting and I don't think I can wait until November to see this!
…Okay, so now that that's out of the way, I thought I'd get in on the game of "Bookish This or That" I got the info from Emily's Escapist Books and Reading. Copy the questions and keep it going on your own blog!
---
🔪AUDIOBOOK or TEXT BOOK
Depends on what I'm doing. How am I supposed to get through work and the gym without an audiobook? But I could never give up a real book that I hold in my hands. I guess if a gun was to my head (but I don't live in the United States, so there's not), I'd have to choose text.
*5 points to Ravenclaw for the stinging social commentary joke
🔪 PAPERBACK or HARDCOVER

What can I say? I love a hard…cover.
🔪 FICTION or NON-FICTION

Fiction, all day er'ry day. Real life is in my face enough.
🔪 BOOKSHOP or ONLINE

I love browsing a book store, but nothing beats the excessive shopping I can do online with a gift card and ebooks that are on sale. Sometimes I feel like those crazy women on Extreme Couponers. You know they're getting high off of those deals.
🔪 STANDALONE or TRILOGY

Trilogy. A standalone has to be pretty special to win me over. I am all about getting to know a character and a setting over a couple of books, really allowing that world to become real and to be taken on a journey. Trilogies are really the perfect manifestation of "beginning, middle, and end."
🔪 HEAVY & LONG or SHORT & SWEET

That's what she said!
Buttttttt seriously. I don't have the luxury in my life for 1000 page books, but I also need more time with characters and emotions than a short & sweet novel can provide. There's got to be something in the middle. …And queue everyone getting The Wallflowers stuck in their head.
🔪 READING SOMEWHERE COZY or IN THE SUN
Cozy, cozy, cozy. I've tried reading in the sun and it seems to me that it is something only useful for the aesthetic element of being a girl who reads on the beach, or something. I mean, just in general I'm opposed to the sun. I am a pasty, indoor queen and proud.
🔪 HOT CHOCOLATE or COFFEE
Are these two things synonymous with reading? Because one, I don't drink coffee. And two, I don't like hot drinks. Give me wine or….weed (that's not a beverage)…with a good book, any day. Or even a bad book. Wine has a tendency to make them better.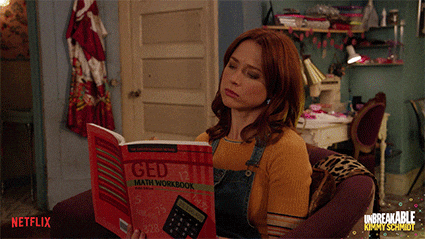 ---
Until next time, Booknerds…