It's officially that time of year again!
CLASSIC.
Moving on.
Full disclosure, I have not read Michelle McNamara's I'll Be Gone in the Dark….yet. Rest assured I am on the very long waiting list for the audiobook.
Library copies: 1.
PSHHHHHH.
So, while I haven't read the book, I have been following the story of her life, and those she left behind, since her untimely death at the age of 46. I knew a little bit about her because of my true crime interests, but I learned the most because of Patton Oswalt. I love him; love his comedy, love his political activism and his opinions. Just love him.
I wish I could hug him. I think his head would nestle right into my bosom and I could hold him there in comfort and appreciation.
When Michelle McNamara died, a true crime Goddess who ran the website True Crime Diary, before her book was finished, I was shocked and heartbroken for Oswalt and their daughter, Alice.
I watched through social media and TV and stand-up specials, as Oswalt battled back from his grief and depression to finish his late wife's novel.
Really, that is probably the most beautiful expression of love I've ever seen. I literally have no other examples. It's so touching. He finished writing her book. HE FINISHED WRITING HER BOOK so that the case of the Golden State Killer (aka the East Area Rapist), something Michelle was so passionate about, would get the attention it deserved; so that she would get the attention she deserved.
Honestly, it's so beautiful I could cry right now.
And shout out to Oswalt's new wife, Meredith, for being totally gracious and lovely in her support of him as he continues to push to fulfill this dream for Michelle. I mean they're just the most lovely people, I think. I would send them a fruit basket or something.
Anyway, why am I writing about this you might ask? Well, because today I woke up to this:
So…yeah. THIS IS A BIG DEAL.
Since it's no longer True Crime Tuesday, and this is technically related to books, here we are for Booknerd Wednesday about the Golden State Killer!
---
Here's what we know:
The Golden State Killer, so dubbed, is allegedly responsible for 12+ homicides, 50+ rapes and over 120 home burglaries in California, beginning in 1976 and ending in 1986.
This case is 40 years in the making. Let that sink in.
40 YEARS.
On Wednesday morning, Joseph James DeAngelo, 72, was arrested on two counts of murder by the Sacramento County Sheriff's Department. The department has yet to issue a full statement on the arrest, but the Sacramento Bee is reporting that the murders DeAngelo was arrested in connection with are two Golden State Killer rape-murders, and a Fox affiliate in California reported there had been a "significant break" in the case.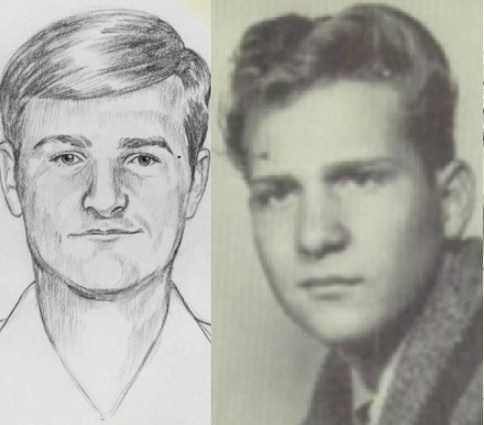 Billy Jensen, one of the writers responsible for helping Oswalt finish McNamara's novel, confirms that DeAngelo is the suspect Michelle writes about in her book. She worked very closely with investigators while completing her true crime tome.
Jail records show that, like the killer's FBI profile, DeAngelo is 5'11" and now between the ages of 60 and 75 years old. The profile also states that the killer would have an "interest in the military, or had some military training, leaving him familiar and proficient with firearms."
At one point in his life, DeAngelo was a policeman outside of Sacramento. He was reportedly fired after he shoplifted a can of dog repellent and a hammer at a drug store in 1979. In September 1979, two months after being fired for stealing, the East Area Rapist stabbed a dog while prowling along a neighbourhood.
The Golden State Killer had a specific M.O.: "He gained entry into the homes of his victims by prying open a window or door while they slept," according to the FBI.
He would then shine a flashlight into the face of his victims in order to blind them, before tying up couples and raping the women. He took small, personal items from his victims' homes, including mementos and wedding rings. He sometimes called their homes to torment them afterwards.
I'm not crying, you're crying!
There is a press conference scheduled, with officials and investigators, for today at 12 PM PST/3 PM EST. You can bet your ass I will be fucking off at work to watch that! What do you guys think? Have you read I'll Be Gone in the Dark? Are you flipping out at this breaking news?
---
And now I leave with something I saw and thought was hilarious. That's really the only reason…
Later, Booknerds ✌️🔪